Other Resources For Mac Software Besides The Mac App Store

The Mac App Store is Not the Only Place to Get Mac Software
With the recent opening of the Mac App Store for the Mac, many people will be buying and downloading their Mac software using the Mac App Store. However, the Mac App Store is not the only place to get software for your Mac. You can visit developer websites, sites for downloading software and shop retail stores. There is even an alternate app store called Bodega for finding apps. There are plenty alternatives to the Mac App Store available. Read on to learn more.
The Internet
The Internet has always been the best place to find Mac software, and is still a great place to find it. If you know what kind of software you are looking for you can surf to a search engine and type "Word Processor Mac OSX" (for example) and be presented with a list of sites with that specific type of software for the Mac. You'll most likely also get a lot of sites with reviews and suggestion articles (maybe even a Bright Hub article). Of course you'll also get junk links.
Another source on the internet is the type of site that catalogs downloads of software for you. My favorite site for this is MacUpdate.com. MacUpdate is a great resource for finding software. You type in what you are looking for and you will be presented with a list of options. Each piece of software has a reviews section and you can download directly to your Mac. MacUpdate even runs software specials on a regular basis and you might be able to find a deal on a piece of software or a bunch of software bundled together.
An Alternate Mac App Store
Prior to Apple releasing a Mac App Store there was already a Mac App Store in place called Bodega. Bodega has a beautiful interface and is very similar to the Mac App Store. You can shop for what you are looking for by searching or you can browse in various categories. Like MacUpdate, Bodega offers specials on various software titles at different times.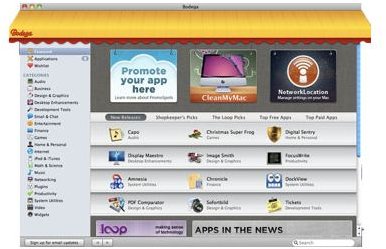 One of the great features about Bodega is the update feature. While the Mac App Store will update software, it will only update software you bought from the App Store. Bodega takes this a step further and scans your Applications folder and tells you what apps have an update available. This includes app you did not buy through Bodega. You can also download the updates through Bodega (this process works differently depending on the app and is sometime easier to use an apps built in updater). It is worth downloading Bodega just for the update feature.
Shop Retai l- The Old Fashioned Way
Of course, you can always go out to an Apple Store, shop Amazon.com, or other retail outlet that sells Mac software and buy your software that way. Keep in mind many of the best Mac apps are not available in a physical boxed form, so what you find in a store will be very limited. You also might find that some titles are cheaper to download than buy packaged. However, some people prefer a physical copy of the title they buy and only shop retail. The choice is yours.
As you can see there are plenty of alternatives to the Mac App Store for finding Mac software. While the App Store is great, it is not the only option out there. Have a favorite place to get Mac apps? Let us know via the comment section below.