Why You Shouldn't Insert a Mini CD in Apple Mac Computers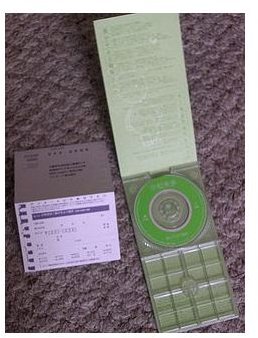 Mini CDs vs Slot Loading Drives
Modern Apple Mac computers all feature slot-loading DVD drives, capable of playing CDs and DVDs of many different types. The optical discs can be slipped into the slot without the hassle of waiting for a tray to emerge to place the disc onto, and removing a disc is simply a case of waiting for the disc to appear, with a hand ready to catch it if necessary (particularly with iMacs).
However while standard DVDs and CDs can easily be played with these slot-loading optical drives, you can't insert a mini CD in an Apple Mac computer.
Mini CDs are the 3" CD singles from the late 1980s and 90s, although lately they have been popular as "business cards".
(Image via wikipedia.org)
What Happens to the Mini CD in a Slot Loading Drive?
Mini CDs and DVDs and the more unusual "custom" shaped discs released for promotional purposes typically sit on an inner tray section on a standard optical disc drive drawer. At 3 inches in diameter, this space is designed for the smaller discs; custom shaped discs can fit into either compartment, depending on the diameter of the media.
Slotting such disc into a slot-loading device will result in a disc not playing. It will also result in difficulty removing the CD or DVD.
The reason for this is simple – the slot-loading drives are designed for standard 5" optical discs and anything smaller cannot be grabbed by the machinery inside the drive. As a result, the smaller discs can get lodged in the drive, potentially causing damage.
If you have lost a disc inside your Apple Mac's slot-loading drive then you will need to take the computer to your nearest Apple Store for the disc to be removed safely.
Alternative One: CD to USB
So with this in mind, how are you going to get your CD to play? The easiest way is to rely on another piece of hardware, typically a PC.
There are slot-loading devices available for Windows PCs, but these are typically ignored in favour of the traditional tray-loading drives. With your CD and a USB memory stick you can copy the track onto the Windows PC and copy it to the USB device (or even copy it straight to USB).
Naturally this will require finding someone with a Windows PC. If you don't have any friends with a PC you can try employing the services of a cybercafé or library.
Alternative Two: Purchase an External Mini CD Drive for Apple Mac Computer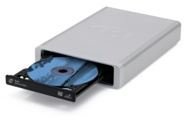 An external DVD drive is the best solution, as you'll be able to access the contents of the mini CD directly. Of course, external DVD drives aren't free, so this may not be a practical option if you have no other use for an external drive.
The recommended external tray-loading DVD device on the Apple website is the LaCie 22x d2 DVD+RW with LightScribe (for burning labels onto a suitable disc).
External drives connect to your Mac via USB or FireWire and typically cost about $100.
(Image via apple.com)