Linux Distribution Lowdown - Jolicloud Review
Introduction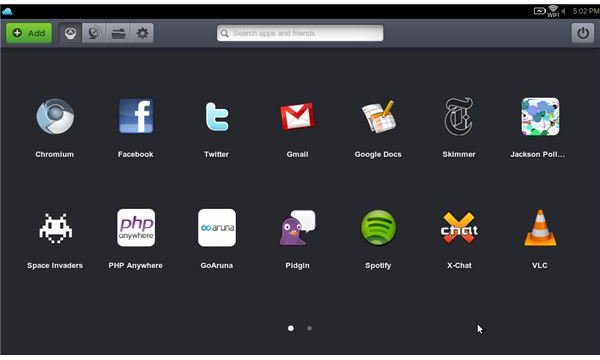 In this review I am going to show you an awesome new operating system based from the stability and security of the Linxu kernal, do not let this put you off though as it is very simple and great to use. Jolicloud is catching on fast, and the netbook market is growing daily which is primarily what Jolicloud is aimed at. However, you can install it on just about anything such as a desktop or a regular laptop.
Jolicloud's hardware support is beyond amazing and will usually support anything you throw at it including webcams and USB mobile devices. It is ideal for portability and can synchronize the documents, settings and programs across multiple computer systems. The only downside to Jolicloud is that in order to use it to its true potential you must be connected to the internet which is why it is designed for netbooks.
Installation (4 out of 5)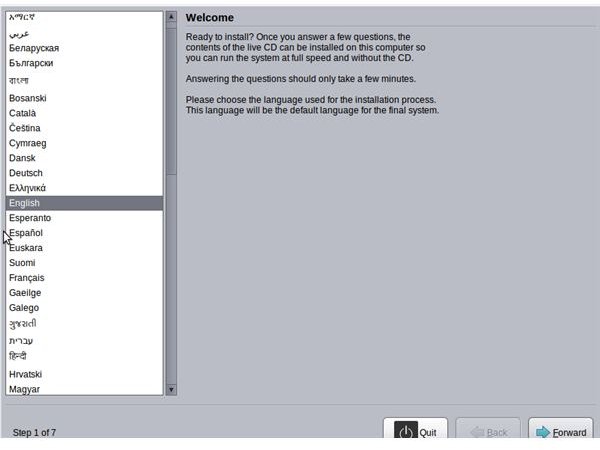 Jolicloud has two methods of installation. If your netbook is already running a version of Windows you can download an exe and install from within Windows, reboot and go straight into the system. The other way is by booting from a CD/DVD (if your netbook has an optical drive) or by booting from a USB stick which most netbooks can do.
If you choose the method involving a USB stick you may need to partition your drive in order to still be able boot into your old operating system. Luckily the installer makes this fairly simple to do. If you need some assistance or have not installed a Linux system before, you can find help on this article because the installer is based off the Ubuntu 9.10 installer.
Overall, it has just seven steps before it knows everything it needs to complete the installation and let you be on your way. After the installation it will ask you to connect to the internet and set up an account. The estimated time for all of this is about 20-30 minutes which is usually about the time for a Windows installation.
Hardware (5 out of 5)
The support for hardware in Jolicloud is extraordinary. When I install Windows onto a computer I usually need to trawl the internet for drivers for my sound, graphics, webcam and chipset. In Jolicloud everything works out of the box and the OS understands exactly what it is and can use it immediately without the need for drivers because they are all built in.
It is based off Ubuntu 9.10, but a lot of things which I could not get working there such as my mobile broadband and webcam worked immediately in Jolucloud, so hats off to the developers for some excellent work. It also seems to make better use of the hardware I have, mainly because it feels a lot faster and it picks up a lot more WiFi networks with greater signal.
Software (3 out of 5)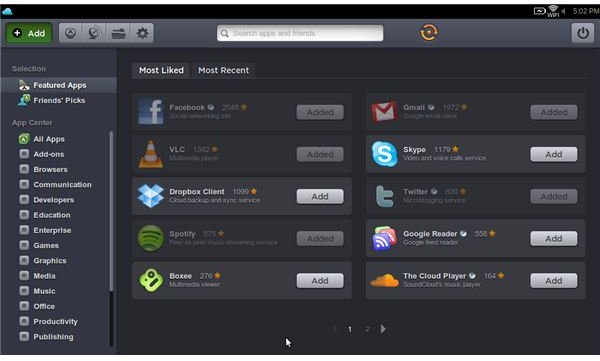 The installation of software has been taken to a whole new level of ease. You can click the add button in the top left corner and be greeted with a whole load of software that can be installed with just one click. There is some exclusive Windows software such as Spotify in there, but Jolicloud will run it fine using the WINE application layer. In here, you have many different pieces of free software such as OpenOffice for your office needs, Pidgin for chatting and the exclusive Spotify for streaming music legally.
If the software in there is not enough for you and you need more, it uses the same repos as Ubuntu 9.10, so you can just switch to a terminal and install everything you need too using apt-get.
Whilst there is still more choice of software in other operating systems, the majority of netbook users do not need it all and cannot run many modern games so are usually happy with the free software provided in the Jolicloud installation section.
Usability (4 out of 5)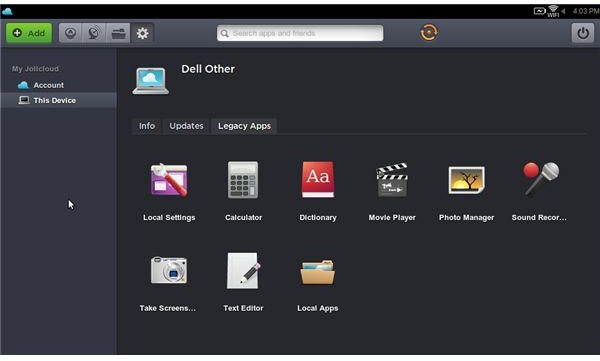 The menus in jolicloud are very easy to navigate for even the novice computer user. They will just take a bit of time to get used to for a typical Windows user, as all of your open applications and the taskbar sits on the top of the screen. However in the center of the main screen you have all of your installed applications which you can flick through and open.
However, if you want to find local applications such as a calculator or a text editor these are slightly harder to find. You must click the settings image on the top left and then click "This Device" and finally click "Legacy Apps". From this page you can also perform updates to the system and change your registration details.
Customization (3 out of 5)
This is sadly where Jolicloud can lack because there is no wallpaper or desktop to edit, but it is primarily aimed at netbooks so not much customization is needed. It does let you move the applications around the main screen but that it as far as customization goes in jolicloud.
Hopefully, they are thinking of adding themes and desktop images in the next couple of versions. I have heard various ideas and blueprints being put forward for just this feature. Most people however will not need or want to customize it as the OS is primarily designed as an internet operating system.
Overall (4 out of 5)
Overall, I think the Jolicloud developers have done a great job. They set about to create the ultimate internet OS back in 2008 and what they have come up with is certainly a winner in terms of usability, speed and support. It also has the backing of Skype co-founder to accelerate the development and promote jolicloud through advertisement.
The Jolicloud file size is 689MB so will fit perfectly onto a CD. However if you do not have a CD drive you may have to find a 1GB memory stick which I am sure many people have these days.