Linux Mint 5 review: A true windows replacement?
In the beginning…
The Linux operating system has grown and developed extensively since its humble beginnings. Linux Mint 5 (Elyssa) is a great example just how user friendly the Linux platform can become. Mint is based on Ubuntu 8.04 Core, but saying that Mint 5 is just Ubuntu with upgrades is not really accurate. Mint has become a powerful force in its own right. Let's look at some of the great aspects of this new distribution.
Installation: Linux Mint 5 has a quick and simple installation. After you examine the live CD and determine you'd like to install, just click on the convenient Install icon on the screen. The installation takes you to the user agreement, partition suggestions, and keyboard/language preferences. It takes care of everything else. This is one of the easiest installations I have yet seen for a Linux distribution. It is quick and painless.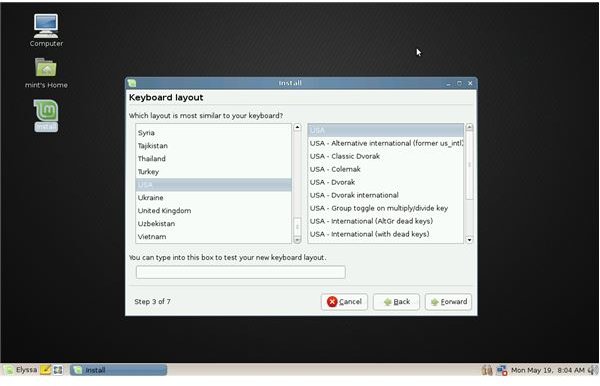 Look and Feel: Mint 5's slogan is "From freedom came Elegance" I couldn't agree more. The desktop is clean and clutter free. Mint also comes in several different versions, each of which gives Mint a different look and feel. Aside from its main Debian style, it also comes in community editions including a KDE, XFCE and Fluxbox.
Insallation and use.
Program installation and System Update: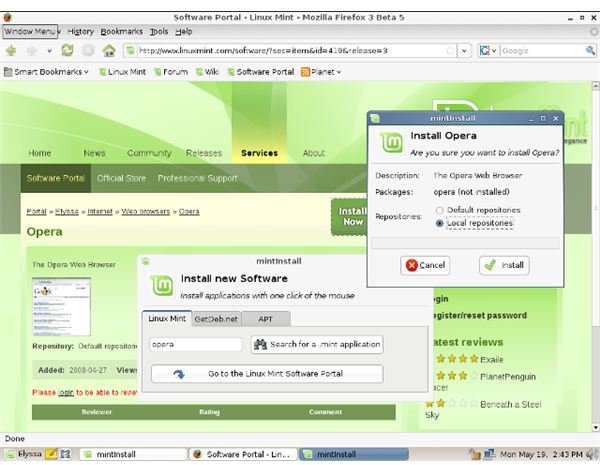 Updating the system software and installing programs is very simple. Mint 5 has a nifty tool called MintUpdate that makes finding and installing the latest updates easy.
In the Administration menu, click MintUpdate, to find what updates are available. Choose what you want to update based on a danger level (1 being safe update up to 5 being highly experimental update).
Mint 5 is unique in that it has its own program install feature, called Mint install. Select this program, and it takes you to applications, which are compatible with Elyssa. All you do is click on the program you want, select Install and you're done! It is also compatible with CNR, a software repository on the internet similar to download.com.
Compatibility: Proprietary software can be installed quickly. Out of the box, Mint 5 is already equipped with all the software I needed to run Java and Flash based content on the web. One more click for the Nvidia compatibility software in a program called Envy and my video card was detected and running smoothly. Wine and Wine Doors, the Windows emulators are simple to install and use. They are not perfect, but have come a long way in helping Linux users access common Windows software with relative comfort.
The only gripe that keeps many Windows users from switching is parental controls. Apparently, Mint 6 will have something called MintNanny to help, but overall, Dansguardian and Squid are the main content filters. These applications can be difficult to install by those new to Linux. There is a new program I tried called Privoxy that seems to do a decent job. It is not as difficult to install, but still does not have a user friendly interface.
Overall, Mint 5 is one of the best Linux distributions I have yet used. In fact, I wrote this article on my computer running Linux Mint 5. It still has a bit to go to truly replace Windows, but it is rapidly getting there.