New Linux OS Reviewed: Download Ubuntu Natty Narwhal!
Ubuntu 11.04 Is Here!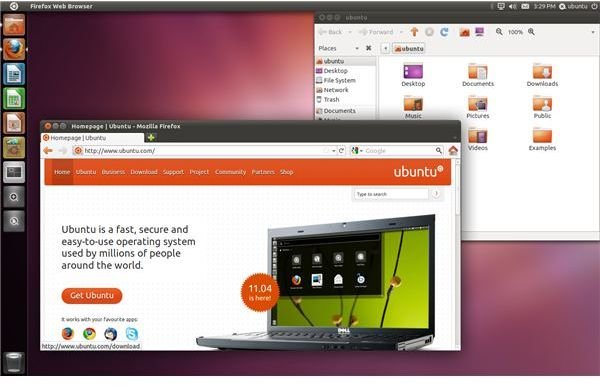 Probably the most popular version of Linux is Ubuntu, an operating system with a flexible user interface that brings all of the differences that Linux has to offer into a desktop environment that is easy to use for both Windows and Mac owners.
Ubuntu is probably on the edge of becoming the first Linux desktop OS that can effectively compete with Windows 7 or Mac OS X with its range of useful built in apps. Version 10.10, "Maverick Meerkat", was a very good release that caught the eye of many users that had previously ignored Linux-based operating systems as reasonable alternatives to Windows.
The latest version of Ubuntu is 11.04, dubbed "Natty Narwhal", was released on April 28th.
Features, Applications and Ubuntu One
Ubuntu 11.04 features various enhancements over previous versions, notably a more prominent Ubuntu Software Center which also makes recommendations for apps you might like to download, as well as the inclusion of LibreOffice replacing the largely abandoned Oracle-owned OpenOffice.org.
In addition, the media players have had a bit of a change too, with Banshee Media Player now the solitary MP3 player for Ubuntu.
The most notable software feature in Ubuntu 11.04 however is the inclusion of the Ubuntu One cloud storage tool for syncing vital and valuable data. With 2 GB of free storage this is a great facility for anyone using a netbook or notebook, and is easy to use with any computer; Ubuntu One is in beta testing for Windows, for instance, and various modular apps are being rolled out for Android. One app allows you to enjoy any music files stored in the cloud and stream them to your phone.
Ubuntu One looks like a solid service which could turn a few open source and closed source users alike onto Ubuntu 11.04…
User Interface and Unity
The Unity element of the user interface is the other big Natty Narwhal feature, offering an alternative to the traditional GNOME desktop with a sort of "active dock" on the left-hand side of the display that is intended to make Ubuntu easier to use, uniting various indicators, notifications and application launching.
Sadly Unity isn't something that was particularly forthcoming for your reviewer. Despite running Natty Narwhal natively (with a particularly popular ATI graphics card) from the Live CD, installing it in its own partition and running it in a virtual machine, I was unable to persuade Unity to work. It seems that many users have had this problem, and while Unity isn't required for Ubuntu 11.04 to be used successfully, it is a key reason for upgrading.
Where to Download Natty Narwhal
Although a new version of the Ubuntu operating system, the minimum system requirements remain low, with a CPU requirement of 1 GHZ, minimum memory of 1 GB, 5 GB of hard disk space and at least 1024x768 resolution.
Reduced installation options are available if you don't have a spare 5 GB, however, although this will remove the Unity user interface.
You can find your free copy of Ubuntu 11.04 Natty Narwhal online – sadly the practice of sending discs out to users who request a copy has come to an end. You can download Ubuntu Natty Narwhal from www.ubuntu.com, with versions available for desktop and notebooks, netbooks and servers.
What is Natty Narwhal?
If you didn't know already, a narwhal is a type of whale. Medium-sized, it lives under pack ice and feeds on flatfish, which it hunts with its tusk. Nothing about a real life narwhal bears any resemblance to this particular release of Ubuntu; the OS certainly doesn't have a tusk or indeed much in the way of dramatic evolutionary advantage, although the inclusion of new Natty Narwhal features such as Ubuntu One and Unity is a useful addition that will enable users to enjoy a very different user interface on devices with supported hardware.
However if you own a system with hardware that you think should be supported but running the Live CD version of the OS results in the absence of Unity, hold on for a while as no doubt various hacks will materialize…
References
All references and screenshots from Ubuntu 11.04 Natty Narwhal.
Main image credit: https://upload.wikimedia.org/wikipedia/commons/b/b5/Ubuntu_11.04.png