Choosing Open Source Software for Editing Articles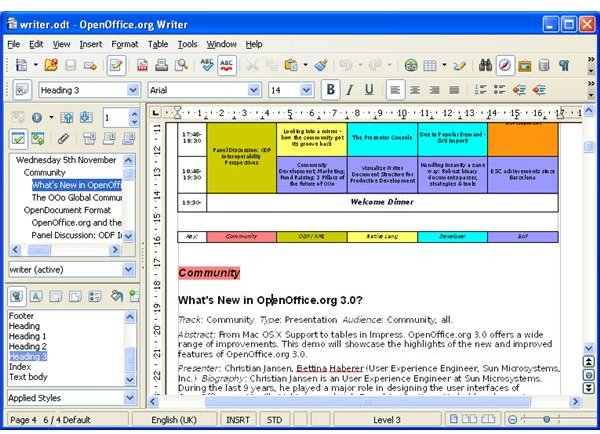 Open Source Article Editing
Whether you're writing up an interview or reviewing a book or album, suitable open source software will help you to deliver the best results. This might mean using the word processor that comes with OpenOffice or it might refer to some other desktop or web-based application.
The end product should be that your article is well written and polished before you submit or publish it, so as long as the software does the job, it shouldn't matter if it is web-based or installed locally.
Functionality for such a tool should include basic formatting, the ability to save the document as well as a spelling and grammar check. Let's take a look at the best open source software for editing articles!
OpenOffice Word Processor
The most obvious choice for any Linux user interested in document management and editing articles, the OpenOffice Word Processor is included with most current Linux distros so shouldn't need to be downloaded.
Either way, this open source article editing software is designed with the user in mind and owes a lot to the user interface of older versions of Microsoft Word and is as easy to use. There is also a degree of compatibility between files produced by each application.
You can find out more about Open Office at www.openoffice.org.
AbiWord - Open Source Software for Editing Articles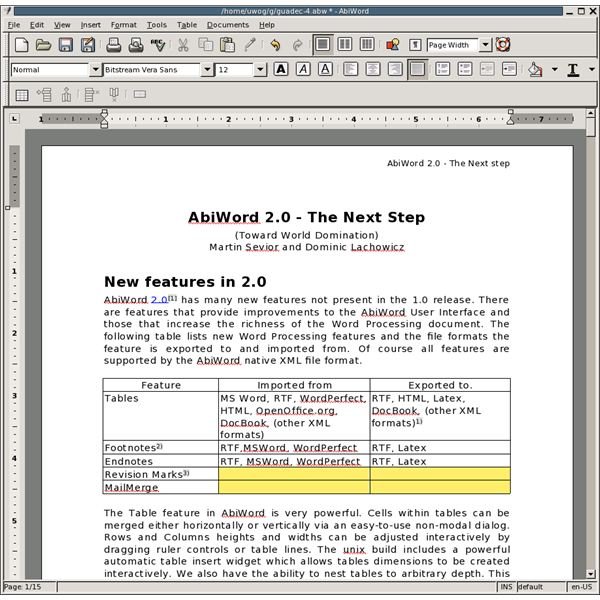 Also resembling an older word processing application, AbiWord is another open source software application for editing articles and differs from the OpenOffice application in the way it offers real-time collaboration in a seemingly effortless manner. This is particularly useful if you plan on editing articles by other users. Like OpenOffice, AbiWord supports the OpenDocument format to enable sharing across platforms.
More information about AbiWord can be found at www.abisource.com.
Zoho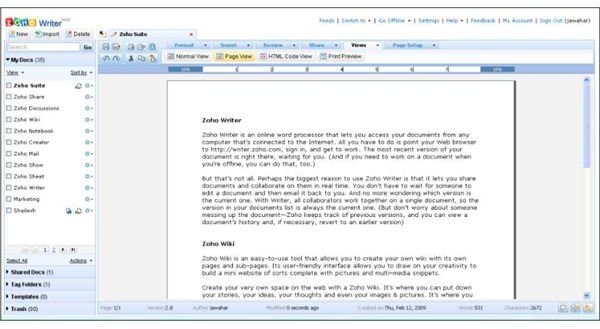 As well as the desktop article editing applications there are two very popular suitable open source applications online.
The first is zoho (www.zoho.com) which not only allows you to view and edit articles in your browser it also facilitates fast editing and collaboration with other users. For instance you can create a word processed document and share it with another user who might then update the file; then you can edit it in order to complete the document ready for submission.
This makes it the perfect online article editing tool and the beauty of Zoho is that it is free to use!
Google Docs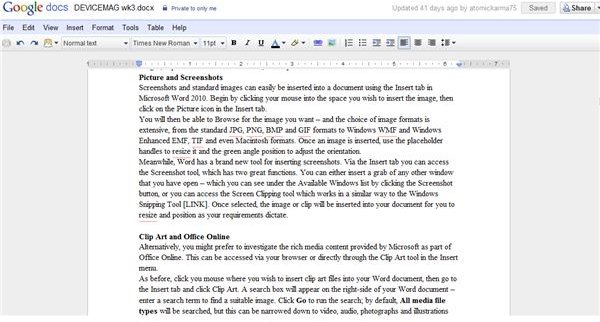 Up against Zoho is probably the most popular open source article editing software, Google Docs is a free-to-use browser-based web application that can be accessed by anyone with a Google Account.
This tool is excellent for anyone wanting to edit articles on a low-spec device such as a netbook, and provides a good selection of formatting tools as well as a spell checking function, which really illustrates how much Google have packed into this web app. Integration with Google Mail makes document sharing and collaboration easy with Google Docs - get started at docs.google.com.
(Images via corresponding links)