Recommended Open Source Screen Writing Software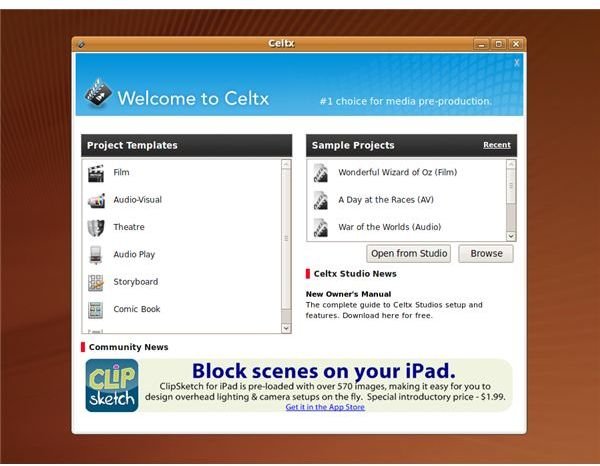 Use the Best Tools and Save Time
Many writers will sympathise; the endless reformatting of dialogue and descriptive or action text that comes as part of the task of writing a screenplay or script in a word processor like Open Office.
It's easily done – you start out with the title and the first few instances of dialogue correctly formatted and then the voices come and you simply don't have time to go back and format it as you type. Instead, you got back afterwards, and what was an enjoyable bit of writing turns into a sort of chore as you make the characters and world you created "readable". While formatting doesn't have to be too tiresome, there are alternatives.
If you're looking for a specific screen writing application for Linux, this selection of software should be let you leave the repeated manual formatting of Open Office behind!
Open Source Screen Writing Software for Linux
The main single open source screen writing solution for Linux comes in the shape of CeltX, available from www.celtx.com. Also available for Mac OSX and Windows, CeltX comes in a variety of languages and considers itself an "all-in-one media pre-production system". This is a lofty claim, and one which CeltX attempts to backup with tools for creating all types of script (film, video, comics, games, various audio types and many more) and you can even use it to storyboard.
Various add-ons are also available, some are graphics packs and others are functional extras; for instance one lets you colour code different script versions. This is a great open source tool with a great user community.
Web-Based Screen Writing Software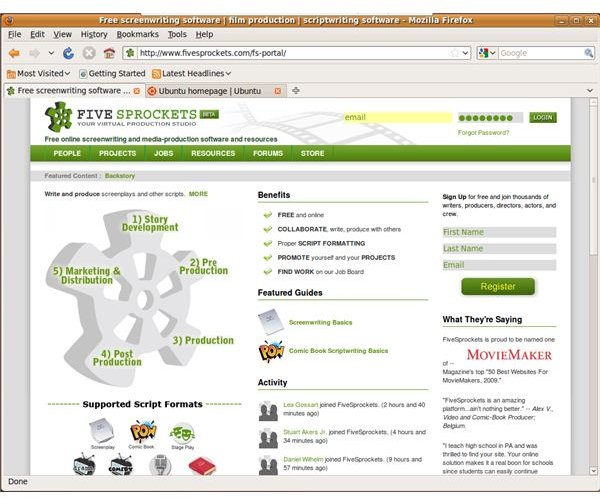 Despite the quality of CeltX, you might prefer something less processor intensive, particularly if you're using a netbook or other low-spec machine, for instance.
A great alternative is Five Sprockets (accessible via www.fivesprockets.com) which allows you to develop scripts in your browser. This online tool allows you to work through the 5 stages of:
Story development
Pre-production
Production
Post production
Marketing & distribution
…and the best thing is, Five Sprockets is totally free! Actually, no, that isn't the best thing - because Five Sprockets is more than an online text editor with a few screen writing formatting tools. With this website you can collaborate with others, promote yourself and others and even find work on the job board.
Open Office Templates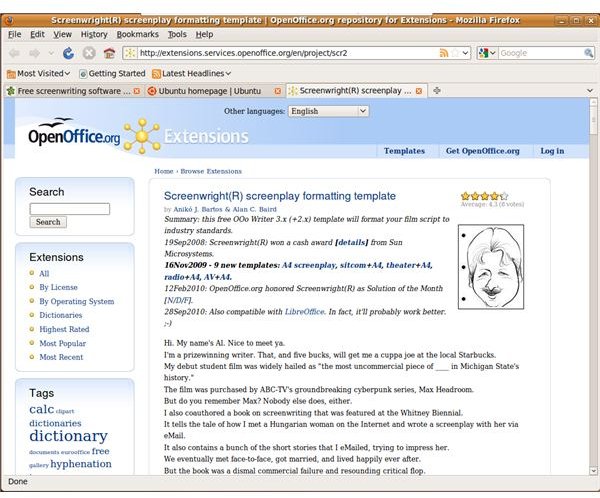 Finally, you might opt to stick with Open Office for your script editing. This is fine, and it doesn't have to be as tiresome as it might have been before. There are templates available for all manner of different Open Office files, including writing screenplays and other types of script formatting.
One such example is the Screenwright(R) screenplay formatting template which is available as an extension for Open Office. Ten different screen writing templates are included and this extension offers a great way to enhance your existing software. As you probably know, Open Office is already available as open source software so again this option is totally free to use!
(All images by author)