Working With a Puppy Linux Bookmark File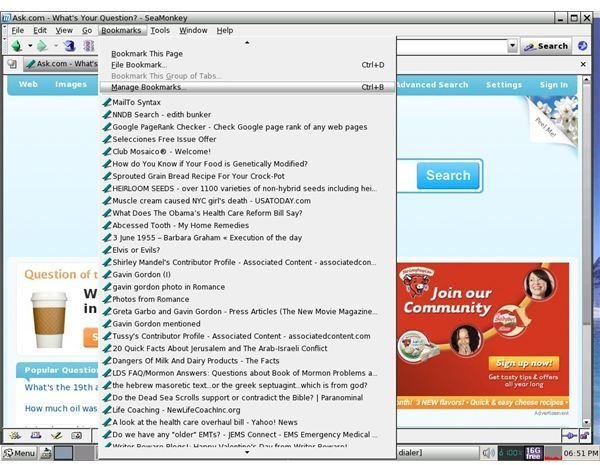 What Is a Puppy Linux Bookmark File?
The Mozilla Seamonkey web browser comes bundled with the small, but amazingly powerful, Puppy Linux operating system. It, like any other capable web browser, allows users to bookmark their favorite or frequently visited web sites. These favorites or bookmarks can easily be stored by users in what's known as a Puppy Linux bookmark file which then be used to restore the favorites list in Mozilla Seamonkey in the event it becomes corrupt and even to "import" a user's list of favorites into Microsoft (MS) Internet Explorer (IE) under Windows. I use the word "import" loosely because the actual operation allowing for favorites stored under Puppy to also be stored under Windows is not an actual import in the strict definition of the term. However, the end result is an exact copy of the list of bookmarks under Windows that you also have under Puppy. Please note that I tested this, as you'll see later, using MS Windows XP.
Let's Actually Work With a Puppy Linux Bookmark File
To get hands-on practice, simply open the Mozilla Seamonkey web browser and visit a web site, any site. Pretend that you want to save that site as a favorite by clicking on the menu options "Bookmarks" and then "Bookmark This Page." The site will then appear in a list which will continue to grow as you add favorites in this manner. When you want to visit a bookmarked site, simply click on "Bookmarks" and slide the cursor down to the title of the page to which you want to go. If you hover over the title, the address will appear; it's that simple.
Managing the Bookmark File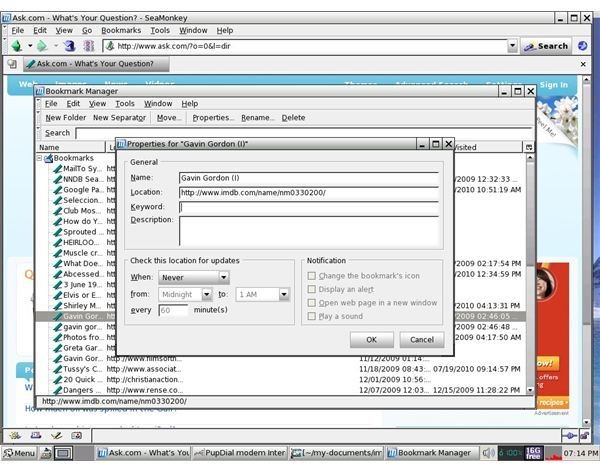 Mozilla Seamonkey allows you to manage your Puppy Linux bookmark file to customize your favorites. For example, you can categorize sites by creating dedicated folders. You can also customize the title, add a description, include keywords you used to find the page, keep track of when you last visited the site, and even of when modifications were made. What's more is that you can turn on the viewing of this information so that it's readily available in an organized table-like format. If you click on the screen shot below, you'll see what the graphical user interface (GUI) looks like for the Puppy Linux bookmark file manager. Notice that here I'm adding information to fields for the "keyword" and "description" columns which are not populated or visible by default.
To enter information, you must first bring the column/s into view by again clicking on "Bookmarks" and then on "Manage Bookmarks" or press Ctrl+B after clicking "Bookmarks" to enter management. Various columns are brought into view by clicking on "View" (I'm referring to "View" in the menu of the management window, not in the main Mozilla Seamonkey window) and sliding the cursor down to "Show columns" which will open a sub-window with all of your options: Name, Location, Keyword, Description, Added, Last Modified, and Last Visited. Simply click on the ones you want to appear in the manager. A check mark will appear next to the columns that are "activated."
The Puppy Linux Bookmark File Under MS Windows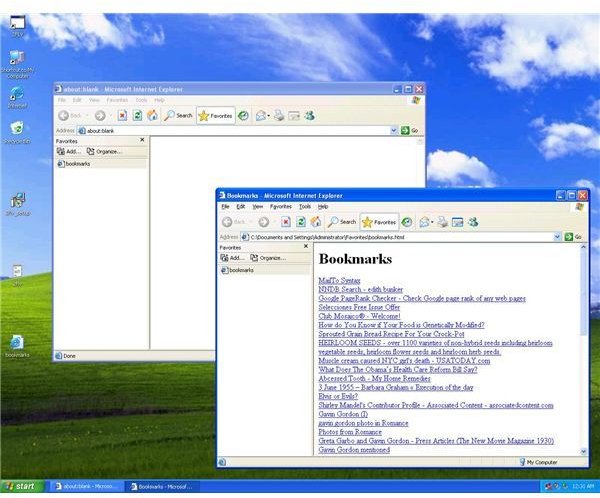 Yes, it's possible to conserve your list of favorites in Mozilla Seamonkey under Internet Explorer. Simply open the management window by clicking on "Bookmarks" then on "Manage Bookmarks." Again, the bookmark manager window will open. Click on "Tools" and then on "Export" and choose where you want to save the file. Needless to say that if you want to import a Puppy Linux Bookmark file, you choose "Import" instead of "Export."
The thing that I find very unique and advantageous with how Puppy keeps track of your favorites is that it saves the bookmark file as an .html document automatically named "bookmarks.html." What an excellent idea that makes for cross-platform compatibility and is exactly what allows the capture of your favorites list to also be stored under Windows. This Puppy Linux bookmark file lists the titles, as hyperlinks, of the web sites you've bookmarked. I was able to do this by simply opening Internet Explorer, opening favorites, dragging the bookmarks.html file that I had copied onto the Windows XP desktop, and dropping it right into the favorites of IE. Keep in mind that this operation is not an actual import because the list of favorites is just that–a list within one single file, not individual listings of web sites as though they had been bookmarked directly under Windows IE. Nevertheless, the goal of conserving a hyperlinked list of favorites is accomplished.