Add-ons And Features fo Firefox 3 for Linux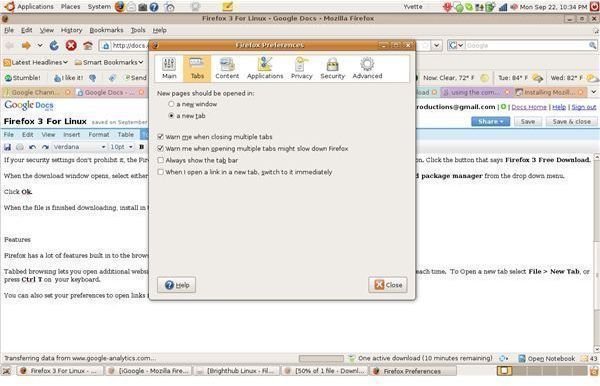 Firefox 3
In Part 1, we talked about how to download and install Firefox 3 on you Linux computer. In this article we'll talk about some of the more popular features of Firefox.
Tabbed Browsing
Tabbed browsing lets you open additional websites in tabs within the same instance of Firefox, instead of opening a new Firefox window each time. To open a new tab select File > New Tab, or press Ctrl T on your keyboard.
You can also set your preferences to open links in a new tab as opposed to a new window. Select Edit > Preferences > Tabs. Select a new tab. While you're there, go ahead as set the other tab preferences as well. I've found it vital to have Firefox warn me when I try to close a window in which there are multiple tabs open. If I'm busy I tend to forget the tabs are there. The warn me setting has saved my work many times
When you're finished with settings, select Close.
Bookmarks Toolbar
The bookmarks toolbar puts your most often used websites a click away.
First, ensure the bookmarks toolbar is visible by selecting View > Toolbars . Make sure there is a check mark in the box before Bookmarks Toolbar.
Now, to create a bookmark in the bookmark toolbar:
Right-click on the bookmark toolbar, away from any current bookmarks.
Select New Bookmark.
Type in the requested information. Name means a name you will remember. This is how the link will be referred to in the bookmark.
Location is the site URL.
Keyword - type a word that you will use to search bookmarks for this link. This is an optional field.
Description - This field is also optional.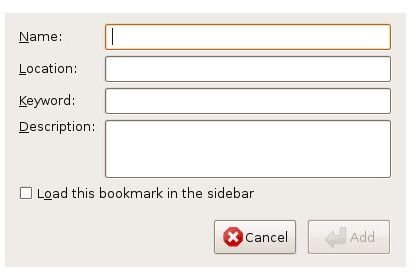 Foxmarks
Foxmarks is a Firefox Add-on which stores your bookmarks on an outside server. This allows you to access your bookmarks from any computer with Internet access. The easiest way to use Foxmarks is to install it to Firefox on each computer you regularly use. However, if you're using a public computer, you can also access bookmarks from the Foxmarks website.
To install Foxmarks, select Tools > Add-ons >Get Add-ons. To the right of the search box, click the link, Browse all add-ons.
A new window will open, taking you to the Firefox website. In the search box at the top of the page, type Foxmarks.
When the page loads, you will see a blurb for Foxmarks at the top. Click Add to Firefox on the right.
A malicious software warning will pop up. Since we know and trust Foxmarks, you can click Install Now
Forecastfox
Forecastfox is a weather bug that embeds into the toolbar of your Firefox. Forecastfox displays current temperature and projected weather for the next two days. You also have rollover access to regional radar and severe weather alerts. All weather information comes from AccuWeather.com.
To install Forecastfox, access the Firefox Add-ons page as described above. Search for Forecastfox, and click Add to Firefox.
To set your location preferences select Tools > Add-ons > Extensions.
Scroll until you find Forecastfox. Click Preferences.
Be sure to enter your zip code in the text box labeled code, to tell Forecastfox for where you'd like to receive weather info.
This is just a sampling of some of the great features created by Firefox users/developers. Take some time to browse through all the add-ons available. You're sure to find lots of useful add-ons.
This post is part of the series: Firefox 3 for Linux
Firefox 3 is one of the most popular web browsers available. This two part series explains how to download Firefox 3, and shows you what all the hype is about.