Distributions of Linux: Xandros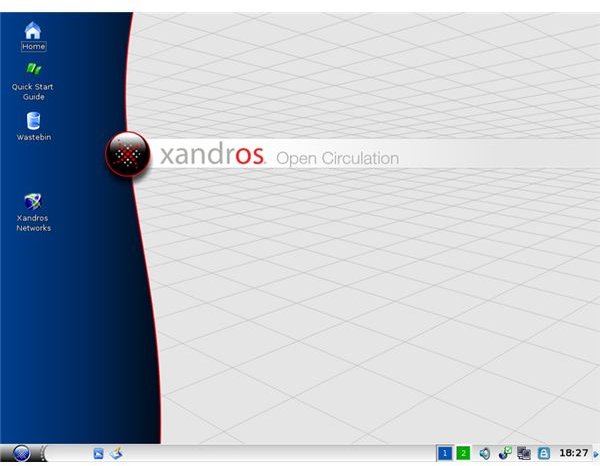 History
Xandros Linux was based on Corel Linux, which Xandros acquired from Corel in 2001. Corel Linux was designed to be a simple version of Linux for Windows users. Xandros has followed a non-traditional path in the Linux operating system market, opting to pursue deals with OEMs rather than pushing a general-purpose Linux operating system.
Professional editions of the Xandros desktop were the first Linux distributions to include the ability to integrate with Windows Active Directory domains. Xandros also claimed to be the first Linux distribution able to resize Windows NTFS file systems during installation.
Desktop
The Xandros Linux desktop is based on the KDE desktop environment, including non-KDE applications such as the Mozilla Firefox Web browser, the OpenOffice.org office suite, and the Evolution email client and personal information manager. The Konqueror file manager included with KDE is replaced with Xandros's own file manager. Software is installed through the Xandros Networks application.
Xandros never updated its applications as aggressively as other distributions, offering a more stable, slower-moving desktop for corporate users. Xandros is a Linux desktop designed to be familiar for Windows users.
Releases
The last stand-alone version of Xandros Linux was released at the end of 2006. Unlike many other Linux operating systems, desktop versions of Xandros Linux aren't free; however, they do have free trial versions.
A free, community edition of Xandros, "Xandros OCE (Open Circulation Edition)" for non-professional use was discontinued. Xandros also purchased Freespire Linux in 2008, but hasn't released any updated versions, and speculation is that this project was also discontinued.
Image Credit: Wikimedia Commons / Abramkin
ASUS Eee PC
Xandros Linux was the original operating system of the ASUS Eee PC, which started the netbook craze. While many Eee PCs are now sold with Windows, Xandros Linux is still the base of the Eee PCs that are sold with Linux. The Eee PC environment isn't a traditional Linux desktop, with large program icons adapted to the small netbook screen and many features hidden, including the traditional Linux command prompt.
Xandros on the Eee PC comes with popular applications including Firefox, Skype, OpenOffice, Pidgin and more.
Future
Xandros' marketing manager for OEM solution has been quoted as saying "We are kind of getting away from being a Linux company, and we are more interested in presenting a user experience. Users don't care about Linux."
Xandros sees its future in OEM deals with smartbooks and other mobile devices like the Eee PC, and hasn't released desktop editions since late 2006. Xandros is currently developing a Moblin-based distribution. Moblin, or "Mobile Linux" is a re-imagination of the Linux desktop environment for portable devices with smaller screens.
Xandros also develops other corporate applications, such as the Scalix email, messaging, calendaring and groupware server.