Top Five Linux Email Clients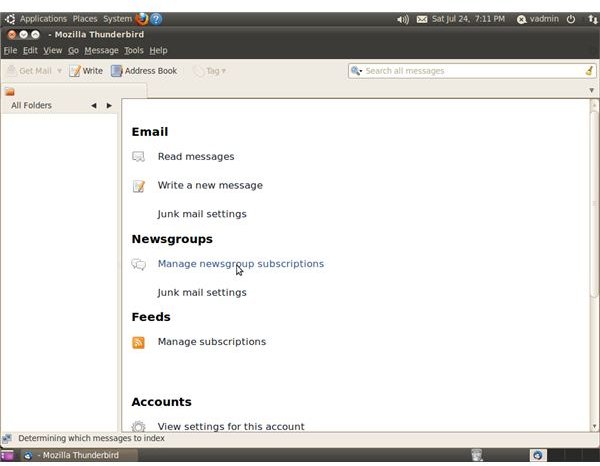 Mozilla Thunderbird
Thunderbird is a cross-platform email client written using the same XUL technology Mozilla Firefox is written in. Like Firefox, Thunderbird has a large extension ecosystem, making this email client ideal for users that like to tweak and customize their email experience. Another advantage of Thunderbird is that it's fully supported on Windows, OS X and other operating systems, so you can use the same Thunderbird profile and configuration on multiple operating systems.
Thunderbird contains a tabbed interface inspired by Firefox's as well as RSS feed support, spam filtering and more. While it doesn't contain calendar or task management features by default, the Lightning extension adds these features.
Get Mozilla Thunderbird from your Linux distribution's package manager or download it from the official website.
Evolution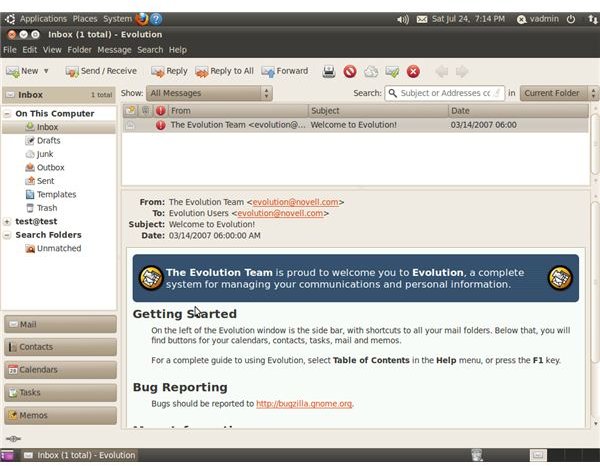 Evolution is the official email client of the GNOME desktop and uses the GTK toolkit. For users of the GNOME desktop, Evolution integrates with GNOME's clock applet, the "Send To" feature in GNOME's file browser and more.
Evolution can connect to Microsoft Exchange email servers, making it ideal for many corporate networks. It also has plug-ins similar to Thunderbird's, but much less plug-ins are available. Unlike Thunderbird, Evolution contains calendar, task management and memo features by default. It lacks RSS feed support, but contains advanced features for spam filtering, email searching and more.
If you're using a GNOME desktop, Evolution is probably already installed.
KMail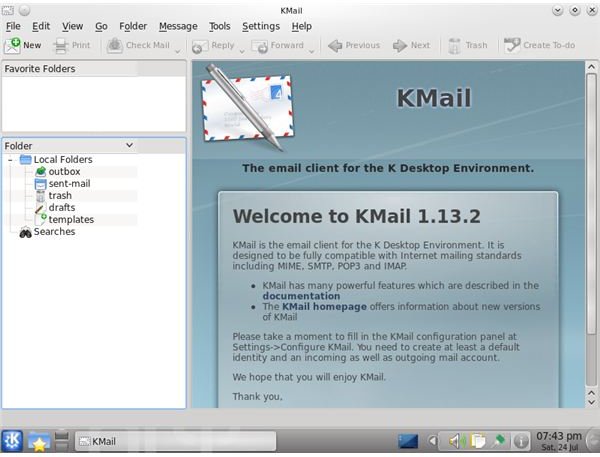 KMail is the KDE desktop's default mail client and uses the QT toolkit. KMail integrates with KDE in the same way that Evolution integrates with GNOME. It's part of the Kontact suite of personal information management applications, which includes task, calendar, journal, RSS feed programs and more.
KMail isn't as extensible as Evolution or Thunderbird and doesn't have as many advanced features. However, it's a light, well-integrated email client that supports spam filtering, robust email searching, importing of emails from a variety of clients and more. KMail is a good option for users of the KDE desktop that don't need much extensibility.
KMail comes installed with most KDE desktops.
Claws Mail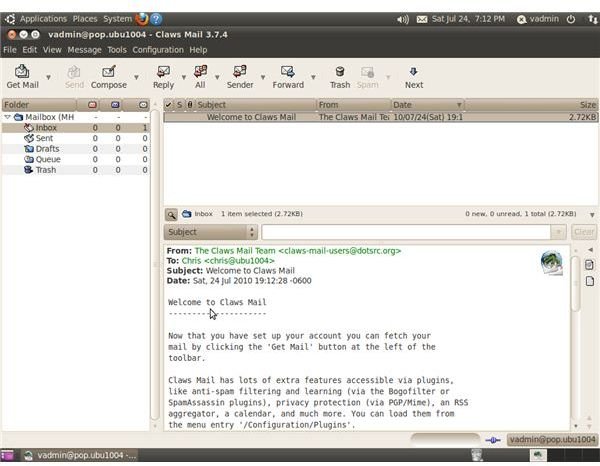 Formerly known as Sylpheed-Claws, Claws Mail is a very lightweight mail and news reader client. Claws mail doesn't support calendar or task functions by default. It has a variety of plug-ins for adding anti-spam, calendar, RSS feed, tray icon support and more.
Claws Mail has an emphasis on being lightweight and configurable and is written in the GTK toolkit. It's ideal for users that want a lighter, but still graphical and fully-featured application.
Mutt
Mutt isn't a graphical email client, it's a text-based email client used in a Terminal. In spite of the interface, it isn't dated and supports a variety of mailbox and email protocols including POP3 and IMAP, as well as message threading for easy email reading.
Mutt is a good option for users looking for a traditional, text-based email client.
Screenshots courtesy of Chris Hoffman:
Mozilla Thunderbird
Evolution
Kmail
Claws Mail