Download, Edit and Manage YouTube Videos on Ubuntu with Pytube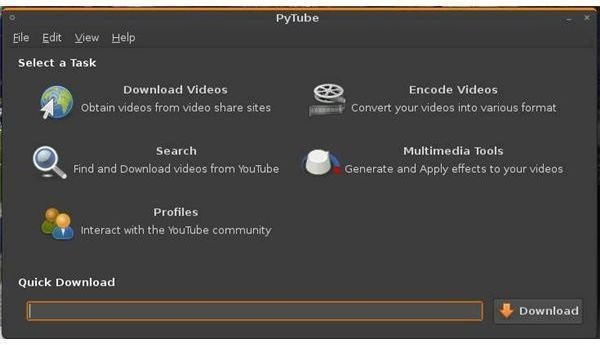 Introduction
Pytube is a rather amazing Ubuntu application that has slipped under the radar. This guide will show you how to install and use Pytube to manage, edit and convert your video collection. However, the best feature of Pytube is the ability to download and save your favorite YouTube videos to your computer with just a few clicks.
Features
PyTube offers the following features for people wanting to manage their videos or download other members videos:
An easy to use GUI- Multimedia file conversion (OGM, OGG, OGV, MP3, MPEG, AMV, GIF, MP4, WAV, AVI, 3GP, FLV).
Search for YouTube Videos- Download flagged videos from YouTube.
Transfer videos currently being played using Flash towards your desktop.
Download an any number of videos from YouTube, MyspaceTV, Google Video and Metacafe.
Preconfigured device support for video compatibility on your device (iPods, PSP, Flip Mino).
Editing tools including, video rotation,scaling, inserting audio file into a video file, and merging.
View profiles and contacts from YouTube members.
Share videos by exporting a list of video links, or import a list from another user.
Install Pytube in Ubuntu
You can download pytube .deb package from here. After downloading, move the downloaded .deb package to your user's home folder and then install this file using the following command in the Terminal:
sudo dpkg -i pytube_0.0.11.4~getdeb1_all.deb
Ignore any errors that are produced in the Terminal.
This will complete the installation of Pytube.
Update Manager
Pytube requires ffmpeg with mpeg4 and 3gp support which can be found in the Medibuntu repository.
Once the Pytube .deb has been installed the Update Manager should automatically appear with updates for the required codecs and files. Open your Update Manager by clicking the icon on the top Gnome Panel and click Install Updates.
Using Pytube
To open Pytube go to Applications > Sound & Video > Pytube Multimedia Converter
Once it opens you should seea screen similar to the following. From here you need to select one of the available options.
Downloaing YouTube Videos
Open your internet browser, and navigate to YouTube (Ensuring Flash is installed).
Choose any video that you want to download.
Copy the link to the video and navigate to Download Videos, click Add and paste the video link into the text box and click Add again.
Select your preferred output method and click Convert. The video will be downloaded, converted and saved to your computer.
Other Uses
Pytube can do many other things apart from downloading your favorite YouTube videos.
For example you can:
Convert your video into various formats.
Search your videos.
Generate and apply effects to your videos.
Interact with the YouTube community using the "Profiles".
As you can see PyTube is a very useful application for anyone who loves YouTube. The application is free, it works as intended and is a good addition to any machine running Ubuntu. Give it a try, you won't regret it!