Top Online Backup Service Reviews for Linux: SpiderOak and Jungle Disk / Amazon S3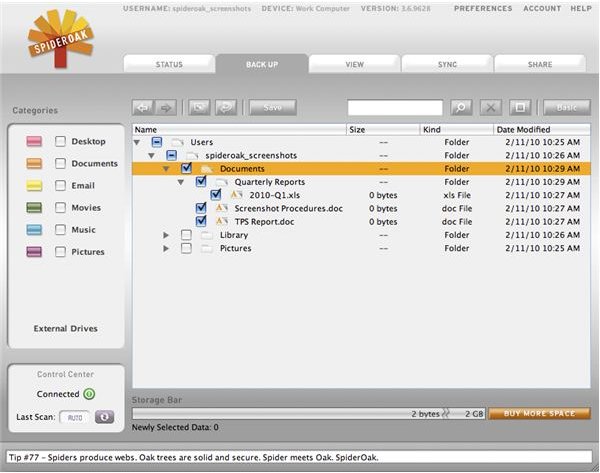 Online Backup Service Reviews
In todays modern computing environment, more and more users are turning to the "cloud" for their backup needs. Storing your data online offers many benefits to users and businesses alike. These benefits include reducing the on-site resources a user or business needs to invest in and a simplified backup plan that is always current. Perhaps the most important benefit however is an off-site backup of all your important data should disaster strike the physical location of your data.
Many of the best online backup services support Linux and offer Linux clients. Lets take a look at these services as well as what they offer the average or business user for their backup dollar.
SpiderOak
SpiderOak is a respected online backup solution. They offer a cross-platform client (Windows, Mac OS X and Linux) and an iPhone application available through Apple's itunes store. With SpiderOak you can store, backup, access and share files all through their main desktop client interface.
SpiderOak offers a free version of their service that is fully functional with the only restriction being 2GB of storage space. This is a very nice feature that allows you to easily "try before you buy." Should the 2GB free account not be enough space to meet your needs SpiderOak also offers a SpiderOak plus account. This plus account offers 100GB of storage space at $10 per month or $100 per year and you can add 100GB increments of storage over and above this initial 100GB at the same price, $10/month or $100/year.
SpiderOak Main Features
Multi-platform synchronization.
Preserve deleted files.
Share folders instantly via RSS.
'Zero-knowledge' data encryption.
Any number of computers - No additional cost.
Wholly fault-tolerant design.
Mobile device access.
SpiderOak is a solid option for your online backup needs. In my testing the client works as advertised on Mac OS X and Linux and I really liked the sync function where you can set up folders to keep in constant synchronization across all your machines. If you are looking for a full service online backup solution SpiderOak is definitely worth a look.
Jungle Disk / Amazon S3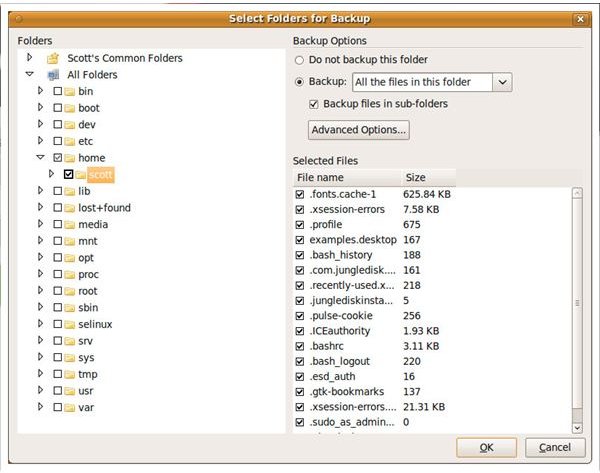 Jungle Disk is very similar to the SpiderOak service, the major differences being that they do not currently offer a way to publicly share your files and they use a "minimal fee + pay for what you use" pay scale for charging their users. For the desktop version of Jungle Disk you pay $3/month and then only for what storage space you use at a rate of $0.15/GB. You can find full pricing details on the Jungle Disk pricing page.
Jungle Disk Main Features
Multi-platform synchronization.
Share files between multiple computers.
Unlimited storage space.
Enterprise level data encryption (AES-256).
Jungle Disk is an excellent choice for your online backup needs especially if you are looking to backup massive amounts of data (no upper limit on how much data you can backup). At $0.15/GB I think the price is fairly reasonable and your monthly cost as a regular user may actually be lower than other services that charge a flat fee per month. Two of the biggest advantages of Jungle Disk are that it uses enterprise level data encryption (AES-256) and your files are hosted by the Amazon S3 service, which you know isn't going anywhere.
DropBox
DropBox is another fantastic online backup solution for your Linux machine. Unlike the other two services I have talked about DropBox is not designed to backup your entire PC. DropBox creates a "DropBox" folder on your PC, monitors this folder and backs up only the files you place in this folder. DropBox offers a free account with 2GB of storage, a Pro 50 account with 50GB of data for $9.99/month and a Pro 100 offering 100GB of storage space for $19.99/month.
DropBox Main Features
Multi-platform synchronization.
Share files between multiple computers.
Share files via the internet.
Private and Public folders.
AES-256 data encryption.
Mobile device access.
DropBox is currently my online backup solution of choice for Linux. The main thing to keep in mind is, like I said above, DropBox is not intended to be used to backup your entire PC. DropBox is used for what I call "selective backup", meaning you place your most important files into your DropBox and always have a secure online backup of those files. If you decide to use DropBox as your Linux online backup solution be sure to look into other options to backup your entire PC incase of disaster.
As a writer and amateur photographer I use DropBox to backup my writing, photographs and any other documents I deem important enough to make an online backup of. With DropBox I know that I always have a backup of these items and all my writing and photographs are kept in-sync between my multiple computers.
Summary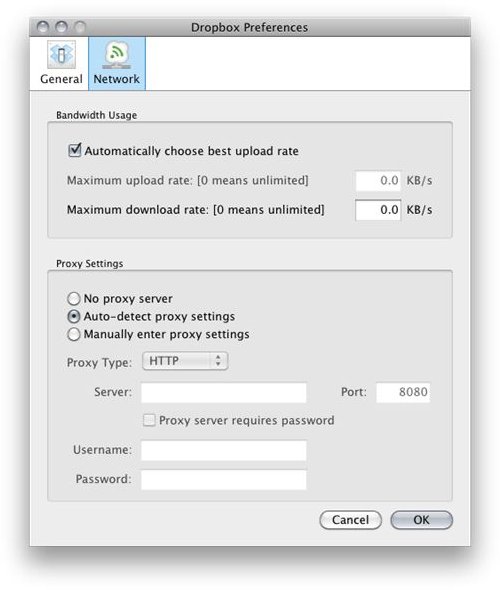 Overall, all three of these online backup services are dependable, secure and perform well on the Linux platform. Which service you choose will depend on your personal needs or the needs of your business. For personal "selective" backup I highly recommend DropBox, it is very user friendly and after the initial setup requires little to no user-input to do its job. For the online backup needs of a business I would recommend the Jungle Disk service if only because it uses the Amazon S3 service for its backups. It's a bit more expensive than other services but you are assured that your data will always be secure and available.
In the end the most important thing I hope to stress in this article is the need for a backup plan for your important files at the very minimum. Storing your important data in the "cloud" is one way of doing this, your data will be current, secure and always readily available to you should disaster strike.