Download, burn and use a Linux Boot CD

Whether you are looking to test-drive a certain Linux distribution or troubleshoot an already installed system a Linux boot CD can come in very handy. Some Linux boot CDs offer a fully functional Linux install on the CD including GUI (Graphical User Interface) while others load a text menu giving you access to some useful troubleshooting tools. Both have their place in the modern computing world and in the following paragraphs we will take a closer look at each.
Linux Live CD
Most modern Linux distributions offer a downloadable, bootable Live CD. This is a fantastic way to take a Linux distribution for a test-drive in your quest to find the Linux distribution that is right for you. You will have access to a fully functional Linux desktop when booting from these Live CDs with the option to install to your hard disk should you like the distribution.
Linux Live CDs serve a second purpose though and that is giving you access to troubleshooting tools should you have problems booting your main Linux install. You can boot a Linux Live CD, mount drives and access any files that may need to be repaired to get your system booting cleanly again.
Some common Linux distributions that offer a fully bootable Linux Live CD are:
The process of downloading and using these Live CDs is identical for each of these Linux distributions. Download the Live CD from the links above, burn the Linux Live CD to CD or DVD and boot your system using your newly created Linux Live CD.
Knoppix Linux Boot CD
The Knoppix Linux Boot CD is a fairly old and very popular project in the Linux world. This Linux Boot CD (Live CD) is based on Debian Linux which is another mature and stable project in the Linux world so you can download, boot and use this Boot CD with confidence. Some common uses of the Knoppix Linux Boot CD are:
Troubleshooting a Linux or Windows Install.
Diagnosing hardware problems.
Testing and installing Debian Linux.
You can download and try Knoppix Linux without making any changes to your current system and it's always a good idea to keep a Knoppix Linux Boot CD on hand in case of emergency.
Ultimate Boot CD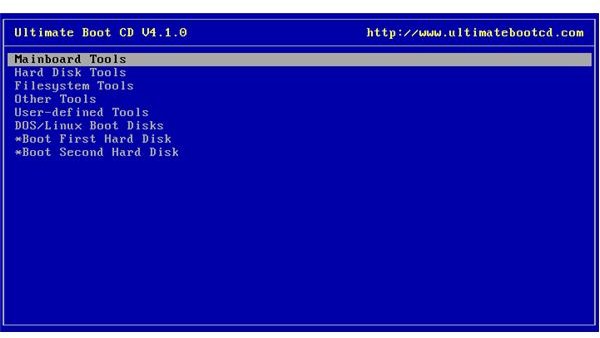 The Ultimate Boot CD is really the Swiss army knife of Linux Boot CDs designed for hardware testing, benchmarking, installation and troubleshooting. Included on this Linux Boot CD are a plethora of tools to do almost anything hardware related to any system. Aside from the numerous hardware related tools on this Linux Boot CD the developers have also included tools to test and secure your network, partition your hard disks, clone your hard disks, scan your system for virus and malware and much more! For a full list of tools included on the current version of this Linux Boot CD click here.
This is a must have CD in any computer technicians tool-kit and a very handy tool to have around for any user, novice or expert, when disaster strikes.
Custom NimbleX Live CD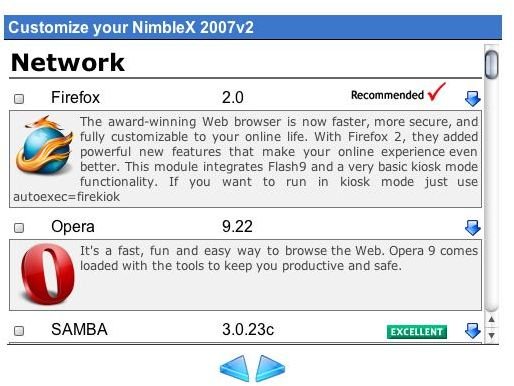 In the past remastering a Linux Boot CD (Live CD) could be a confusing and tedious process. I recently stumbled upon an online tool that has great potential in this regard. Custom NimbleX is a web-based tool, based on Slackware Linux, that can be used to create a custom Linux Boot CD. You choose what type of Boot CD you are interested in, for example a Boot CD to test and diagnose network problems, choose which programs to include and off you go. Custom NimbleX will create a downloadable .ISO file, containing only the programs you want included, that can be burned easily to disk and ready for use right away. If you would like to give this tool a try you can find it here. Let me know how you make out in the comments section below.
In the end keeping a Linux Boot CD, regardless of which type you choose, around for emergencies is a great idea. Whether you change a file in Linux and are no longer able to boot to your desktop or are in need of a program to test your hard disk because you suspect it contains errors, a Linux Boot CD is always there to help you out. I personally recommend keeping a Linux Live CD and a more technically focused Linux Boot CD on hand at all times. I keep the current version of the Ubuntu Linux Live CD and Linux Ultimate Boot CD on hand and have had a few occasions where they proved invaluable. A Linux Boot CD may not be a tool you use frequently, unless you are a PC technician, but it is a tool that will prove it's worth the first time you have occasion to use it.
In the coming weeks I will be expanding this article to include information on how to create a Linux Boot CD on a USB key, a full review of the Custom NimbleX Live CD as well as a custom how-to or two explaining how to make a custom Linux Boot CD (Live CD) using your favorite Linux Distribution. Check this article frequently for links to these new tutorials or you can subscribe to my RSS feed here. Until next time, keep it open source!