Problems With a Windows Recovery CD? Live Linux Might Help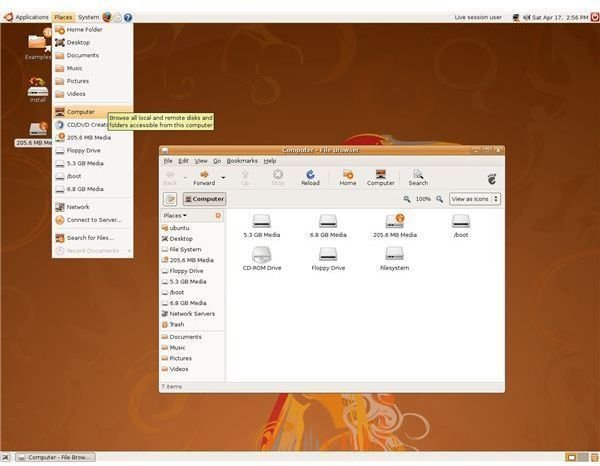 Preparing for When Window's Won't Boot
Getting an unstable Windows system to boot up is not always something that can be done by the average Personal Computer (PC) user. Times like these are when it's nice to know how you might use a live Linux boot CD for Windows "recovery" to gain access to your much needed files. Although Windows recovery with a live Linux Compact Disc (CD) is not actual recovery of the Windows operating system itself, it's sometimes loosely referred to as such because of the importance of recovering files created under it.
Although I use an Ubuntu live Linux CD for Windows recovery for this article, other live distributions such as Puppy, Fedora, OpenSuse, and Knoppix can also be used. The important part of the process is preparation by obtaining the live Linux CD before it's needed. You can locate the download site for practically every distribution available or you can purchase many of them for between $0.99 and $1.99from DiscountLinuxDVD.com
Using the Live Linux Boot CD for Windows Recovery
Simply boot your computer from your optical drive after placing the disc in it; remember that you might have to temporarily change the order of boot in your computer's set up. Within seconds you should be given some options; choose the one that allows you to run the distro without any changes to your current set-up. It should only be a few minutes before you're asked about your time zone and network connections after which you'll see the desktop as shown below if you're using Ubuntu in which case you'll choose "Places" and then "Computer" from the menu across the top to see the available disks. You can see these steps taken and the available disks revealed if you click on the screen shot below. The The 5.3GB Media holds Windows XP. If you're lucky, all you'll need to do to access your files is click on the drive. The reasons why your Windows won't boot in the first place will determine whether accessing the files will be that simple.
When Windows Recovery with a Live Linux CD Isn't So Simple
When you click to mount the file system of your Windows drive, you might see a message informing you that the volume can't be mounted. Click "details" for the information you'll need to manually mount it and get to your data. Open a terminal as you'll need to do a little command line work. Type "sudo /bin/bash" without the quote marks and press enter so you'll have what are commonly referred to as superuser privileges. You should see the dollar sign prompt change to that of a hash mark. You'll then want to make a directory to have a mount point by typing "mkdir/disk." When you clicked on details, you were given more information about what to type on the command; go back to that section of the error window as you will literally need to type that command to manually mount the file system yourself. You should be typing something like " mount -t ntfs-10g /dev/sda1 /media/disk -0 force." Please note that you shouldn't type a period after the word "force," I'm simply ending the sentence.
Basically, you're using the "mount" command to manually mount the Windows volume, the mandatory "-t" option is to designate the type of file system of the disk which will probably be "NTFS." We also have the designation of the volume itself (/dev/sda1), and the mount point (/media/disk). If you happen to still be using the FAT32 system, you should type "vfat" where "ntfs" appears. Also, sometimes "auto" works when you don't know what the file system of a volume is or you can type the "fdisk -ls" command to see a list of all available volumes and information about them such as the file system used. You can see such a list in the screen shot below. Don't worry about getting a warning message concerning forcing a mount of a file system. This is the only way to get your data to which you should now have access.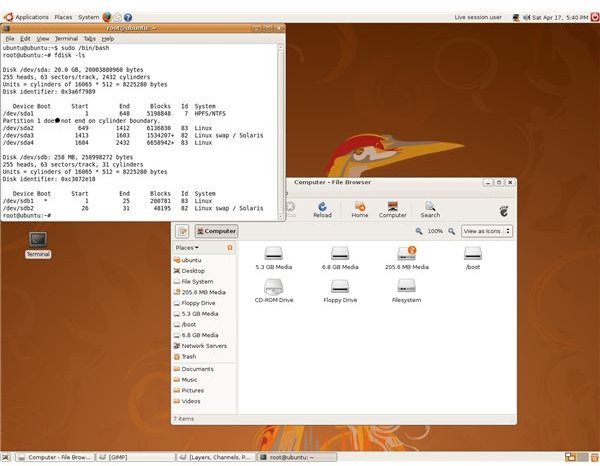 I suggest using a thumb drive, also called a pen or jump drive, to which you can copy the files you need while you can access them. Simply plug the drive in and it should automatically appear on your desktop. Knowing how to do this Windows recovery with a live Linux CD when Windows won't boot is very valuable in terms of money, time, and independence. If you're not at all comfortable with the steps that have to be taken when simply clicking on the volume doesn't mount it, seek the help of a user of Linux or any operating system who's comfortable with command line work. Windows recovery with a Linux CD when Windows won't boot has actually enticed some people to make a full or partial switch to this amazing open source operating system that rescued them.