Fedora Screenshots - See What Fedora Looks Like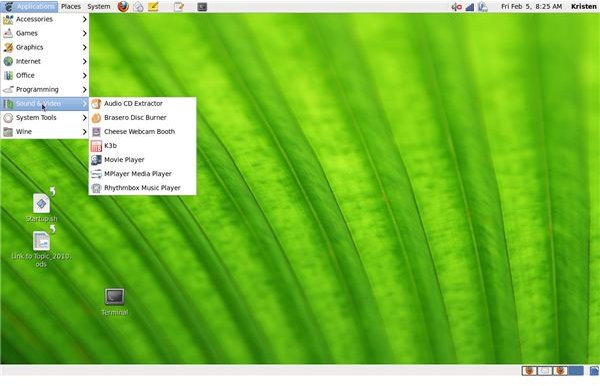 The Desktop
The Fedora screenshot below shows the Gnome Desktop. Gnome is the default desktop but KDE can be chosen during the install process, if you prefer. Like always, the Applications panel is at the top of the screen and the Workspace panel is at the bottom of the screen. I'm an avid workspace user, so I always set up four workspaces right off the bat.
I also automatically add the terminal window and gEdit application to the Application panel. Your panels and background image will look different after the install process. But, as Gnome is completely customizable you can set it anyway you want it.
Software Management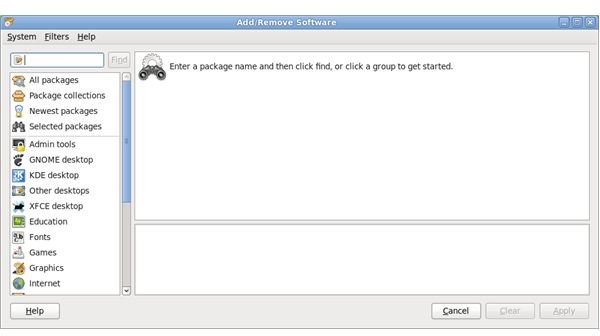 Fedora is an RPM based system similar to Red Hat, Mandrake and SuSE. It uses the yum package manager with a pretty good graphical interface called "Add/Remove Software." The graphical interface, shown in the Fedora screenshot above, is found under the Administration section of the System menu. As you can see, you can search for packages using the search function, or browse using the list on the left side of the screen. You can even browse through package collections such as development libraries, educational software or language support packages. Once you have decided what software to install simply select the software you want to install and press "Apply" to install it. You will have to provide the root password during the installation process.
SELinux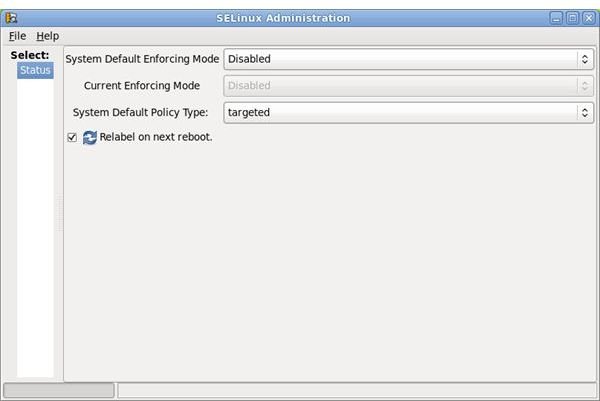 Fedora uses SELinux (Security Enhanced Linux) in order to create a secure computing environment. SELinux is a set of kernel modules that enforce the security policies. The SELinux Administration utility, shown in the screenshot above, allows you to change your security options from the desktop rather than the command line. You can change such options such as the Default Enforcing Mode and the System Default Policy Type. As you can see, it is even possible to completely disable SELinux, but I don't recommend it.
Software Updates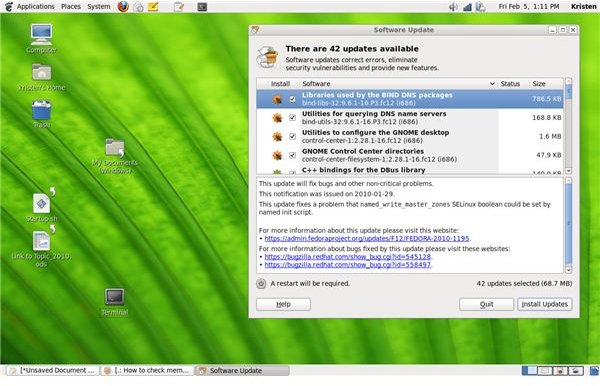 The Software Update monitor keeps an eye on what packages have been updated recently. When security updates are available, an icon will appear in the Applications panel. The Fedora screenshot above shows the window that appears when you click on the icon. The monitor keeps your system checking for bug fixes and feature updates also. You can manage how often you are prompted to install by clicking on System → Preferences → Software Updates. You can set the updates to install automatically, if you prefer. Since this often updates my kernel, and I have modified the kernel, I choose to manage my own updates.
Other Software
Of course, your regular desktop applications- Open Office, Evolution, Gimp, Firefox- are all there after installation. If you prefer different applications, you can always choose them during or after the installation procedure. I always add in a bunch of development tools, K3b, and Inkscape during the installation process. Fedora has a great installation GUI that allows you to customize the operating system to your exact standards.