Use CUPS to Work With a Linux Printer Driver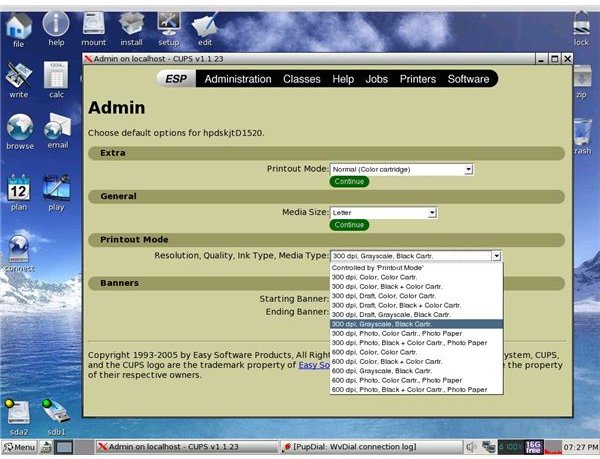 Almost every PC user desires the capability of printing material from the Internet or documents that he creates in word processing, graphics or any other application with which he works. Under MS Windows, printing is achieved by installing the required drivers that most manufacturers provide on a CD and connecting the printer to the PC. But, how do you access a Linux printer driver? These open source distributions use what's known as the Common UNIX Printing System (CUPS) to manage local and networked printers. Don't let the word "Unix" intimidate you. Nowadays, absolutely no knowledge of Unix commands is necessary to access CUPS Linux printer drivers.
The very first thing of which you'll want to be sure is that the printer you have or want to purchase is compatible with your particular distribution. The OpenPrinting database offers guidance in making a good selection. Remember, what's compatible under one distribution may not be under another. Unfortunately, many economical printers and all-in-one's that will work under Windows will not be compatible. The Linux printing system will appear different in each distribution or "flavor" of this operating system because there is no standard graphical user interface (GUI). But, whether you need a printer driver under Fedora, Puppy, or any other popular distribution, you'll find that the concept is the same. You may also find that the system automatically recognizes your printer or all-in-one and offers you a default configuration for almost instantaneous functionality. This was my experience with Fedora 9. However, if you do have to access a printer driver, you'll need to know how to work with CUPS to accomplish this goal. I'll give a couple of examples; one will show printing in Fedora Linux, the other, printing in Puppy Linux. The GUI for CUPS in these two systems is very different, but you'll see that the one is just as easy as the other.
Let's Learn the Linux Printing System in Puppy
We'll go through the steps necessary to set up an HP Deskjet D1520, a printer I actually use with this system on one of my laptops. We simply click "Menu", select "Setup", and then "CUPS Printer Wizard." A dialog box appears asking, "Do you want to add a new printer?" Answer yes and another box, usually with a purple background, will appear, informing you that the CUPS linux printing system interface will appear in 3-30 seconds. Click on "Manage Printers" and then "Add Printer." You'll then be prompted to give the name, location and a description of your printer. Next, you should press "Continue." The CUPS software will guide you like a wizard from there. If you click on the screen shots below, you'll see the option to add a printer in the window that shows my current setup. You can also see the option, "Configure Printer." The linux printing system affords the user much freedom to control the print out mode, resolution, and even the printing of banners.
I've literally been prevented from printing under Windows due to low ink levels in the cartridge. But, under CUPS in Linux, I can print until the last drop is used. I can also save on ink via precise control over print out mode and resolution.
Adding and Configuring a Printer in Puppy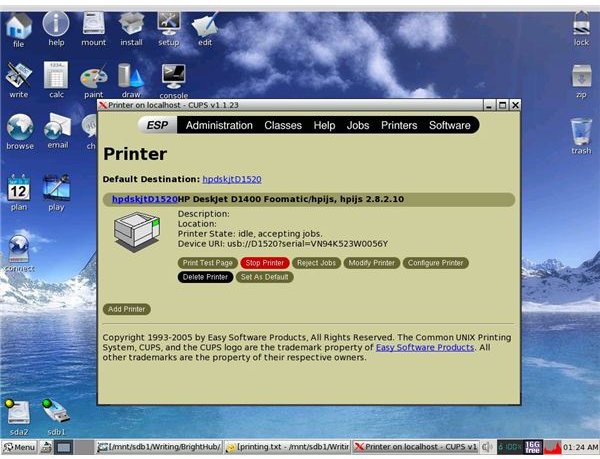 How to Access a Linux Printer Driver in Fedora
To configure a printer in Linux when the distribution is a Fedora release prior to 9, (code name Sulphur), you'll need the root password. Simply click on "System", highlight "Administration", and select "Printing." You'll be prompted to supply the root password after which you'll see the option to add a new printer or configure one that's already installed.
If you click on the screen shot below, you'll see the setup of my HP Deskjet 3320 and the options available to fine tune the printer configuration. Again, notice the precise control you have over resolution, quality, ink type, and media type.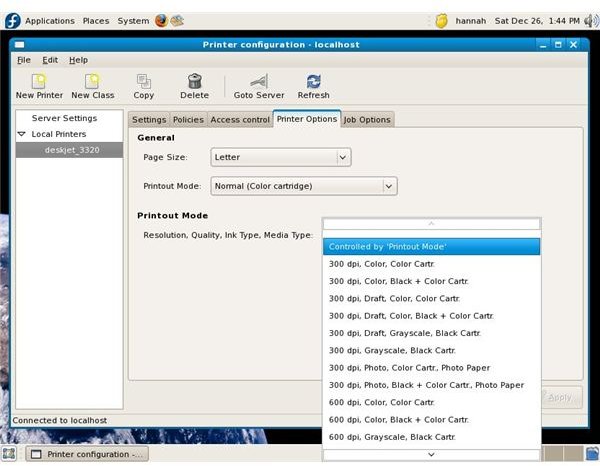 It doesn't take long to get used to how you use CUPS to access a linux printer driver. You may even discover that the advantage of not having to install drivers outweighs any disadvantages associated with compatibility issues.