Open Source Time Management Software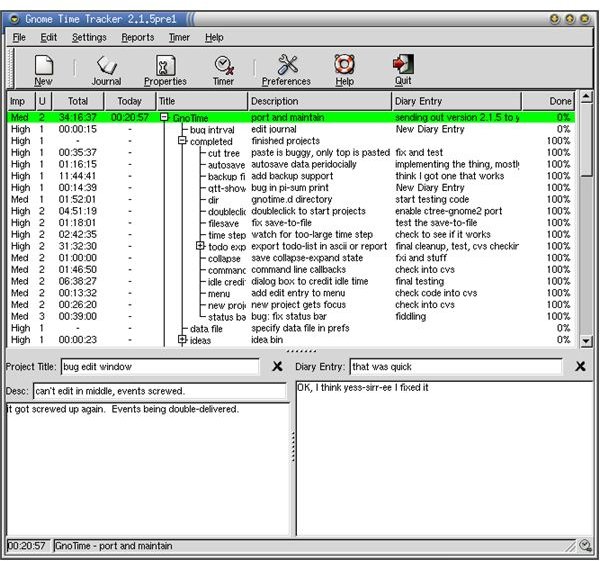 Introduction
Time is our most important asset and we have to squeeze the most out of it. To do that we need to see what we are doing and how much we are spending on a particular task. Linux offers very powerful tools to track our time and we will see two of them: GnoTime and Hamster.
Both programs are electronic stopwatches at the core. However, various features are added on top of that considering the users' needs.
Gnotime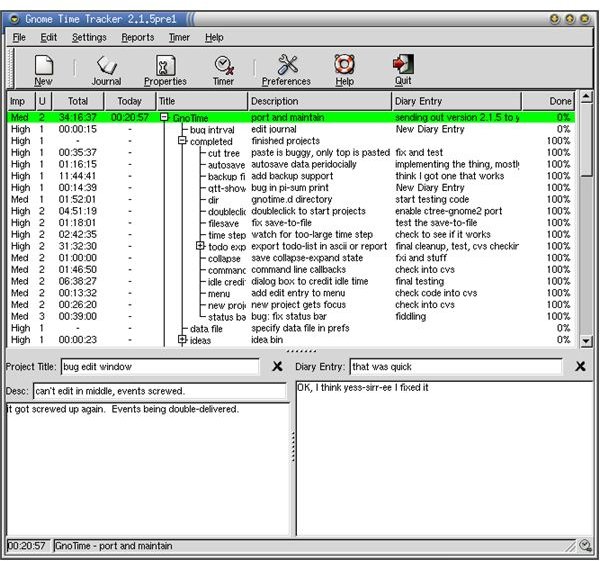 Gnotime is Gnome Time Tracker. It is an application that includes a time tracker, task management, journaling and diary tools to allow you to track time that you spend on various projects. Gnotime offers more with its built-in reporting and invoicing features.
Gnotime is very flexible thanks to the five simple features that it has:
Multiple to-do lists, which allow you to create tasks, assign importance, create hierarchies, assign groups (business, personal etc.).
Journaling, which allows you to keep your journal (or diary) that you can post notes in about your progress.
Time Tracking, which is the running stopwatch.
Billing Status with which you can assign billable, non-billable, overtime, paid, and pending tags.
Reports, with which you can create weekly status reports, invoices, and to-do lists. The reports are prepared in HTML format so it's easy to publish them to your website.
Hamster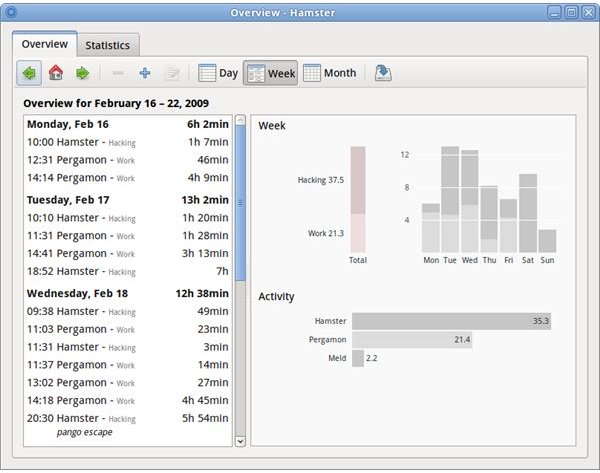 Hamster is a Gnome-applet that quietly sits down in the system tray and waits for you to input your activities. You can enter your activities, assign tags, and set reminders. The most powerful part of the program is the virtual representation of your time with graphs. This feature lets you glance at your week/month/year with a single click. You can also export your reports to HTML format.
Hamster consumes very little system resources like Gnotime. It does not have an open window when you are working and this way, it avoids getting lots of windows open, which can lead to a cluttered working environment.
Conclusion
It is not easy to recommend one program over another since they are for different needs. If you are working on multiple projects and want an all-in-one solution for your status reports, invoices, etc. (to say, if reporting is important), then Gnotime will be the choice. On the other hand, if you are working alone and track your time only, then you are more likely to prefer Hamster. Both programs are available in almost all distributions' repositories so you can install them easily from your package manager.