Linux for Children - We Review the Top 6 Linux Distributions for Ages 2 thru 15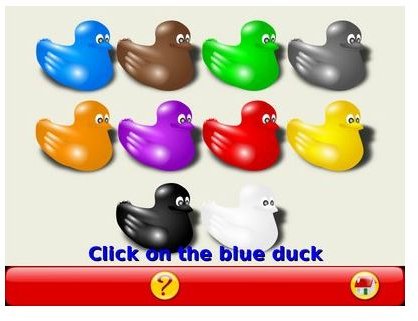 Editor's Note: This article was originally published in 2009 and reflects the author's opinions at that time. We have added notes to the article when where we have discovered some updated information.
To warm up children to use Linux, we start with selecting a distribution suitable for their age, which they feel comfortable with and which they can start exploring immediately without feeling any barriers. We will look at a couple of distributions suitable for children in the article and will give some brief information about each one.
Qimo for Kids: Ages 3 and Up
Qimo for Kids is an Ubuntu-based Linux distribution with a desktop environment designed specifically for children. The distribution comes preinstalled with educational games suitable for children 3 years and older. The distribution comes with an intuitive and very easy interface with large icons so that even the youngest children will not have any difficulty playing with it.
Note: Qimo 2.0 was released at the end of May 2010.
Sugar: K-6
Sugar is the distribution based on Fedora Linux that was designed for Prof. Nicolas Negroponte's One-Laptop-Per-Child (OLPC) project. It is aimed at K-6 children and is a radical departure from the traditional desktop, putting more fun, ease, teaching and programming abilities into the computing desktop. There are two cons that I see. The first one that it is designed for classroom use. Secondly, it is so radically different from the traditional Linux desktop that you can begin to feel you are using a completely different operating system.
Edubuntu: Ages 3 to 18
Ubuntu has also an officially-supported derivative, named Edubuntu, aimed at primary and secondary schools. The distribution has three different themes, called "young", "plain" and "default", for young users, a plain-desktop and a general-purpose installation. The default desktop environment is Gnome and the applications that come with the installation are OpenOffice.org, KDE Edutainment Suite and Gcompris. KDE Edutainment Suite includes applications for children between ages 3 and 18 and Gcompris includes applications for children in nursery/kindergarten.
Note: Edubuntu 13.10 was released October 17, 2013. However, the developers recommend Edbuntu 12.04 for larger organizations, which will be supported until 2017.
LinuxKidX: Ages 2 to 15
LinuxKidX is meant for children between ages 2 to 15 and uses KDE as the default desktop environment. It is a slackware based distribution featuring KStars (a virtual planetarium), Kalzium (Periodic Table of Elements), KTouch (typing tutor), KGeography, KWordQuiz, ChildsPlay and many other child-oriented programs. The project is supported by the creator alone, not seeming to get enough community support. I suggest you install it on a virtual machine or a separate partition or just run from a live CD before giving it a permanent installation to see if you're comfortable with it. If you do not want to bother, it would be better to try another distribution.
Foresight for Kids: Ages 3 to 12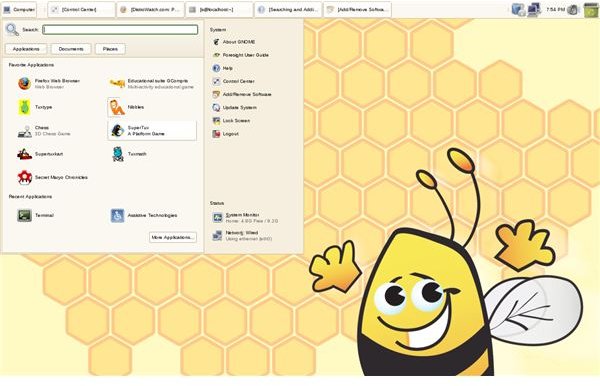 Foresight for Kids is a derivative of Foresight Linux, aimed specifically at children between 3 and 12 years old. It has Gnome as the default desktop environment and includes Tuxpaint, Tuxtyping, Gcompris, Tux of Math Command, Super Tux, Super Tux Card, Foobillard, GNU Chess, Nibbles, Frozen Bubble, Super Maryo Chronicles, F-Spot Photo Manager, Firefox Web Browser, Banshee Media Player, Pidgin Instant Messenger and Totem Movie Player, among the applications installed. The children's attention is attracted to the bumblebee character smiling and waving from the lower end corner of the desktop, warming them to the computer immediately. If you are looking for a Linux distribution for your young family, be sure to put Foresight for Kids on your list.
Doudou Linux: Ages 2 and Up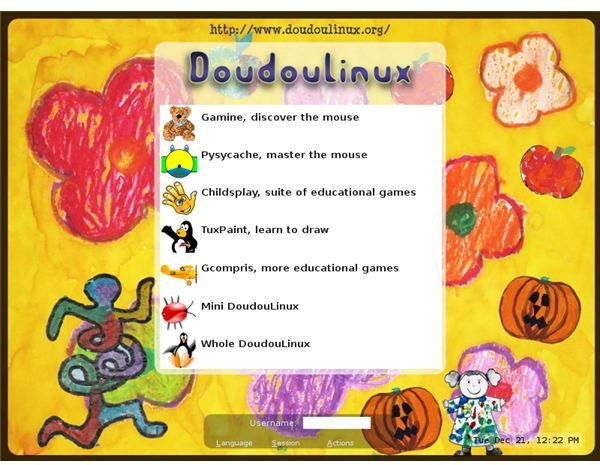 Doudou Linux is based on Debian 5 and thus it's quite stable (and also means that if you know your way around Linux, you can install programs from the Debian repository). The desktop environment is reworked completely to make it as easy as possible for children. Doudou includes Child's Play and GCompris, two popular collections of Linux games for Kids. In addition, Doudou Linux offers adventure, arcade, board, card, logic and sports games to enjoy, Geography, Kanagram, Hangman KLetters for learning, Instant Messaging (Empathy) and Web Browser (Epiphany) for surfing. These programs are grouped under "Learn", "Work" and "Enjoy" sections and arranged in a neat, tabbed interface.
Doudou Linux is currently very young, but the passion of the contributors, especially from France and Russia, signals a future very strong child friendly Linux distribution. (There is an extensive review of Doudou Linux already in my hubfolio.)
Note: Their last update seems to have been in June 2010.
Conclusion
As Paul Barry puts wonderfully in his Linux for Kids Experiment article in Linux Journal, there is no point in asking "is Linux ready for kids"; instead the question is "why not use Linux for kids." I completely agree with his point, and say Linux is the system to go for the children. There are distributions and programs for every age and parents should not have any problems managing their kids' computing experience.
I suggest all parents introduce their children to the Linux operating system; not because it is my personal operating system, but rather to introduce their young, unspoiled brains to freedom, openness and the ability to explore found in open source.