How to Install and Understand Device Manager in Ubuntu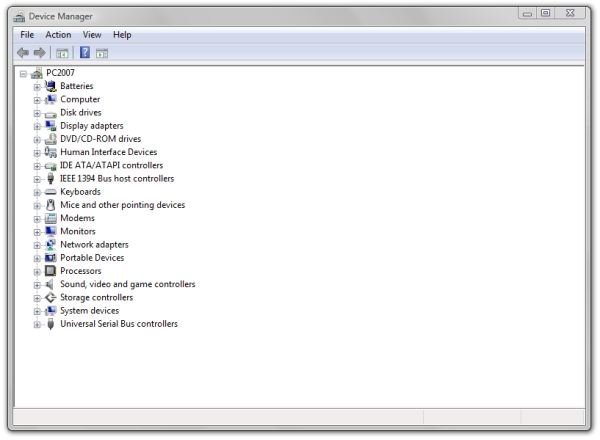 Device Manager in Windows
In Windows, Device Manager is usually started by right-clicking "Computer" or "My Computer" and selecting "Properties," then "Device Manager."
Device Manager shows a list of the hardware installed on the PC, along with the names and dates of the particular device drivers associated with each hardware item. Device drivers are software applications that allow an operating system to communicate with hardware devices. Many device drivers are provided by accessory manufacturers, while others are built-in to Windows and are updated through Windows Update.
Some devices have options, such as power settings or sensitivity, that are user-selectable, and changing these settings is also done inside Device Manager.
Device Manager also indicates a problem with a component visually with an icon to the left of the component name.
Device Manager and HAL
Gnome Device Manager is a front-end, or GUI, to the HAL daemon service. HAL, which stands for "hardware abstraction layer," continuously polls the system message flow or "desktop bus," which is also known as "D-Bus." Developed by RedHat for Linux, but now widely implemented in Microsoft Windows, Mac OS X, and other flavors of Linux, D-Bus is a way for applications or processes to communicate with one another. It's through D-Bus that processes find out which other processes are available and query their capabilities or readiness. It's also the method through which programs register to listen for messages about hardware events from the Linux kernel. In other words D-Bus is there to deliver messages from HAL to applications that are interested in them. This is also how the system learns, for example, that a thumbdrive has been inserted.
Device Manager is not a complete application. In fact, it's in flux. Another project called HardwareKit by RedHat is expected to eventually replace parts of HAL and have its own GUI interface. However, we can install and run Gnome Device Manager now and at least get an idea about how Linux understands (or fails to understand) our PC's hardware.
Installing Device Manager in Ubuntu
An application like Windows Device Manager is not provided by default in Ubuntu 9.04. If you open a terminal and type gnome-device-manager, it will tell you that the program is not currently installed and helpfully add that you can install it by typing
sudo apt-get install gnome-device-manager
Or, alternatively, you can install it using the Synaptic Package Manager. Start it under System → Administration → Synaptic Package Manager. Enter
gnome-device-manager
in the package search field, and you'll see gnome-device-manager appear in the first column. Click the box beside it, and then select "Mark for Installation" in the pop-up dialog.
Either way, you'll find that a related package (libgnome-device-manager0) is also needed, which apt-get in the terminal or syn-apt-ic on the desktop will handle for you.
Using Device Manager in Ubuntu
Gnome Device Manager is started by selecting Applications → System Tools → Device Manager. One of the first things you'll want to do is to click View → Device Properties. This will make the "Properties" tab appear in the view. The images below show Device Manager at first startup, after clicking Device Properties, and the Properties tab for the notebook's battery.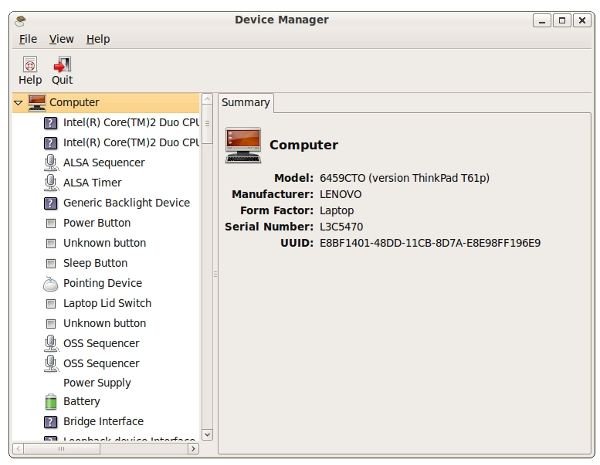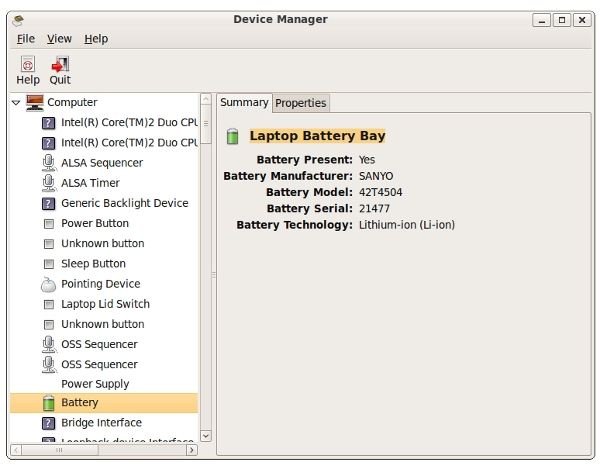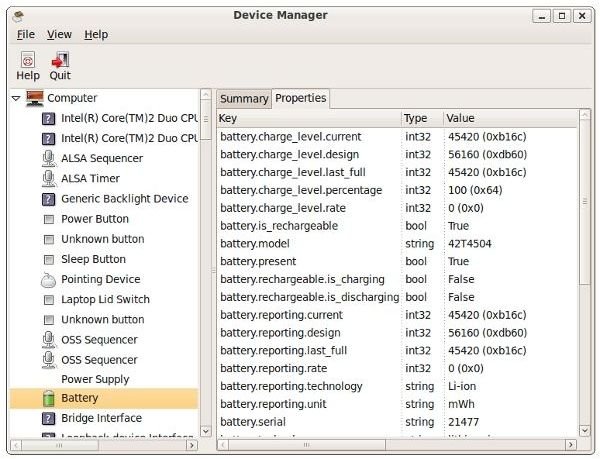 A major difference between Windows Device Manager and Gnome's Device Manager is that the Gnome version concerns itself with properties, which are in a way messages, rather than drivers. Windows allows you to view a device, determine which driver is installed, and find out if the operating system thinks the device is working correctly.
Gnome Device Manager does not relate to a device driver, and the presence of a listing in the hardware list does not indicate that the recognized hardware is working, or can even work at all under Ubuntu, or even if its recognized. However, Device Manager does do an extensive scan of the hardware in order to determine the hardware's capabilities.
If a device on the PC or a peripheral is not working or not working correctly, it's useful to find the hardware in Device Manager just to find out what Ubuntu actually knows about it. Then taking the hardware's name and searching for it in Google or on popular Linux forums may provide a fix, or at least somebody who can commiserate with you.
Will Gnome Device Manger evolve into a robust hardware manager? It's too early to tell, but right now it's a powerful and handy utility for viewing and identifying the hardware devices on a PC.