Using Linux Computers as Skype Devices - Set up your Linux PC for Skype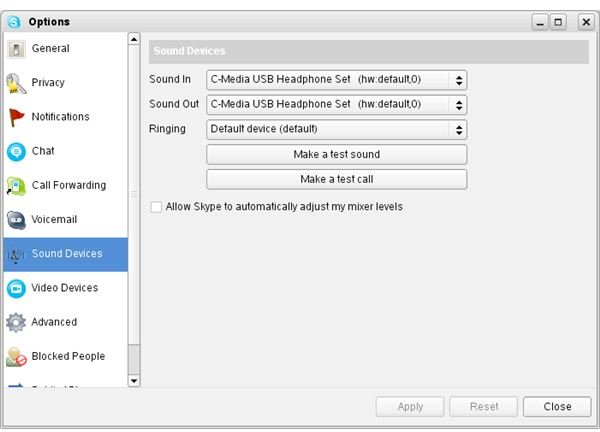 Introduction
The famous VoIP (Voice over Internet Protocol) program Skype has millions of users around the world. This is not coincidental, Skype offers very low telephone rates compared to conventional land lines. In addition, it makes computer-to-computer calls free, together with the added value of video conversations.
Skype also has releases for Linux, but the Linux releases lag a little behind in terms of features compared to the Windows. For example, when Windows users were enjoying video conversations, Linux users had only voice and text conversations. With the community's press, developers have now included video support for the Linux releases.
In the article we will look at the Skype devices to use with your Linux operating system. I assume that you have already installed Skype, either from your distribution's package manager or from downloading and installing from Skype's website.
Sound
This is the easiest part to get started with Skype. Any device that is capable of outputting sound -headphones, speakers, hi-fi sets- can be used with Skype, if they are correctly connected to your computer and functioning properly. I personally use the stereo speakers that are on my desk or the speakers of the notebook, depending on which one I am using.
To input sound, again any microphone that can be properly connected to your computer and functioning will do. Simply plug your microphone's jack to the appropriate plug and you are ready to go. Don't ask me which one I am using, I simply went to a technology store and asked for a standard 3.5" microphone with the lowest price (a little bit more than USD 3.)
However, if you will be using Skype extensively, then I recommend you purchase a good quality headset with built-in microphone.
Video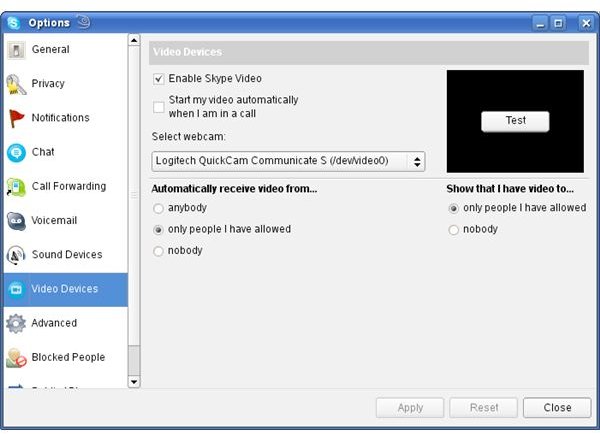 This is where selecting the right webcam comes in. Make sure that your webcam is supported under Linux or you will not be able to use it. If you are not sure about Linux support, google with your_webcam_make_model + Linux keywords. If you have not purchased a webcam so far but want to go with one, go to the Video4Linux website and make a search for the webcam you are thinking to purchase. If you see it supported, you are done.
If you have a supported webcam, basically you do not need to do anything. Modern distributions get it working with minimal questions to the user.
Getting Everything Together
When you plugged in everything together, the only thing that is left is to open up Skype and go to the Options. Select sound devices first from the left pane and make test calls. When everything is OK, select the "Video Devices." In both cases with the sound and video, you should be seeing your devices selected by default, which means your distribution recognized them and installed their drivers/modules properly.
We have everything set for using your Linux computer as a Skype device. From now on, enjoy Skype-ing on your Linux box!