Learn Linux Online - Scholarly Online Articles Mentioning Linux - An Analysis of DOAJ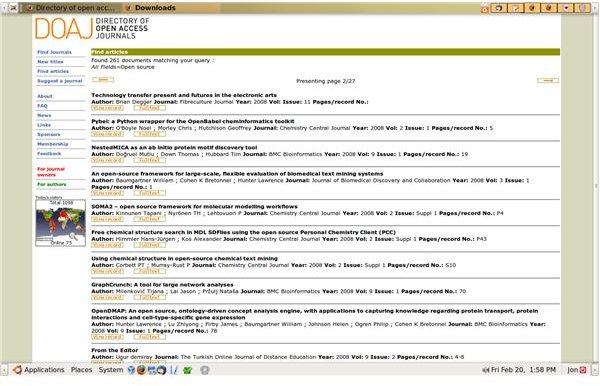 Directory of Open Access Journals
The Directory of Open Access Journals (DOAJ) is a comprehensive searchable archive of over 3800 journals. Over 1300 journals include the full text of their articles. I did a search of DOAJ for 'Linux' to find what mentions were being made of the Linux operating system and its associated software in current online scholarly journals. Bear in mind that these results will change from day to day as new journals and issues are added.
My search found 89 documents. Of these, eight mentioned Linux in the title of the article. Nearly all the titles were in English, with about six in other European languages. A quick sample suggests that about a quarter of the accessible articles are in languages other than English, though many of these will have English abstracts. Forty-one of the references were from a single journal, BMC Bioinformatics. The earliest article listed was from 2001, and the latest from 2009.
Linux articles
Unsurprisingly, many of the articles were evaluations of types of software running on Linux systems. These included tools for recording rat activity levels, data management, statistical analysis and 3D image browsing. Many were to do with various kinds of DNA analysis, and biological topics predominated, largely because of the dominating presence of the BMC Bioinformatics articles. Several articles referred to 'Linux clusters' – groups of interdependent Linux computers running large data-processing applications – and how to improve their performance. A third group looked at networking technology and one article (in Spanish) took on the social impact of technology: 'Hackers: de piratas a defensores del software libre'.
Searches for the names of the best-known Linux distributions found nothing, with the exception of 'Fedora', which turned up four hits. ('Gentoo' turned up one hit but this proved to be an article about penguin research! ) A search for 'Microsoft Windows' tuned up 13 documents. Searching for 'open source' retrieved 261 documents.
Results of a DOAJ Linux search:
Conclusions
Unfortunately the DOAJ interface is fairly clumsy and doesn't allow the found material to be sorted by title, journal or relevance, or exported to a more manageable form; otherwise it might have been possible to extend this analysis further. It does appear, however, that Linux and open source software are getting a fair number of citations in the academic press. A considerable portion of this is based in Europe and Asia where the Windows hegemony is less well established than in the US and other English-speaking nations. The numbers show a definite increase in citations each year, but how much of this is due to a growth in interest and how much to the gradual expansion of the DOAJ database over time is impossible to say.