MythTV - TV for Linux - Installing and using Digital Video Recording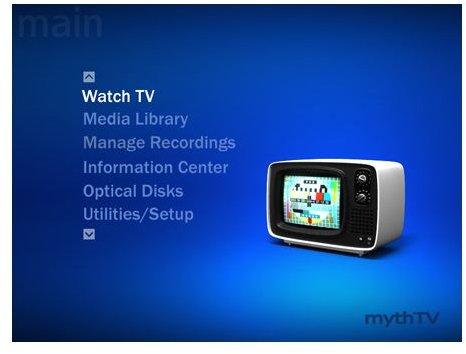 Installation & DVR Functions
You do not need to install another operating system or boot your system from another drive to use a media center. Windows Vista added Media Center capability with the Home Premium version, and users thought that the only option to have a media center is to run this version of Vista. This is not true. In your Linux box you can install MythTV and have the same (in fact more) functionality.
Installation should be fairly easy for OpenSuSE, Ubuntu, Fedora, CentOS and Mandriva (and even Mac OS X). You can check from this page. Ubuntu and Mint users can go to Synaptic and check MythTV to be installed.
After the installation you have to undertake some configuration. Considering that the combination of computer hardware is infinite, we suggest you to take a look at MythTV's user guide before getting going. MythTV is a system where you must pay attention to the details and make sure that everything is working. For example, check your sound card configuration from the program's main menu and listen to one audio file to make sure than your card is properly recognized by MythTV. Or, check that you have your TV card recognized and configured by your Linux distribution before going on to the MythTV configuration. But, if your hardware is OK, by any means, then you do not have much to worry about; you can expect everything to work out of the box.
When all is clear, you will recognize that MythTV has additional functionalities compared to other media centers. One is digital video recording (DVR for short). In fact MythTV was started as a DVR application for Linux and then evolved in time and became a complete media center application suite. The DVR functionality is not limited to recording something from the TV card. You can stop, rewind, pause and record TV streams, as well as make scheduled recordings. Plus, depending on your hardware, you can encode your streams on the fly and save them on your hard disk in XViD format. If you have digital channel guide in your country, you will love the "fix scheduling conflicts."
Extensions
MythTV can be extended with plugins. MythArchive, MythGallery, MythMusic, MythVideo and MythWeb are the main ones that appear on the homepage of the application.
MythArchive enables you to make CD/DVD archives of your recordings. You can do pretty much everything with your archives: you can insert intros, animated thumbnails, subtitles, time, description, chapter menu, etc.. You can imagine making a DVD movie of your last vacation with MythArchive with all the DVD editing features. With all these building blocks, the rest depends on your imagination.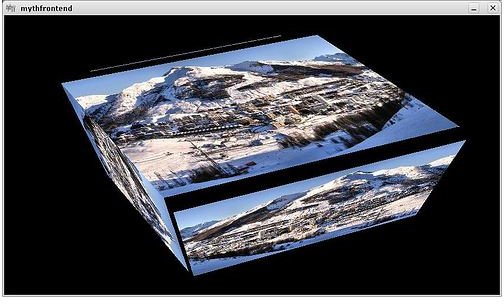 MythGallery, as the name implies, is the photo gallery application of MythTV. If your graphics adapter supports OpenGL extensions, then MythGallery offers more than a thumbnail listing of images; it also render your image transitions. The image on the rgiht shows some photos rendered as a cube.
MythMusic does not function only as a music player. You can do almost everything you want to do with your music. For example while you are ripping your CD's, you can download album information from the Internet (which the MythMusic takes care of automatically) and fetch album art (usually album covers). You can arrange playlists (including importing from iTunes), save different playlists etc. MythMusic also supports visualization. Better yet, you can play your music when you are looking at your photos in MythGallery.
MythVideo is where you go to arrange your videos. You can manage your recordings, DVD rips, Flash movies, YouTube clips, video camera recordings, whatever you name from MythVideo. One of the best options is to make bookmarks on DVD/VCD's; meaning that when you are going to bed, you can bookmark the DVD and when you wake up you can pick up the movie where you left. I find it wonderful to go to just one place to see my videos. However, I wish there were a DVD ripping feature here.
Themes and Media Server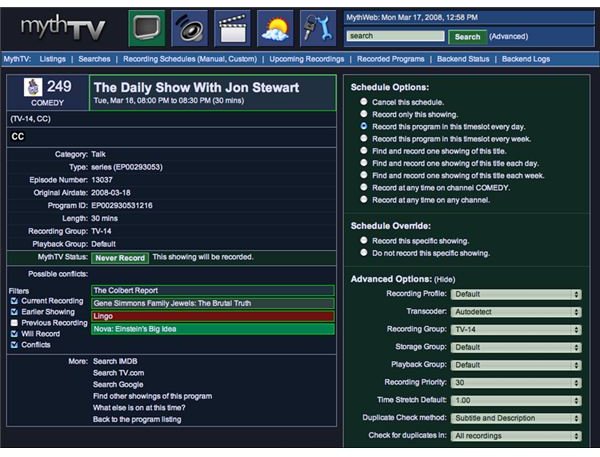 MythWeb is the web control interface of the program. The name implies surfing the Internet or reading e-mails, but it does not. As told in the website "MythWeb's primary purpose is to provide the user with an easily accessible interface to MythTV's listings data (i.e. what's on when, and where) so users can quickly find desired shows and schedule them to be recorded."
That's not all. If you want to go on further, there is MythWeather which displays weather forecast for the oncoming days. You can extend your MythTV application even more with other plugins, such as MythFlix, if you are a NetFlix subscriber.
MythTV also has theming support, meaning that you are not restricted to only one view offered. You can have a look at the themes section to find one that fits your taste.
We have some things to note for the tech-savvy users. MythTV works in a client-server architecture: the client is the MythTV graphical user interface (front end) and the server is the database (back end). The program uses MySQL as the database. This client-server architecture enables you to extend the MythTV as a media server. You can install MythTV on a computer that sits in your basement and connected to your network, and all your family can access the media files from their own computers.
Although MythTV has not reached its stable release, 0.21 is already mature and stable. I do not expect you to have many issues. I definitely recommend that you to install MythTV from your distribution's package manager rather than compiling from source.
And finally, whether you are going to install MythTV as an application or in your home theater PC (HTPC), it is a very good choice. A MythTV installed HTPC connected with a HDMI cable to your LCD/Plasma TV will be the best option for your viewing pleasure.
This post is part of the series: Linux Media Centers
Surely there is not just one single media center in the world, which happens to come from Redmond? You will not believe your eyes when you see what Linux has to offer in terms of media center software. Be sure to read on to choose one for yourself.