WOMP! The Lightest Weight (Bootable) Linux Media Center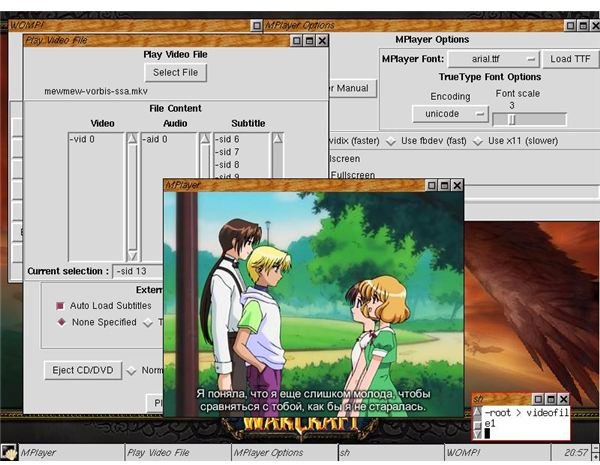 WOMP!
I know you will not believe me when I tell you WOMP! does not need to be installed on your computer. I also know that you will not believe if I tell you that, depending on your demands, WOMP! will take 13 to 30 Megabytes (yes Megabytes) of installation. "Stop it" you say, but I will go on.
You can install WOMP! on a CD, which will take 1.5 Megabytes (one point five Megabytes or 1500 Kilobytes) of space, leaving the rest for your multimedia files. So, you can burn your photos, movies and music to a CD, go to your friend's house and boot his/her computer from the WOMP! CD.
I am not joking really, this is what WOMP! is about. Ah, by the way, you can also install it to your hard drive.
However, it is obvious that you will not expect the functionality of eAR OS from WOMP! The menu is much simpler, having "Play DVD," "Play VCD," "Play Audio," "Play file," "Browse the world," and "Eject CD/DVD" options only. I think these are sufficient for many needs of a user. (You would not expect word processing from a media center.)
To really have a complete media center, I think the developers need to add at least YouTube support. Adding YouTube will not have too much impact on the size of WOMP! I believe but it will make the distribution "catch the time".
Although the distribution is tiny and offers most of the functionality of a media center, the interface is very old looking. This is for a reason: the fancier the interface, the heavier the size.
WOMP! has no problems in watching DVDs and VCDs, including Matroska format. It also has support for subtitles, not only in English but for other languages. The screenshot shows an anime playing with the Russian subtitles (from WOMP!'s website). As you see the subtitles look very clear and they are configurable (font type, size etc). The distribution also support listening to streaming mp3 files.
My opinion is that if you have an old computer lying around somewhere, give it one more chance. Install WOMP! on it, buy a few sound and video cables, and turn it to a home theater PC.
This post is part of the series: Linux Media Centers
Surely there is not just one single media center in the world, which happens to come from Redmond? You will not believe your eyes when you see what Linux has to offer in terms of media center software. Be sure to read on to choose one for yourself.