Linux Web Authoring - NVU KompoZer Review
NVU/KompoZer
In this article we will cover KompoZer. We cannot do that without mentioning NVU (pronounced "new view"), though. NVU was a project started by Linspire Inc., whose aim was to bring Linux to the masses and who saw that the Linux environment lacked a web authoring program. However, Xandros acquired Linspire in 2008, and the NVU project was halted. Since the license of NVU did not permit bugs in the code to be fixed, the project was not continued by Xandros. However, the project was then picked up by Fabien Cazenave and was continued with the name KompoZer. If you wish to install NVU or KompoZer on your Linux box, go with KompoZer.
If you read our previous article, we finished with SeaMonkey's Composer. Now we are going one more step further and will be working with a seemingly basic, but powerful web authoring program. People who have worked with Microsoft's Frontpage will not have a big learning curve, since KompoZer's interface is more or less similar to Frontpage.
KompoZer starts with a nice "Did you know that…" tip, which warms you to the program and also lets you discover the hidden functionalities. I recommend to keep the tick on "Show tips at startup".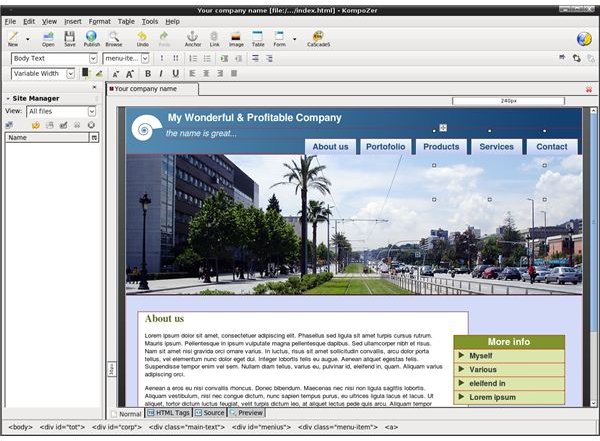 When you start KompoZer, you are presented with a blank page. You can start typing your webpage immediately or open a page that you have edited previously, or better yet, a page that you have downloaded freely from the Internet. The screenshot on the left shows a freely available webpage that I have downloaded from the Internet (Defiant), shown in KompoZer.
As we see in the image, the interface bears similarities with SeaMonkey's Composer. The sequence of the icons in the toolbar - New, Open, Save, Publish, Browse, Anchor, Link, Image, Table, Form, as well as the font selection toolbar with font face (fixed with, variable width, Times, Courier), font size, bold/italic/underline formatting, alignment and the tabs at the bottom showing Normal, HTML Tags, Source and Preview are all the same. So, if you have beared with me so far, we will not face difficulties in using KompoZer even if you have already come to grips with a simple web site editor, such as SeaMonkey's Composer.
The source tab at the bottom needs mentioning. In SeaMonkey's Composer, we did not have syntax highlighting, which means the text that you write and the commands that you type are not presented differently. In KompoZer, the HTML commands, text, tags, and comments are displayed with different colors so that you do not make mistakes when you are playing with your webpage's code.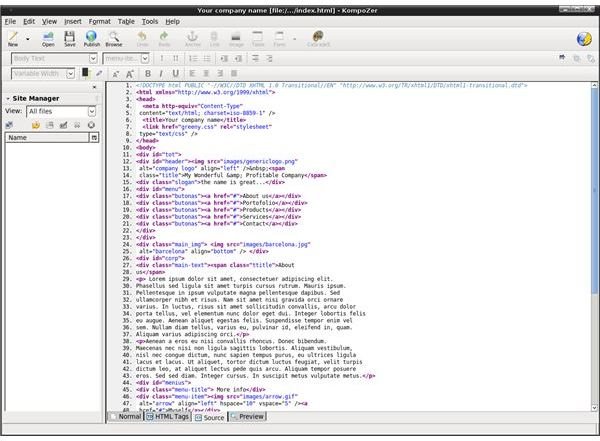 At the left side, the part headed with "Site Manager" is the part that makes one of the distinctions which makes us place KompoZer apart from OpenOffice.org Writer and Composer. In this pane, we can edit more than one web site, see our files and folders, and manage them as well. This means we are moving from basic text editing (or word processing, if you will) to web authoring. The same type of thing you are doing with file management is here under your mouse icon. Select a file and it will open in the right pane. Edit it, save it, and publish it. You do not see it in the screenshot because I do not have a website running now.
KompoZer's web authoring distinctions are not limited to a basic file management, of course. The useful features are placed under the "Tools" menu, which enables you to:
clean your HTML code (called markup). When writing HTML, you can easily forget to close tags, leave empty blocks, or define alignment for table cells which are empty. These simple mistakes may be wrongly interpreted by some web browsers, which may in turn fail to display your website correctly. Even if not, why not have a cleaner code when you can?
validate your HTML Code. This is the same as SeaMonkey's Composer. Your website is checked by the World Wide Web Consortium (W3C) for any mistakes. As we have told you earlier, be careful, as the W3C has no mercy.
manage CSS: You can manage your Cascading Style Sheets (CSS for short) inside KompoZer. Going to Tools → CSS Editor, you can make changes to your CSS code without opening the text file and trying to look for the line(s) to change. Your CSS is very well presented in a graphical way.
check Javascript: If you have embedded Javascript code in your webpage, you can check for errors, warnings, and messages without leaving KompoZer. This gives you the ability to see if something will go wrong when you publish your page to the Internet.
Under the Tools menu, there are "Extensions" and "Themes" options, but unfortunately there are no extensions and themes for the time being. We are looking forward to have them as soon as possible for this great program.
We recommend KompoZer to the users
who want a simple but complete solution for authoring their websites.
who want to author their websites within a program
who want to get a better understanding and usage of webauthoring software.
In the next article in the series, we will be taking another step further and looking at a more complicated, all-in-one program for web authoring.
This post is part of the series: Web authoring in Linux
You are getting ready to install Linux as your primary operating system but still talking with yourself: "How can I manage my website? I only know the programs in the common operating system!". Hop right in because in this series we are proving that you have no reasons to think about this.