Kontact: KDE's Personal Information Management Program - Introduction, Summary View, Mail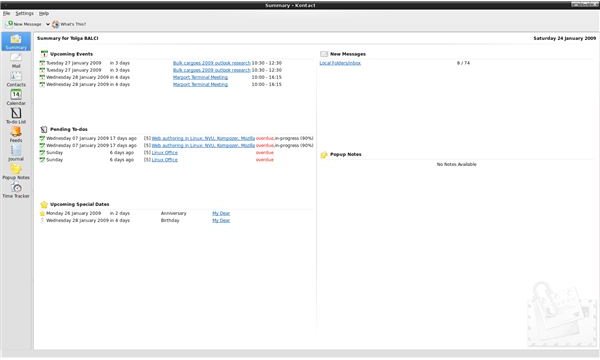 Introduction, Summary View, Mail (KMail)
Kontact is the personal information management program of KDE. You can use Kontact as only a PIM manager, or you can adopt Kontact as a groupware application. Kontact supports many groupware functions out of the box. These include KOLAB (2.1), SuSE Linux OpenExchange Server (4.1), eGroupware (1.0), OpenGroupware.org, Citadel (6.41) and Novell GroupWise (6.5). The supported version numbers are in the parentheses. Possibly, you have noticed that Microsoft Exchange is not on the list. This is true. For the time being, you can only connect to Microsoft Exchange 2000 through some tweaking, which is not supported by the KDE PIM team. Kontact cannot work with Microsoft Exchange 2003 and later, thanks to Microsoft's proprietary protocols.
When you open Kontact, you will immediate notice the efficient use of the screen space. Instead of eating up space with the extended words, the functions are presented on the left hand side. You can immediately jump to a function from this pane. Let's see each item one by one.
Summary View
This is where you have an overview of the upcoming days. You are presented with the number of e-mails, calendar items, pending to-dos (tasks), and any other items that you want to be shown here. You can add or remove information from the summary view by going through Settings -> Configure Kontact. One important distinction from other collaboration applications is the option to define an anniversary that is different from a calendar item. If you had done so, the anniversaries are displayed separately from the appointments, making it easier to distinguish your beloved's birthday, which would appear somewhere between the meetings in other programs.
Mail
E-mail management is much more easier and flexible with Kontact. I've always wished I could use Kontact at work (and Linux, to be exact) because it has features that Microsoft Outlook has yet to implement. One of these features is showing conversations by thread and managing them as a whole. How many times you have searched for an e-mail in a particular conversation by sorting by name, sorting by subject, sorting by date, etc.? Kontact has the option to display your e-mail in a thread, therefore allowing you to find whichever mail you want.
E-mail folder management is made easy by adding "Favorite folders" to the top left pane, enabling you to access the folders you define with one click. Also, trules are present, but under the "filters" name. You can define as many filters as you wish by going through Message → Create filter. Do not get confused if you cannot find anything except "filter on subject," "filter on to," and "filter on cc." Actually, you can click any of those and change the options as you like.
Mail - continued
Supporting IMAP, POP3, SMTP, NTLM and GSSAPI, Mail can check what your server supports in terms of secure authentication. If you do not know what your e-mail provider supports to authenticate your user name/password, SSL, TLS or DIGEST-MD5, you can enter your user name, password, e-mail address and click "Check what the server supports" and the program will automatically make the necessary configurations. You have to enter pop3/smtp ports manually though if the e-mail provider uses different ports other than the default 110/25.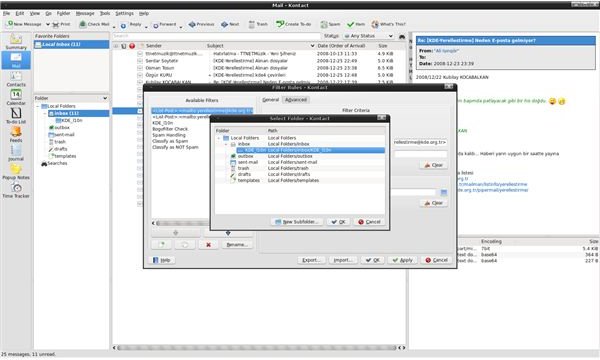 If you are using PGP encryption to digitally sign and encrypt your e-mail messages, Kontact's Mail supports both PGP and GNUPG. In terms of further security, the program does not allow you to view HTML e-mails by default. You have to go through Settings → Configure Kmail, select the security tab on the left pane, and tick the "Prefer HTML to plain text" option in order to enable HTML message viewing by default. In addition, viewing images embedded in the messages are turned off by default. You can click the appropriate option for every e-mail in the reading pane to download images or turn on the option by ticking the "Allow messages to load external references from the Internet" which appears just below "Prefer HTML to plain text" box.
This is not the end of security features. If you are tired of spam messages (and who isn't these days?), then you're in luck. Kontact's Mail automatically recognizes the anti-spam application that is installed on your system and lets you configure it via Tools → Antispam. I am working with Ubuntu 8.10 Intrepid Ibex presently, and the installed antispam application is Bogofilter. I have went through the wizard and configured Bogofilter with a couple of clicks. The application works well and has a relatively short time for learning which message is spam and which is not.
This is becoming exhaustive I know, but Mail can also import/export messages from other e-mail management programs, has search folders, downloading attachments on IMAP on demand, nested folders, multiple identities, spell checking, and possibly any other feature that you want.
Contact, Calendar, To-do
Contacts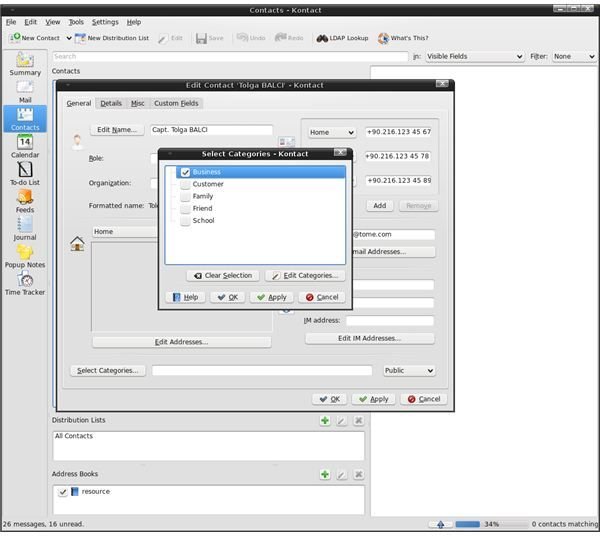 Contact management is made easy by this component. You can import your contact list from nearly every application that exists, plus if you are on any network that supports LDAP, you can import contacts from the server as well. You can assign categories to your contacts. Default categories are Business, Customer, Family, Friend and School, but by clicking on "Edit categories" you can add more categories.
In addition, setting your contacts' birthdays and anniversaries make them appear in the Summary View.
Contacts module integrates with KDE's instant messaging application Kopete like Evolution integrates with Pidgin (formerly Gaim). So, if you can gather all your contacts with all the details in Contacts, then you will have no problem working with them, be it sending instant messages or applying mail merge within KWord.
Calendar
Calendar is more than an digital agenda application. It has lots of features that Microsoft Outlook –yes, again- has yet to implement.
The basic features that you want from a calendar application such as differentiating the entries by category (business, leisure etc.) and displaying them with different colors, day/week/month views, recurring appointments etc. To make our lives easier, you can manage your calendar by dragging and dropping e-mails or attachments to create events.
Calendar can work with multiple calendars, and offers importing as well. For example, you can export your Microsoft Outlook calendar and import it to Kontact and then configure it to work with Gmail calendar. Just for a note, for the time being, Google Calendar does not support two-way synchronization, meaning that any changes in Kontact will not be reflected to the Google Calendar and vice versa.
To-do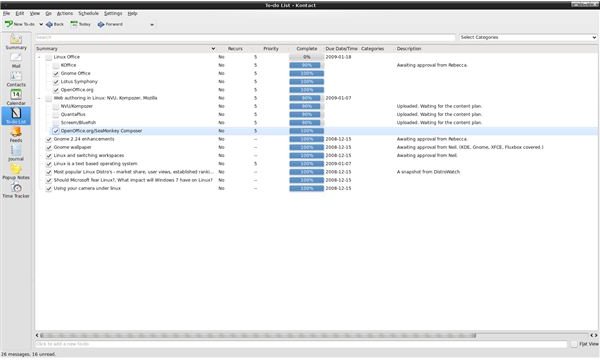 Another wonderful component of Kontact. To-do is your basic task management application with the first look. But this can be deceiving because what you have under the hood can not be matched with many other popular programs. First, you can create nested tasks. With this, you can see what portion of the task you have created by checking out the sub tasks.
To-do (continued), Notes, Feeds, Journal & Time Tracker
In addition to the sub-tasks, To-do offers setting the percentage of completion of tasks, taking notes, setting due dates, assigning priorities, and adding attachments. It means that you have every tool available to manage your tasks. You can also drag and drop from your e-mail inbox to To-do component to create tasks from your messages.
Notes
Notes are the digital post-it notes in Kontact. If you are using KDE, you can access your notes from the desktop, without opening Kontact. You can assign different colors for your notes, drag and drop them to your e-mails, and print them.
Feeds
This is a wonderful module that comes with Kontact. You can add your RSS/Atom feeds on the left-hand side and assign feeds to folders. Then the right-side interface is divided into two sections. The upper part shows the unopened items and the lower side shows the feeds. With Feeds, you do not need to open a browser and visit your feed-reading website (such as Google Reader). Adding feeds is as easy as copying the feed URL and pasting it as a new feed.
Journal & Time Tracker
Journal is all about taking notes when you are using Kontact. Suppose that you have received an e-mail and you wish to call the sender to speak about this subject. Instead of creating a to-do item or a calendar entry, you can go to Journal and take a note about the phone call. If you need to keep track of your time spent on a particular event/task then you can use Time Tracker. Using both programs will help you a lot with managing your time.
Can you use Kontact for your daily operations? Yes you can. Even better is to have a supported groupware software installed on your network to benefit every feature of this beautiful application.
You can install Kontact from your distribution's package manager. Some components can be installed individually, such as Mail, which is called KMail if installed stand alone. Kontact's website is not updated as of today and what you installed will possibly be the newer version than on the website. The screenshots presented in the article are from the latest stable release.