OpenOffice Tutorial - Introduction to OpenOffice.org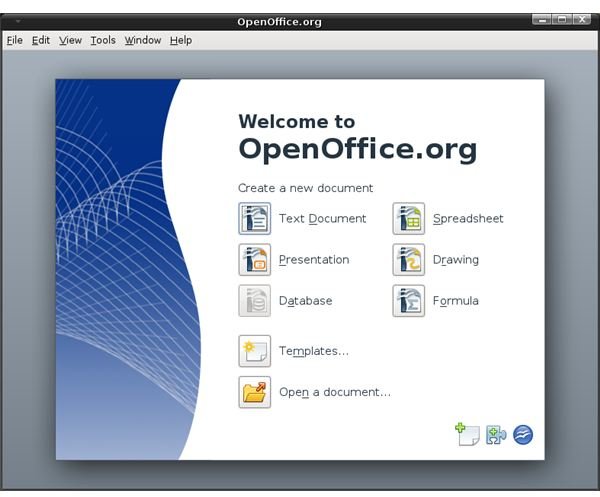 OpenOffice.org - Introduction
Let's start with the claim from the official website: "OpenOffice.org 3 is the leading open-source office software suite for word processing, spreadsheets, presentations, graphics, databases and more". To me, the claim is accurate because OpenOffice.org (OOo) is the default office suite installation in many Linux distributions.
The suite has many things to offer, starting from language. The wide-spread use of the suite enables it to be a truly multi language program; you can install the program in Tamil, Basque, Hebrew, in virtually every other language.
Moreover, the program is not a hog when it comes to using resources. From clicking on the program icon to the working state takes a couple of seconds at worst, but this is only a start-up issue. The programs work flawlessly and responsively afterwards. In all OOo programs, the interface is very simple, but also intuitive. If you are migrating from another Office program then you can be pretty much sure that you will not have difficulties with the interface. The program has been in development for over 20 years, therefore it is stable and very consistent. The help files are sufficient to cover the majority of questions you may have, but if you find one that is not answered, the online help system is incredibly deep. The file format compatibility, especially with OOo 3 release is very good, so after the installation you can just File → Open your file and keep going. One thing to mention though, OOo can open Microsoft Office 2007 formats (docx, xlsx, etc.), but not save them. Except for this, you can save your file in possibly any other format that exists.
The suite is not limited to some basic office functionalities. There is always room to expand, which you can do by installing extensions. "What extensions?" you may ask. Anything from thesaurus to customized hyphenation is available and waiting for you at https://extensions.services.openoffice.org/.
Let's start by looking at the individual components that make up OOo..
OpenOffice.org - Writer
What Word is to Microsoft Office, Writer is to OOo. The word processor is a very powerful one, enabling users to change the toolbars like MS Office and install additional languages for spell-checking. There are also many time-saving tips already embedded in Writer. One of them is "completion," which remembers the words you type and saves you from typing them again. You may find this annoying and can turn on/off this feature easily. You need not go through detailed menus.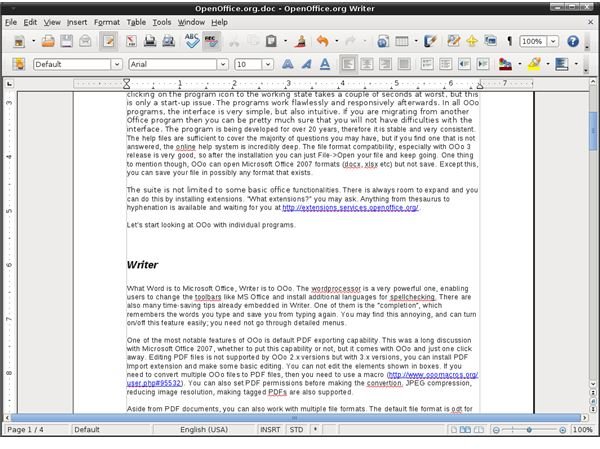 One of the most notable features of OOo is its default PDF exporting capability. This was long a discussion point with Microsoft Office 2007 about whether to put this capability in or not, but it comes with OOo and is just one click away. Editing PDF files is not supported by OOo 2.x versions, but with 3.x versions, you can install a PDF Import extension and make some basic editing. You can not edit the elements shown in boxes. If you need to convert multiple OOo files to PDF files, then you need to use this macro. You can also set PDF permissions before making the convertion. JPEG compression, reducing image resolution, and making tagged PDFs are also supported.
Aside from PDF documents, you can also work with multiple file formats. The default file format is .odt for Writer. If you want to convert multiple files to OOo format, you can do that with batch processing. OOo is able to open and work with many file formats however can not save them all. Except from Microsoft Office 2007 format, you can save your work as HTML, XHTML, BibTeX, LaTeX 2.0 e and MediaWiki. You can just go through File → Save As and choose the format that suits your purpose.
OOo has all the tools that you need for word processing. The default formatting features for written text, tables, images, plus headings, page numbers, and revision control are all there. You can make some basic editing of your images (rotate, resize, etc) and also acquire images from your flatbed scanner. With the appropriate page formatting, it takes only a few seconds to make your index and table of contents.
If you are working with mail merge, you will find it in Writer. Envelope and label printing are also there for you to use. Users sending out regular mails to customers will find this very useful (and nobody is stopping you from using this feature for your friends and family).
Working on a file concurrently (editing a file with more than one user) is not currently well supported. There is no support for this at all in OOo 2.x, and in 3.0.x you can use this feature in Calc only.
OpenOffice.org - Calc
Again, what Excel is to Microsoft Office, Calc is to OOo. If you are migrating from Microsoft Excel, you are not likely to face any difficulty in working with Calc. The cells are there and the function bar at the top is for you to write your formulas or select from menus. As mentioned before for all OOo programs, Calc can read from Excel files, excluding Microsoft Office Excel 2007 format, and can save in this format. The basic idea and the usage is the same with Excel, such as a workbook containing multiple sheets.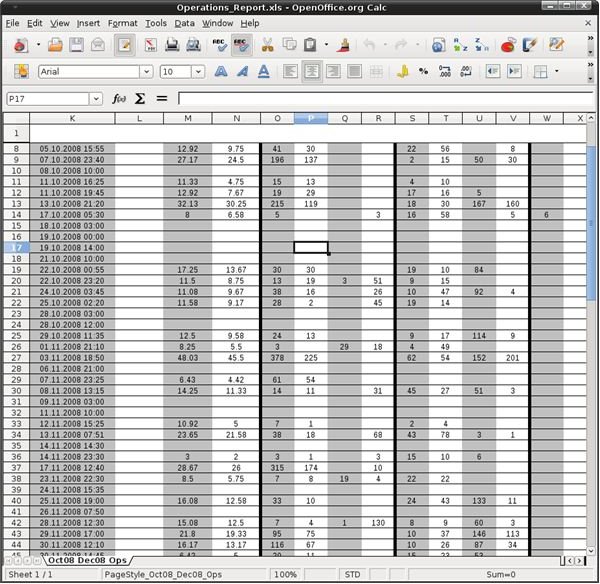 However, although the basic usage is the same, some terminology needs to be noted, for example instead of "Pivot Table" in Excel, Calc uses "DataPilot". Again, as in Excel, Calc can work with complex data arrays, what-if scenarios, goal seeking, conditional formatting, dynamic charts, and external HTML links. Importing a workbook to Calc from Excel brings the values and the defined calculations very well, but we must reserve that you may face some minor issues. We must also state that the grouped ranges work better in OOo than Excel.
One notable feature of Calc is that there are the small icon at the rows/columns indicate a hidden row/column. It's a very handy feature, and we still do not understand why it is not present in Excel.
Regarding the charting functions, if you are used to working with the variety of options in Excel you may find some disappointment. This is not to say that the options are not available, but rather they are limited. However, if you are a newcomer to the world of OOo and have no MS Office experience, then it will not be an issue for you.
Many users criticize Calc for not having an equivalent of Excel's "Solver" add-in. This is not true, since Calc also has an add-in named "Optimization Solver". Just search for it on Google, and you will find that it is a very easy installation.
OpenOffice.org - Impress
Impress is OOo's presentation tool, equivalent to Microsoft Office's Powerpoint. In this program, you can do pretty much everything that you can do in Powerpoint. The interface is very similar, you have Normal/Outline/Notes/Handouts/Slidesorter views, you can define a master page, choose your presentation's layout, and arrange your animations.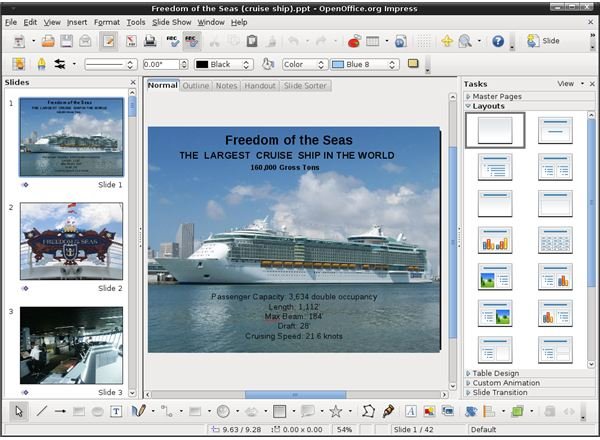 Regarding the autoshapes and text, we must say that Powerpoint is just a bit ahead. The graphics in imported presentations do work well, however. With drawn autoshapes, Impress has fill, outline and text options which are hidden in the right-click menu of the Powerpoint program. Impress makes this easier, but if you are migrating, it takes some time to get used to. If you are starting out with Impress, this is not a problem for you.
One point we must emphasize in Impress is that the program has much better graphics editing capabilities then its rival. Of course we do not mean a capability to match GIMP or other specialized software on this subject, but Impress offers more than brightness/contrast adjustment, resizing and rotating. Yu can adjust resolution, apply some filters, and even select RGB (for on-screen viewing) or CMYK (for printing) color schemes. Of course grouping and regrouping of elements is there. Impress also has the option to place your graphics (and shapes for that matter) precisely where you want them. Instead of using Ctrl + Arrow Keys, you can state exactly where you want the graphics to be placed by defining its coordinates. The nice feature is that you can either define top-left, bottom-left, center to place your image, meaning that you can tell the program to place the center of the square to position (X, Y). It will help you a lot if you are working with organization charts of flow diagrams.
We must make a point about inserting video and sound in the presentations. Impress was only able to play videos in a sub-frame in the 2.x series. The support for embedded sound file formats has improved in the 3.x series.
OpenOffice.org - Base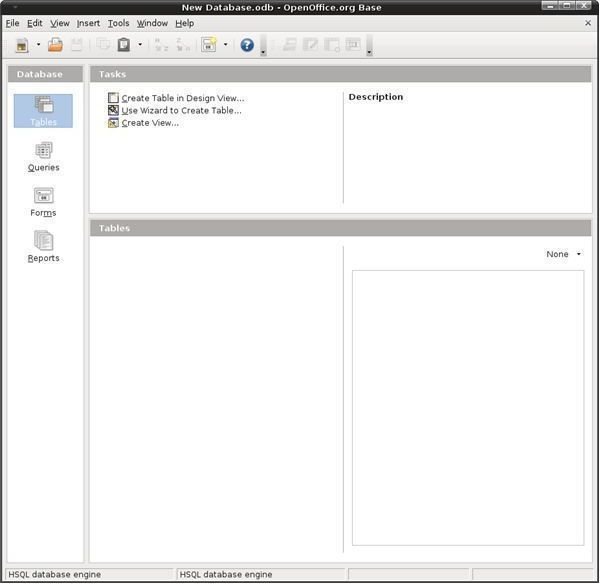 Welcome to the "Access" of Microsoft Office's equivalent, Base. Base is the database application of OpenOffice.org with the standard database options that you have for its rival. Before we start, we have to mention that Base requires Java Runtime Environment (JRE), which you have to install. You can use your distribution's package manager or go to https://www.java.com to download it.
Please also bear in mind that working with databases is different from working with word processors or spreadsheet programs. Therefore, if this is your first time working with any database, then we definitely recommend you to read the document titled "Getting Started with Base" (a PDF download), which will present you with the initial steps for working with databases.
Base is a relational database application suited for a small working environment. You can keep your own library records, your company's personnel database, or keep track of your company's cars, but it will not be enough to use as a complete website back-end database.
The interface will not leave you confused if you are migrating from Access. Choosing File → New Database will get you started, and you will immediately notice Tables/Queries/Forms/Reports and the sub-menus that you are familiar with. The wizards are also there for you, of course.
OOo Base has almost all features you need for a database application. One of the results of your data-keeping is presenting them in an understandable way. The familiar Reports option is there, and the best part is that you can also use "Sun Report Builder." You just need to go to https://extensions.openoffice.org/ to download it. You can then install the extension by going through Tools → Extension Manager.
Becase Base is a part of the OOo suite, you can integrate your applications with Base. For example if you want to send all your customers a regular mail, you can use Writer's Mail Merge to work with your customer database, pulling out names, addresses and zip codes. Or, if you want to analyze an array of data stored in your database, you can retrieve the values inside Calc and make a DataPilot table in seconds.
OpenOffice.org - Draw and Math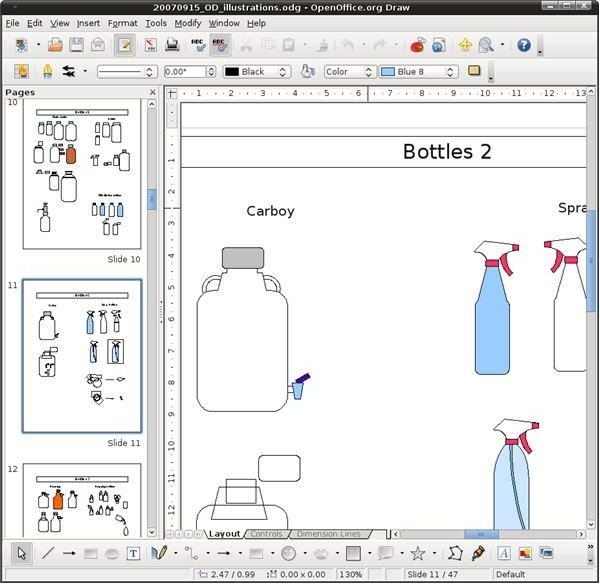 Microsoft Office does not have an equivalent to OOo Draw. The program is more than working with autoshapes, getting somewhere to Visio, but with default options less capable. This program has a superiority to Microsoft Office's drawing applications in the sense that the drawings created are not bitmaps but vector images. This means, you can create a drawing and print it to the maximum dimensions you have without sacrificing quality (you are limited to 300 cm x 300 cm though).; if you draw a line, then you will see a line not a collection of dots if you zoom in to, say 800%. The limitation here will be the maximum resolution of your printer, not your software. You can use the images you created in other OOo applications as well. LaTeX users will love the fact that the graphics in Draw can be exported as EPS (Encapsulated Post Script) format and can be used in LaTeX documents.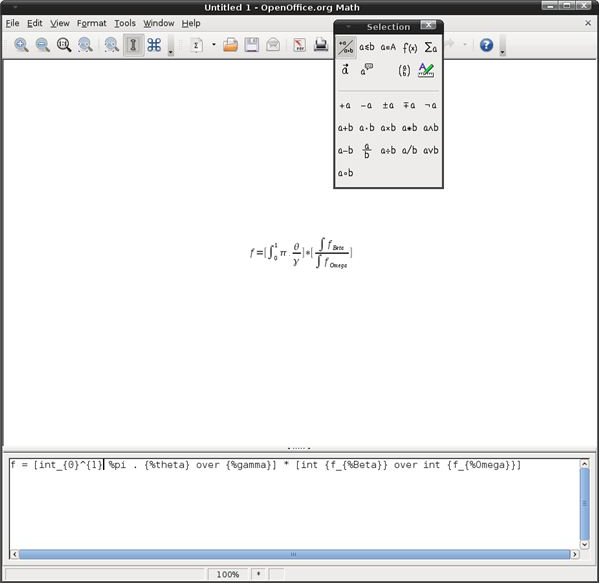 Math comes as a separate program contrary to Microsoft Word's Equation Editor. The equations created in Math can be embedded in other OOo programs or can be used as separate files. It is compatible with Microsoft's Equation Editor and supports MathType prior to Version 3.5. It is a great assistant to use with mathematical expressions in a wordprocessor.
As you have realized, OOo does not come with an Outlook alternative for managing e-mail, calendar and tasks. This is something good because the Suite leaves you free to choose your alternatives.
Our final word about OOo is that
* it is under heavy development and has already became a viable alternative to Microsoft Office
* it is used by both individuals and corporations and has proven its capabilities
* it has a very good user base and good documentation
You can install OOo using your distribution's package manager. The latest release as of this article is 3.0.0 for Linux. The newest release may not be in your distribution's repository, but be patient, you will be using 3.0.x very soon.
OpenOffice.org Draw screenshot captured from the file here.
This post is part of the series: Linux Office Suites
You are leaving your beloved operating system and migrating fully to Linux. You are thinking to yourself: how will you be able to create documents; how will you be able to work with spreadsheets; how will you be able to create presentations. Answers plus bonuses inside.