Community Support and Evaluation of Linux Mint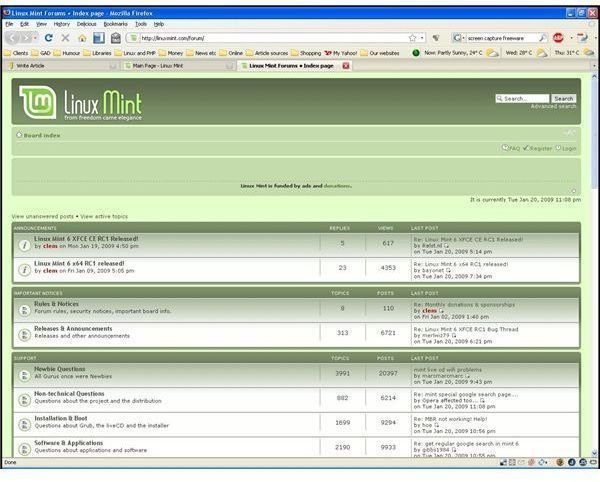 Support for Mint
The Mint website provides a good deal of support to users via a discussion forum, a blog, and a Wiki. This is all in English, but there are community support sites in many different languages. Mint ISOs for the various versions can be downloaded from the official website or from SoftPedia – make sure you select the 'Linux' tab! The ISO files can be burnt to CD to produce live distributions, so users of other distros or Windows can try Mint on their systems without affecting the hard disk in any way. A 77-page PDF Users' Guide is also available for download; this includes a detailed walk-though for the Mint installation process. The site also links to Mint-related podcasts for users who prefer to take their input aurally.
The Linux Mint forum is a very busy site, with over 3900 topics in the Newbie Questions section alone. The Community Map includes a Frappr application which shows where Mint users are located. The Linux Mint Planet is an official forum for posting news releases and announcements. And the Linux Mint Blog provides an informal 'water cooler' where Mint users can get together and discuss broader issues. Taken together, the support system is very neatly packaged and relatively easy to find one's way around. Only the Linux Mint Wiki is a disappointment; like many Wikis, it seems to have been set up with high hopes and then more or less abandoned.
Reviews and Evaluation
Feelings about Mint expressed on the Web are overwhelmingly positive. Most users emphasize its friendliness and ease of installation, and many recommend it to new users, particularly computing novices. A few criticisms have surfaced; compared to Ubuntu, Mint is described as running slowly on older PCs. It also appears to have inherited from Ubuntu Intrepid some of that distro's problems in recognizing and installing drivers for sound cards and wireless networking. One issue currently under review is the slowness of the MintInstall application when it comes to refreshing file lists: this took at least half an hour on my system. My only other gripe is that Mint has dropped the handy 'make USB' option from Intrepid, which allowed for a persistent bootable installation on a USB stick.
So there you have it: Linux Mint is an effective, user-friendly reconfiguration of a popular and powerful distro. Would it make me switch from Ubuntu? Probably not, since I have already spent many hours setting up Ubuntu for my own particular laptop platform, and I don't really want to go through all that again; but if I had a new empty PC to set up for a client or a family member, I would seriously think about Linux Mint. Why not give it a try?
This post is part of the series: Linux Mint - an 'elegant' distro
New Linux Mint is a relatively new distribution spun off from Ubuntu, and created and designed with elegance in mind. Their slogan is: 'From freedom came elegance'.