The Linux Mint Distribution - Popular and Elegant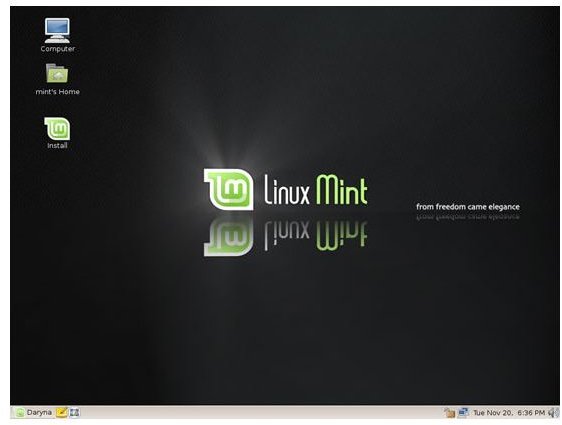 History of Mint
Linux Mint is a relatively new distribution spun off from Ubuntu in 2006. It is available from the official Mint website at www.linuxmint.com.
The first GNOME version of Mint, christened 'Bea', was spun off from Ubuntu Edgy Eft in November 2006. Some rapid development followed: by October 2007 versions Bea, Bianca, Cassandra, and Celena had come and gone, and the version 'Daryna', numbered 4.0, was based on the code for Ubuntu Gutsy Gibbon. Development has slowed since then, with a new version 'Elyssa' (based on Ubuntu Hardy Heron) appearing in June 2008, and the current version 'Felicia' in December 2008, based on Intrepid Ibex. Linux Mint is currently seventh in DistroWatch's web-based list of most popular distros (distrowatch.com/dwres.php?resource=major).
Linux Mint is also available with other interfaces. The KDE version has a slightly longer history than GNOME, first appearing as 'Ada' in August 2006. An XFCE version has been available since August 2007. KDE and XFCE versions of Felicia are yet to appear at the time of this writing in January 2009. I will look here at the GNOME version of Felicia.
The Linux Mint development team is relatively small and compact – small enough, in fact, for a complete list of personnel and their details to be given on the official website. Heading up the team is Clement Lefebvre, a thirty-year-old Java developer working for a telecom company in Ireland. Linuxmint.com began as the name of Lefebvre's personal website, and the initial distribution was largely his own work, but the success of the distribution has attracted other developers from a range of locations, and the team currently includes people from Australia, Germany and the US. Carlos Porto, a US-based web designer and artist, has contributed a great deal to the Mint look and feel.
Downloading and Installation
The Live CD of Mint was able to recognise a high-res screen and pick up my Windows wired network shares immediately on booting, although it didn't pick up my (non-standard) wireless network card – quite an impressive performance, and significantly better than either Windows or Ubuntu.
Installing Mint on to a hard disk is relatively simple. Boot from the live CD, and double-click the 'install' option on the desktop. The installation process begins, and the user is prompted to enter their language and location. The system then inspects the hard disk and determines how to partition it and whether to use a dual-boot system. The user confirms this on a rather attractive screen which shows the current and planned partitioning schemes graphically as two segmented worms. It is a tribute to Mint's design philosophy that even this screen should show the marks of forethought and design. The user then enters their name and supplies a username and password. As with Ubuntu, users are given the option of logging on at startup or going straight to a default account.
Once installation is complete, the system will boot with a Grub menu showing four choices; these include Recovery mode and last Successful Boot mode. Some more configuration is necessary on the first boot. Mint will then bring up the default screen display, an elegant pinstriped grey-black backdrop with a glowing central logo and byline; 'From freedom came elegance'. Other customized desktop backgrounds are also available.
A bootable live (i.e. non-configurable) USB stick version of Mint can also be created (using a Windows PC) via the Fixmint2.exe tool available from pendrivelinux.com/downloads/fixmint2.exe on the Web. This is not officially supported but appears to work well. Instructions for achieving the same result via Linux are also available from the pendrivelinux.com website. Note that this is not the same as the configurable ('persistent') USB stick installation available for Ubuntu Intrepid Ibex. Windows users can also set up Mint to run as an application under Windows by using Mint4win, an installer which will start up automatically when the Live Mint CD is inserted into a PC running Windows – the equivalent of the Ubuntu Wubi program.
This post is part of the series: Linux Mint - an 'elegant' distro
New Linux Mint is a relatively new distribution spun off from Ubuntu, and created and designed with elegance in mind. Their slogan is: 'From freedom came elegance'.