Audacity Software - Top Sound Editors for Linux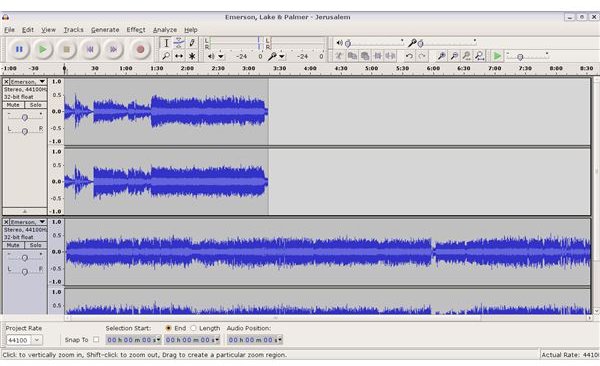 Getting Started with Audacity
Audacity is a sound recording and editing application for Linux, Windows and Macintosh platforms. It should be available via the Package Manager on your particular distro, but if not it can be downloaded from https://audacity.sourceforge.net. The package size is about 6Mb. Audacity is installed in the Sound & Video section of the Applications menu, and the first time it is opened it presents a help screen with hyperlinks to instructions for common tasks. This can be left to appear on startup or turned off as the user becomes more experienced. A full set of help files can be downloaded from the Audacity home site, with a user manual in both HTML or PDF formats. Setting up is done via Edit / Preferences, which allows the user to set an input and output device and to set the sampling quality of the recorded tracks, plus much more.
The Audacity screen is fairly simple, with a set of buttons at the upper left for Play, Pause, Stop, Fast Forward, Fast Reverse and Record, and a timeline showing the length of the track as a waveform or spectrum. This is shown in seconds by default, but once a track is loaded the user can zoom in and out at will. Zooming in to the highest magnification shows the individual sound samples as dots, which can then be manipulated individually with a Drawing tool. There is also a Timeshift tool for moving samples back and forward along the timeline, and an Envelope tool which allows the dynamics of a track to be adjusted visually.
Sounds can be recorded from a microphone or by line-in from another device. It should be possible to record sounds or music being played or produced by other programs, but I found that while RhythmBox was running Audacity could not find the sound devices, so an intermediary program may be required here.
Once a sound is recorded to a track, an Effects menu gives the user a control over a range of sound properties including pitch, volume and speed. Other effects include Echo and Reverse. A set of eight add-ins supports more complex changes like crossfades and tremelo. Custom effects can be created via Audacity's support for the Nyquist programming language. There is also an optional VST (Virtual Studio Technology) enabler available for download from the Audacity website, but Linux users will have to compile this from the source code.
Sections of each track can be cut, trimmed, copied and pasted to rearrange the sequence of sounds. Individual tracks can be merged, and stereo tracks can be combined into mono, and vice versa.
Tracks can be exported as Ogg Vorbis, FLAC or MP3 files as well as in the uncompressed .WAV format, but to save as MP3 users will need to have the libmp3lame library installed. This can be done through a package manager. If the program shuts down unexpectedly, Audacity will try and recover unsaved projects the next time it starts up.
The only problem I had was with the web links in the program that were supposed to connect up with the help system or download add-in files: none of these worked and I had to obtain the files through a web browser instead. But apart from this minor hitch, I found Audacity to be a handy little program that does its job quickly and well.