RhythmBox Music Application For Linux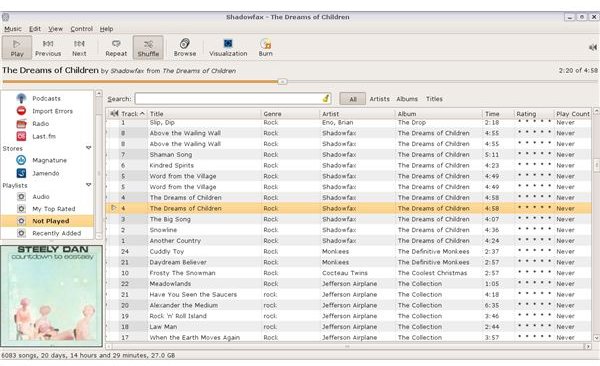 Getting Started With RhythmBox
RhythmBox is one of the two most popular Linux based music playing programs, the other being Amarok. RhythmBox was originally designed to work on GNOME based systems and Amarok on KDE-based systems. But both will usually work quite happily on a modern PC with a recent distro.
RhythmBox may come by default with your distro as it does with Ubuntu. If not, it can be installed via the Applications / Add & Remove Programs menu item. Because of legal restrictions it may not come with MP3 codecs installed, however if you want RhythmBox or any other program to be able to play and rip MP3 files you will need to install these separately. These may appear in the Add Programs under the name GStreamer extra plugins. In any event a search for 'MP3' should locate them.
RhythmBox opens by default into a fairly familiar window. With a menu and tool bar at the top. A list of music files to the right and two panel's at the left. The topmost panel lists music sources these include your own music library as well as podcasts, internet radio stations and a link to Last.FM. At the bottom is a Play Queue, where tracks can be dragged from the track list to queue them, for playing in order.
The track list itself shows a list of artists at the top left and a list of albums at the top right. Plus a search panel which can be used to find any artist, album or title. Clicking on any entry in either of these lists will filter other tracks out and just show those which match. The track list itself shows columns of information about each track including the artist, album, title and length. The user can choose which columns to show via the general tag under Edit Preferences.
Also under Edit Preferences the user can choose a recording format for music ripped from CD's and select where to save podcasts. Also specify a music folder to be checked for new music files and new tracks in this folder. It will then be automatically added to RhythmBox's play list.
Let's look at RhythmBox's many functions separately:
Music Playing
A music library can be compiled from music files in local folders or shared network folders via Music / Import Folder. It takes about a second to register each track in the library, which can make for quite a long job with large collections! RhythmBox can import from shared Windows network folders once a server link has been established. Once in the library the tracks can be sorted by any column and right-clicking on a track or a selected set of tracks. This allows it to be added to the play queue or be removed from the list or deleted altogether. The user can also view and change the track properties, which includes the tags – e.g. Genre, Rating and Track Number. These are associated with that particular file format. To play a subset of tracks the user can create a play list either by right clicking tracks or by dragging them across to a play list folder. There's also an option under the music menu to create an auto play list, which selects tracks on the basis of defined criteria. For instance all tracks with a rating of more than three which have not been listened to during the last six months. Tracks in the library or in a play list can be shuffled and also set to repeat when the list has been played through once.
While playing RhythmBox, it can be minimized so that it appears as a small icon in the active icons tray at the top right of the screen.
Internet Radio, Last.FM, Podcasts and Visualisations
Internet radio stations:
Rhythmbox comes with a list of about 20 internet radio stations to choose from and more can be added via the music menu. The URL of the station must be in a recognised file format – PLS, M3U or ASX. Streaming music from an internet radio station of course will require a live internet connection or broadband is probably essential.
Last.FM
Last FM is a free subscription music service which will find and play similar tracks when you specify a favorite song or performer. You can subscribe directly via the Last.FM website or by clicking the 'Subscribe' option under Account settings at the bottom of the Last.FM panel in RhythmBox. You can then create your own streaming music station by entering the name of a performer, composer or song and Last.FM will find up to 14 related tracks. Entering 'Carole King' for instance, provides links to tracks by Jackson Browne, Carly Simon and Melanie in addition to King herself. The list of 14 related songs appears in the bottom panel and users can choose which to play first. Although it is not possible to pause the play or to repeat songs. Songs you particularly like can be tagged 'Love' to increase the chances of there being selected again, while songs you dislike can be tagged 'Ban' to remove them from the selection pool.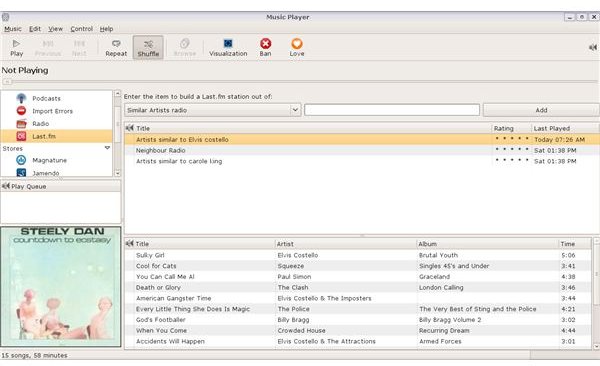 Podcasts
A podcast is a regularly scheduled audio program made available through the internet. For instance the weekly quiz podcast from https://www.podquiz.com/rss.php. Right clicking the podcasts option in the left RhythmBox panel and selecting 'New Podcast Feed' adds the podcast to the feed list. RhythmBox will then list the available episodes of that podcast and users can click on them to download that episode and play it back. Several episodes can be downloaded at once by selecting them. Right clicking on any one of them and selecting 'Download Episode'. New episodes are added to the feed as they become available on the internet.
RhythmBox also provides links to the independent music distributors Jamendo and Magnatunes.
Visualizations:
RhythmBox provides a Visualization option whereby swirling lights or patterns can be made to bounce across your screen in time with the music.