Using Google Desktop in Linux

Indexing
After you install Google Desktop on your Linux PC, you need to manually start the program if you want it to start indexing right away. To do this, select Applications - > Google Desktop - > Google Desktop. This will open Google Desktop and start the indexing process. If you'd rather not begin indexing right now, that's okay. Skip this step. Google Desktop will start on your next reboot.
The indexing process happens quietly in the background. The number and size of your files, as well as the size of the hard drive, will determine how long the process takes. But, it's a very discrete process. I didn't even realize Google Desktop had indexed my system until I went looking.
When the index is finished, Google Desktop is ready for use
Using Google Desktop
If you haven't set your search preferences yet, do this now by selecting Applications - > Google Desktop - > Google Desktop Preferences. Remember, this will open in your browser. For detailed instructions on this, read Getting Started With Google Desktop Linux.
Now, you're ready to do your first search. To do a quick search, double click on the Google icon swirl in your toolbar. The Quick Search box will open. Enter your search criteria and press enter on your keyboard, and Google Desktop will search the files and folders you've specified in preferences.
Images

If you'd like to do an advanced search, select Applications - > Google Desktop. The main Google Desktop page should open in your browser. If it doesn't, select Applications - > Google Desktop - > Google Desktop Preferences and when the preference window opens, click the Google Desktop icon in the upper left of your screen.
Select Advanced Search.
On the search page that opens, specify the type of results you're looking for by selecting the appropriate radio button, and either select from the drop-down menu, or type in the requested information.
Type the words you want to search for in the text box labeled 'Has the words', and type any words you want to exclude in the text box labeled 'Doesn't have'.
Click Search Desktop.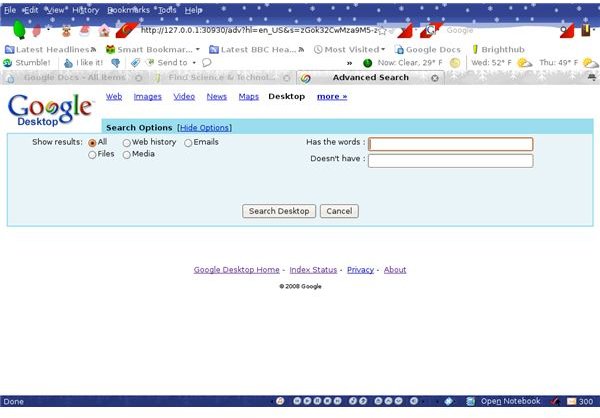 How to Remove Google Desktop
If you decide Google Desktop isn't for you, don't worry, it's easy to remove from your system, too.
To uninstall using the GUI, open your preferred package manager. Search the package manager for google-desktop-linux, and remove as you would any other program.
To remove Google Desktop from the command terminal, use either the command sudo rpm -e google-desktop-linux, or sudo dpkg -r google-desktop-linux, depending on the type of package manager your system uses.
This post is part of the series: Google Desktop for Linux
Using Indexing technology Google Desktop keeps track of the contents of your hard drive so you can find what you need, when you need it. Learn all you need to know to effectively search your files, email, video, and web history quickly and easily.