Make Kubuntu Functional: Perfect*buntu-1.5.3 Will Install Flash & Java and Other Useful Packages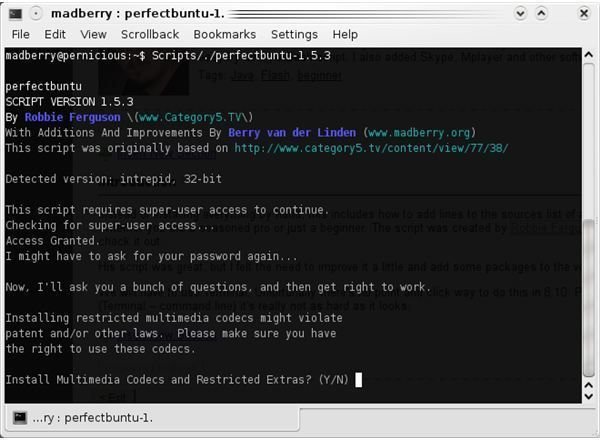 Updated
* 09/24/2009 Updated all of the links to the newest version. Then tested all commands. This version of Perfectbuntu does now work up till 9.10 Karmic Koala all versions of Ubuntu are supported. This solution also works great for 64bit OS's.
Introduction
Instead of installing everything on Kubuntu manually, I'll explain how to use a friendly script that anyone will be able to run, whether you are a seasoned pro or just a beginner. The script was created by Robbie Ferguson of Category5 TV, a weekly vidcast all about Ubuntu Linux. Check it out when you get a chance.
His script is great, but I felt the need to improve it a little and add some packages to the version he has released.
We will have to use Terminal. Unfortunately, there's no point and click way to do this in 8.10. Please don't be intimidated if you are a beginner to Konsole (Terminal – command line). It's really not as hard as it looks.
How Do I Get Perfectbuntu?
You can download the script from my blog. Right click on this link and choose "Save Link As". Save the file to the Desktop. To make the script executable in Kubuntu, right click it and select Properties.
Alternatively, if you want to do the whole thing in Konsole, go to Start in 8.04 Konsole or Kmenu->System->Konsole in 8.10. Click the kmenu button and type Konsole in the search bar. Then click Enter. This will open a Terminal. Now perform the following commands, one by one:
Go to you Desktop:
cd ~/Desktop
Download Perfectbuntu:
wget -c https://www.category5.tv/files/bash/perfectbuntu
To make Perfectbuntu executable, we do not need to be superuser here. That is what the sudo command is for:
sudo chmod +x perfectbuntu
Read the instruction below before doing this.
Run Perfectbuntu:
sudo ./perfectbuntu
What Will It Install?
The newest version of the script has the following features:
Installation of Multi Media Codecs - This will install Codecs to play .avi, .wmv, .mov, and more.

Installation of Codecs for DVD player functionality - This lets you play DVDs on your Kubuntu installation.

Installation of SpamAssasin - If you are using Kmail then you already have Bogofilter installed, but this is nice as an extra spam-fighting measure.

Installation of fonts - This option installs all the standard Windows true type fonts. Also, a large number of free fonts will be installed. If you answer yes to this option, then be prepared for a long download time. Otherwise, you can decline to install the fonts.

Installation of Wine - Wine can be handy if you want to run Windows programs. However it's not always easy to get Windows programs to work under Wine.

Installation of the Avant Dockbar - A very nice dock bar for Ubuntu - see the image below.

Installation of Skype - If you used this on Windows, then you can install it on Linux as well.

Installation of several archive extractors - For extracting 7z, ZIP, Zip64, CAB, RAR, ARJ, GZIP, BZIP2, TAR, CPIO, RPM, ISO and DEB archives.
Below added by Berry van der Linden:
Installation of Remastersys - Remastersys can make a live backup CD of your installation of Kubuntu. I will be writing an article about Remastersys soon.

Installation of Firefox - If you like using Firefox then say yes to this one.

Installation of Java and Flash - If you like to watch videos or play games online, then these two are a must.

Installation of Mplayer and VLC - If MPlayer can't play it, then VLC will. They will both be a great addition to the standard players in Kubuntu.
When you run Perfectbuntu, it will ask you what to install.
Perfectbuntu adds the necessary repositories for apt in /etc/apt/sources.list so it can install the before mentioned packages. For instance, the codecs are out of the Medibuntu repositories.
After running Perfectbuntu, restart your computer and you're good to go.
This post is part of the series: It's Easy to Exchange Windows for Linux
Learn how in this article series. It will take you from the initial installation of Kubuntu all the way up to what to do to get media to play. I'll even cover installing Java and Flash.