Introduction to Kubuntu 8.04 and 8.10 with KDE4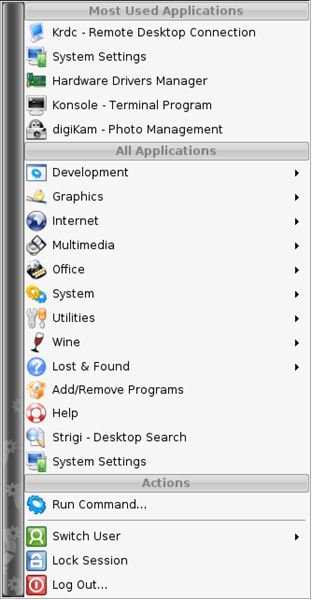 Kmenu in Action - This is Where You Find Everything
The K icon for Kubuntu, like the Start button for Windows, is where it all begins. Here is where you can get to all the applications in Kubuntu. With the change to version 8.10, as you can see below, the Kmenu changes dramatically. It has more of a Windows Vista feel. The 8.04 version looks more like Windows XP.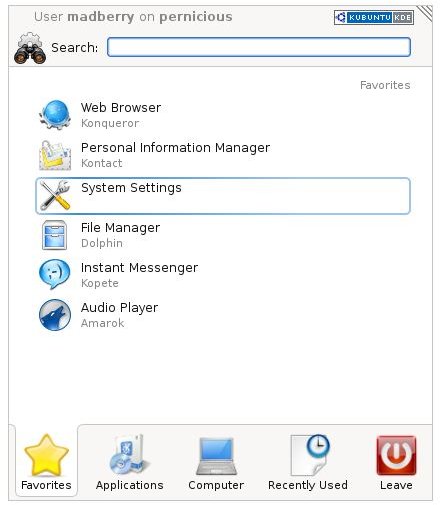 The images above show the first menu. In 8.04, on the left, it shows the entire menu. In 8.10, on the right, the screenshot shows your favorites. Your favorite selections are determined by how often you open an application.
The menu is intuitive. For instance, all of the installed internet browsers on your machine will be found in Internet. In OpenOffice.org office tools, you will find in Office.
OpenOffice.org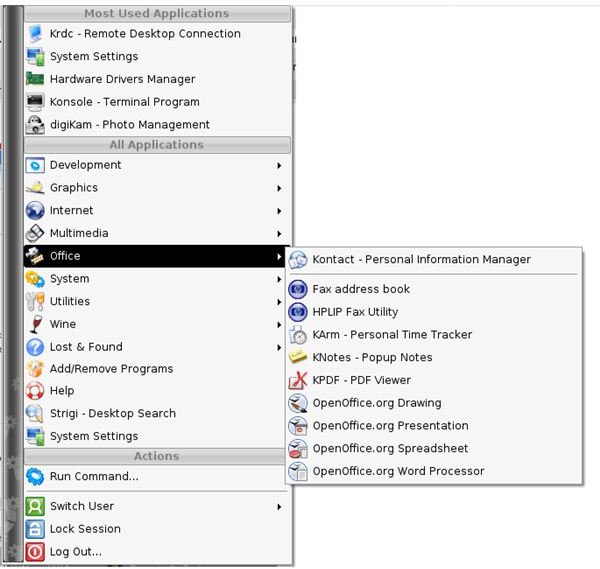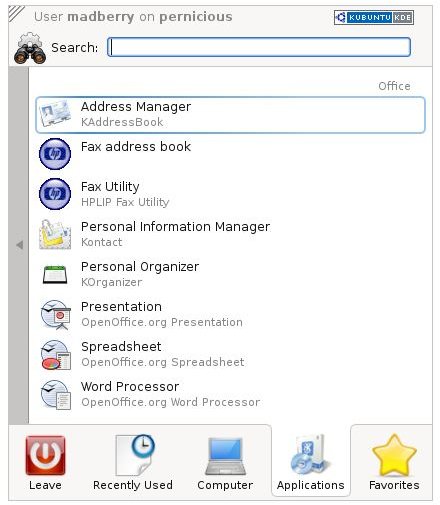 How to Change the Standard Settings?
For this, we will use the System Settings Manager in 8.10 - it will be in Favorites right away. In 8.04, you will find it under System Settings below all other applications. In the screenshots below, the image on the left is for 8.04, and the one on the right is for 8.10.
Settings Manager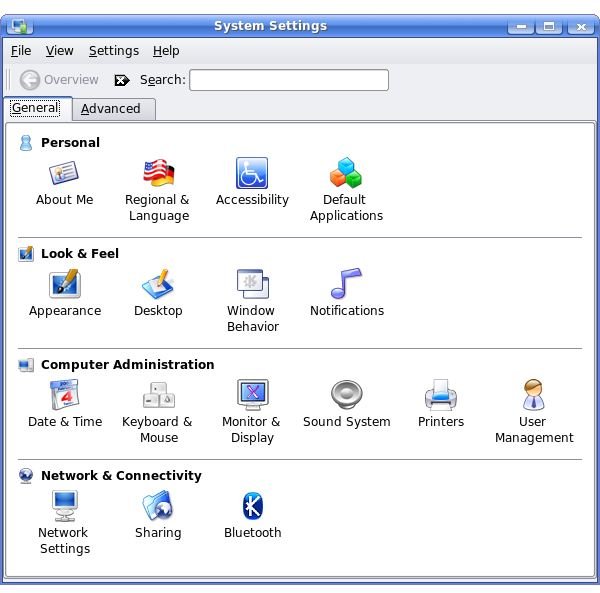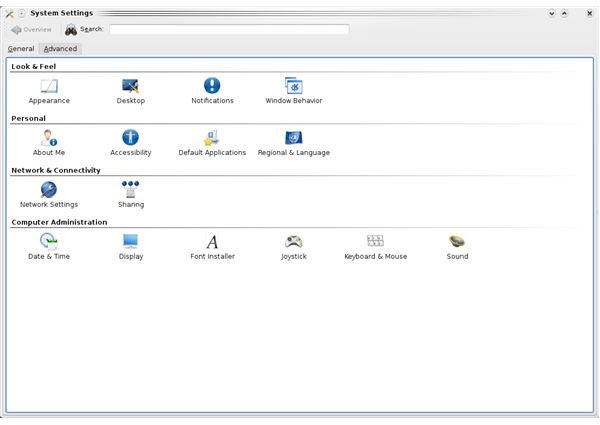 You can customize the look of your Kubuntu, if you like.
Advanced Settings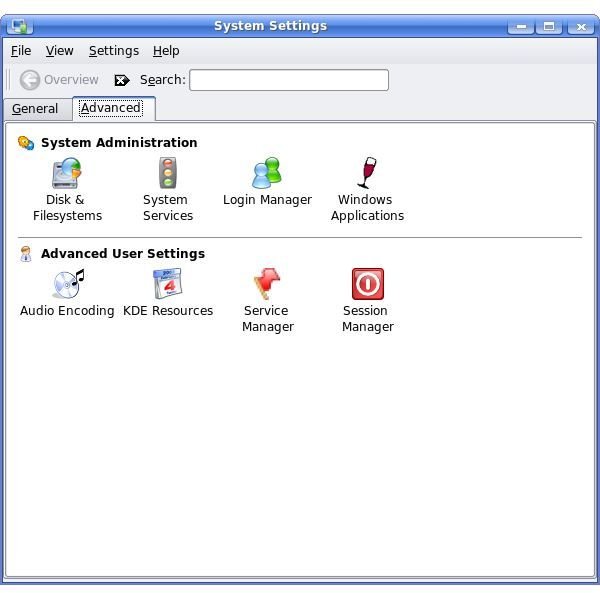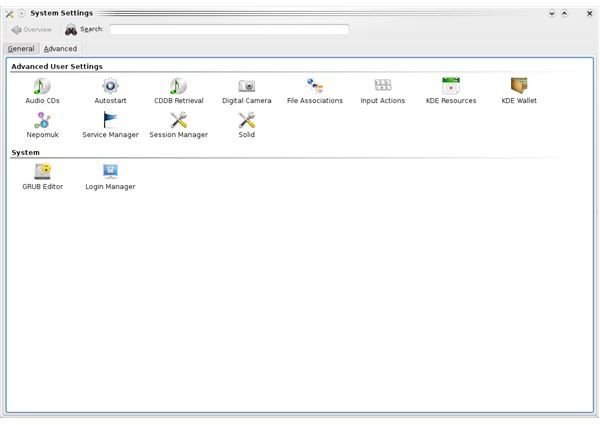 Also, the standard system settings are found under Advanced. This includes items such as applications to auto start on boot and the services manager.
What Applications Can Be Found in Kubuntu?
Everything you need for a productive office, like e-mail and a list of favorite websites, can be easily accessed. Below is a list of the standard applications.
Browsing the Internet can be done with Konqueror. In the next paragraph we'll install Firefox which also has a Linux package.
For checking e-mail you use Kontact. Thunderbird is available, also. Of course, you will have to install it yourself.
For writing letters or creating other documents, use OpenOffice.org's Writer.
For making spreadsheets, use OpenOffice.org's Spreadsheet.
Presentations can be created in OpenOffice.org's Presentation.
The Gimp is a great photo editor like Photoshop.
Kubuntu also has many more applications in addition to this basic list.
Just browse through the menu and try everything. You're not going to break anything by doing that. Version 8.10 has an excellent search bar built into the menu. This will quickly find any application that you might be searching for. This makes the menu more efficient than it would be without the search.
Installing a Package with Adept
How do you find a new software package in Kubuntu and install it? For that, use Adept. You can find Adept in System->Adept Installer. It will ask for your password because Adept needs root access. When you open Adept, you will see this window - again, on the left is 8.04 and on the right is 8.10.
Adept Default Window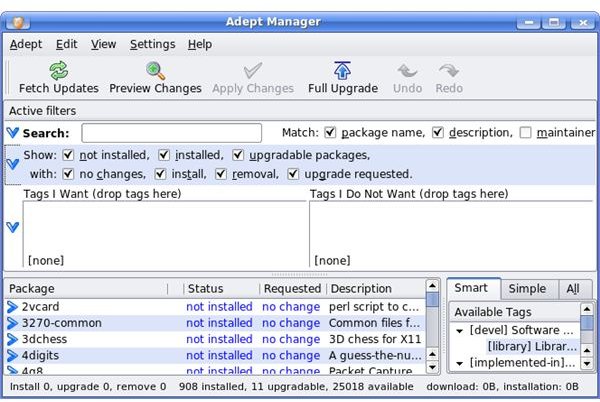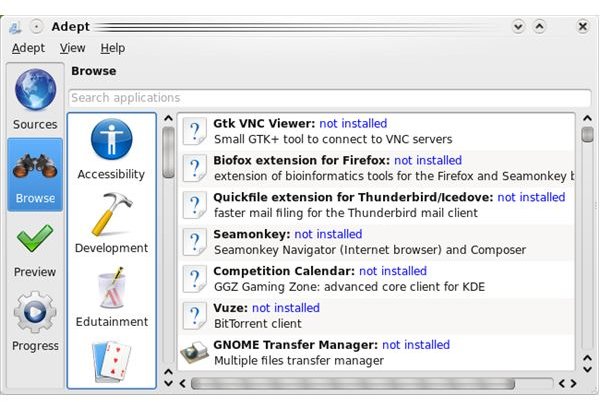 Now search for Firefox - the search bars are here:
Search Bar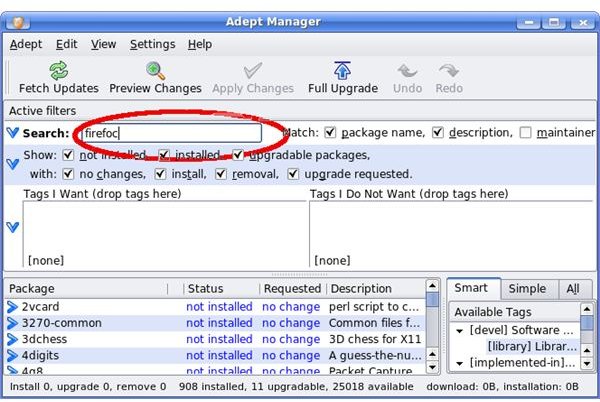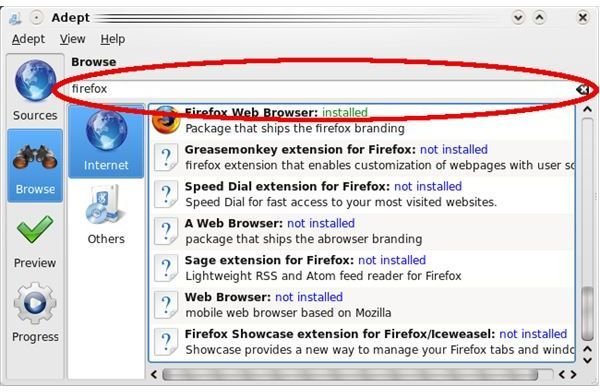 In 8.10, you have to push enter. In 8.04, the search results will just pop-up. Scroll down and find the Firefox Web Browser.
We Found Firefox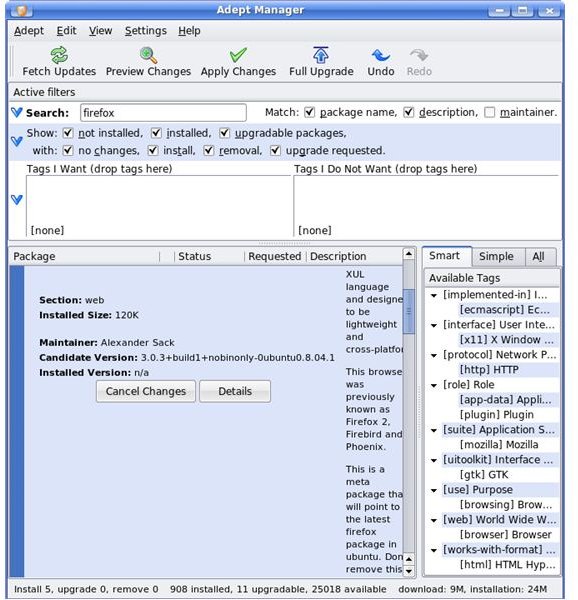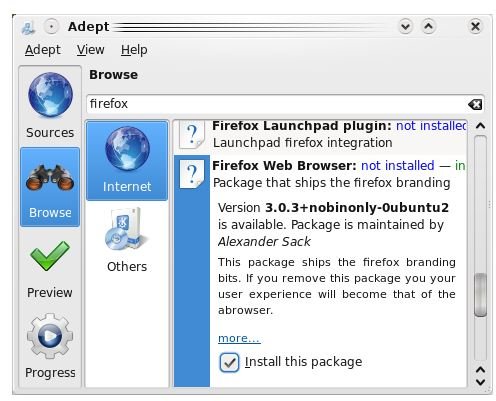 Click Preview (Preview Changes in 8.04) and then click Apply.
Click Apply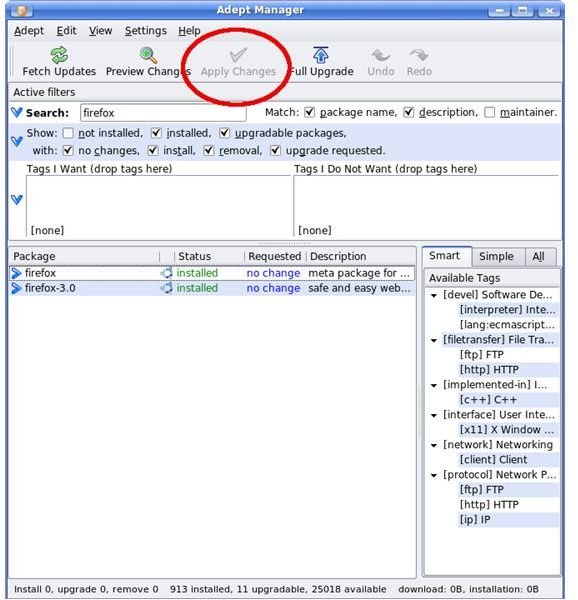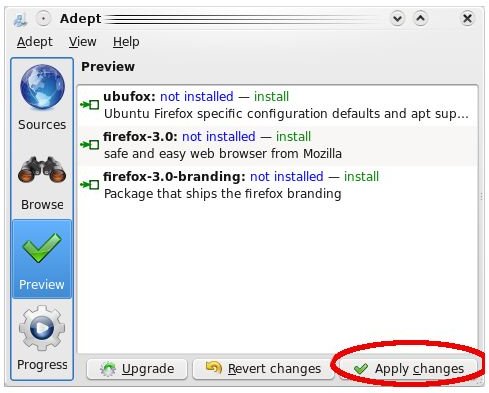 Adept will now install Firefox. This is the same method you would use to install any other software package with Adept.
Next week in part four: How to get codecs to work. Also installing flash and Java.
Give Me Your Suggestions
After part four, I want to go into some of the applications a little deeper. If you have any suggestions then please leave a comment on my blog. Tell me which application you would like to hear more about, and I will use your input to determine what applications to explain, review, and discuss.
This post is part of the series: It's Easy to Exchange Windows for Linux
Learn how in this article series. It will take you from the initial installation of Kubuntu all the way up to what to do to get media to play. I'll even cover installing Java and Flash.