How to Setup Google Desktop for Linux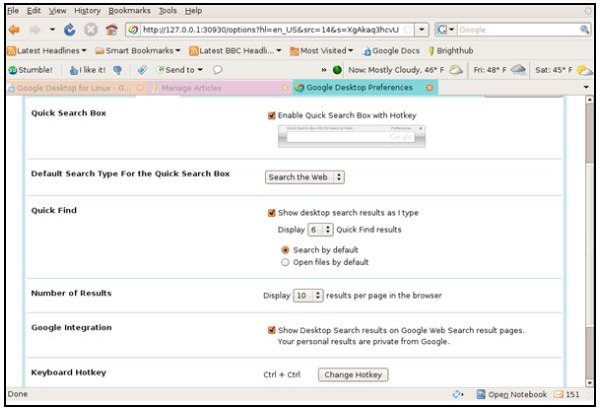 Display Tab
To access the Display and Other tabs, select Applications - > Google Desktop - > Google Desktop Preferences. The preference window will open as a tab in your web browser.
Display Tab
This is where you adjust the display to your liking.
The Quick Search Box
By default, the quick search box feature is enabled. To disable it, click the check box.
Default Search Type For The Quick Search Box
Use the drop down menu to select where the Quick Search box will search. You can choose to search the Web, your Desktop, Images, Groups, News, or Maps. You also have the option to search randomly by selecting I'm Feeling Lucky.
Quick Find
In this section you define how you will get results when you use the Quick Find box.
The fastest, and default choice, is Show desktop search results as I type. To change this setting, click the check box.
Select the number of results to display
Determine if Google Desktop should Search or Open files by default.
Number of Results
From the drop down menu, select the number of results you'd like to see per page when you use the full search feature. Remember, results will be shown in your web browser.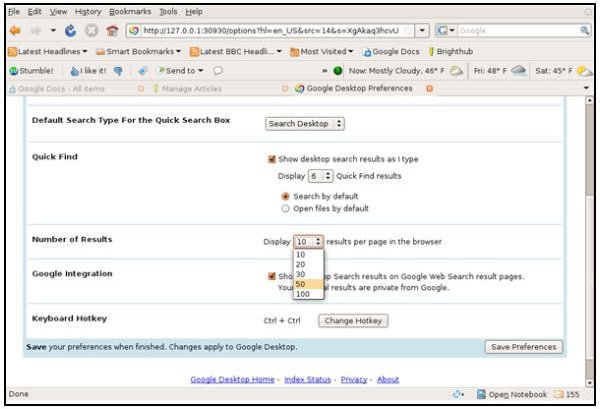 Google Integration & Hotkeys
Google Integration
This setting tells Google Desktop to search your computer files every time you do a Web search using Google's online search engine. Your desktop results are shown with Web search results, however, your personal search results are not shared with Google or anyone else.
This feature is turned on by default. To turn it off, click the check box.
Keyboard Hotkey
This lets you set a keyboard shortcut so you don't have to take your hands off the keyboard to perform a search. The default hotkey is CTRL + CTRL, but you can change this by selecting Change Hotkey. A pop up will open. Click in the text box.
The text will change to Press new hotkey.
Use your keyboard to select your desired key combination.
Press OK.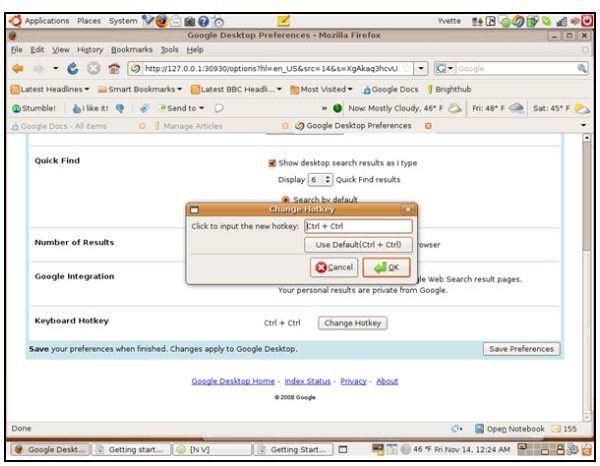 Other
The Other tab gives you the option to Send crash reports and usage data to Google so developers can use this information to fix bugs and generally improve the product. All personally identifying information is removed before sending the data, so your identity is secure.
By default, this option is off. To give your permission, select the check box. It is suggested you read Google's Privacy Policy before selecting this box. For your convenience, a link to this policy is provided on this tab.
Save Preferences, and close the window, you are finished configuring Google Desktop for Linux. You're ready to begin searching your computer.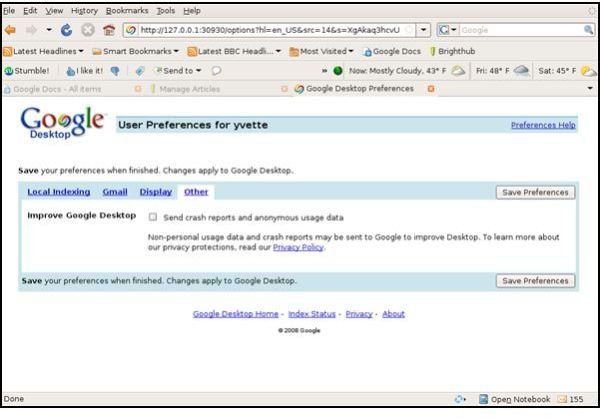 This post is part of the series: Google Desktop for Linux
Using Indexing technology Google Desktop keeps track of the contents of your hard drive so you can find what you need, when you need it. Learn all you need to know to effectively search your files, email, video, and web history quickly and easily.