Setting Up Google Desktop in Linux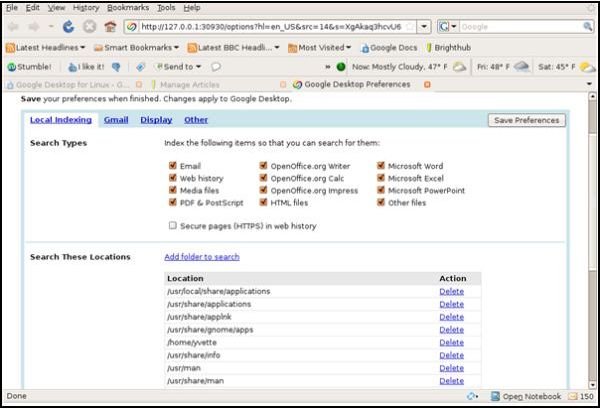 Now that you have Google Desktop for Linux installed on your machine, you should set preferences before you release the application to do work its magic.
First, if you haven't already, go to Applications - > Google Desktop - > Google Desktop Preferences. Agree to the TOS, and if you'd like to participate in the crash tracking program click the check box and click I agree.
The Preferences window will open in a web browser tab.
Search Types
Select the file types you'd like Google Desktop to include in its indexing and search routines. The more file types you select, the more complete record Google Desktop will have of your system. If you omit some file types and then do a search, items within the omitted file types will not be included in the search.
However, if you have concerns about the privacy or security of your computer, it my be wise to omit email, web history and HTML files from the search.
By default Secure web pages or SHTML files are omitted from search and indexing. This includes web pages like your bank or Pay Pal accounts. To turn on index and search for these files, select the check box before Secure pages (HTTPS) in web history.
Search These Locations
This section lists the folders which will be included in the search and indexing routine. Look over the list, and if you'd like to remove any of these files click Delete an the end of the file line.
To add a folder to the list select Add folder to search. From the window which comes up , select the file or folder you wish to add, click OK. You must repeat this procedure for each file you want to add.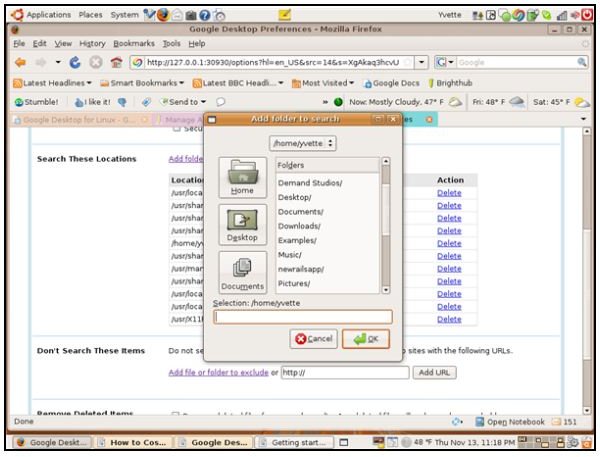 Don't Search These Items
This is where you define any folders, or files you want to always be excluded from index and search. Either use the link, Add file or folder to exclude to browse to the correct file, or enter its location into the text box by hand. Click Add URL.
Remove Deleted Items
Check this box, if you don't want files you delete to be kept in the index for later use.
Select Save Preferences, before moving on.
Gmail Tab
This tab allows you to search and index your Gmail account along with your local computer. Select the check box to enable this feature.
Save Preferences before continuing.
We've talked about the first two tabs. In the next article we'll cover the Display and Other tabs.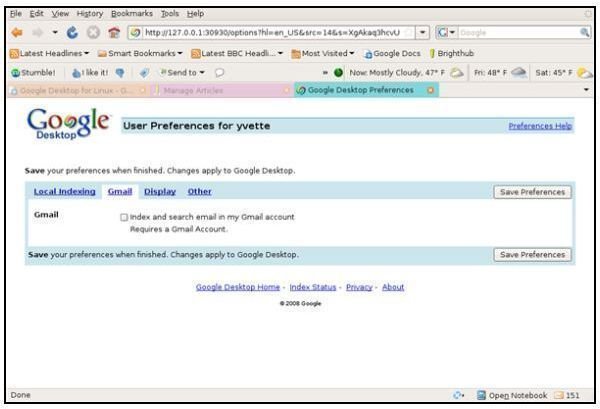 This post is part of the series: Google Desktop for Linux
Using Indexing technology Google Desktop keeps track of the contents of your hard drive so you can find what you need, when you need it. Learn all you need to know to effectively search your files, email, video, and web history quickly and easily.