Top Linux Apps - Konqueror Review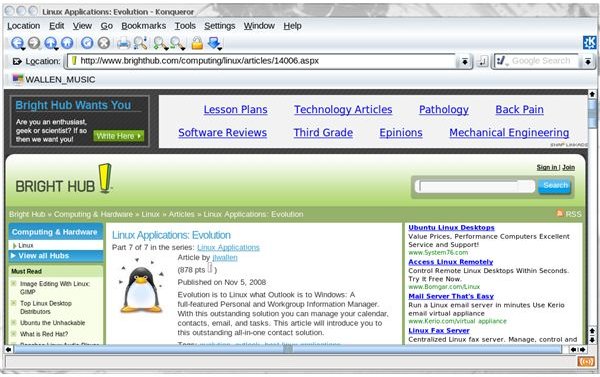 History
Konqueror was originally created to serve as a replacement for KFM (KDE File Manager) in the KDE desktop. But quickly after it was made the official replacement it became apparent that Konqueror would make a great web browser as well. The name "Konqueror" was originally a play on the two major web browsers at the time of its creation: Explorer and Navigator. The first release of Konqueror came out with KDE 2.0 October 23, 2000. Konqueror is written in C++ and QT and is available for all UNIX-like operating systems, OS X, and Windows.
Features
Not only can Konqueror surf the web but Konqueror is an outstanding file browser as well. Of course the list of features doesn't end there. Konqueror's features include:
Browser features
HTML 4.01 compliance
JavaScript support
Java applet support
Cascading Style Sheets 1,2,3 support
DOM1, DOM2 and partially DOM3 support
Full support for bidirectional scripts
SSL support (requires OpenSSL)
Archive web pages
Web page translation
Seamless KDE integration
Browser identification switcher
File Manager
Display files in multiple view types
Multiple (and customizable) profiles
Thumbnail preview
txt, pdf, audio, and other file type support
Browse ISO images
Mime support
KIO plugin support
Read archive files
Access Windows shares
Audio CD support
SSH and sFTP support
Getting and Installing
The installation of Konqueror is simple: If you have KDE on your machine, you have Konqueror. If you do not have KDE on your system you can open up your package management system (Synaptic, Yumex, Rpmdrake) and do a search for KDE. Select the results, click apply, and KDE will be installed on your system.
If you are a little weary of attempting such a large installation, you can always download one of the distributions that include KDE. If you're a Ubuntu fan you can install Kubuntu as your OS. If you're a Fedora fan you can download the KDE-based Fedora (the same thing applies to most other major distributions).
Konqueror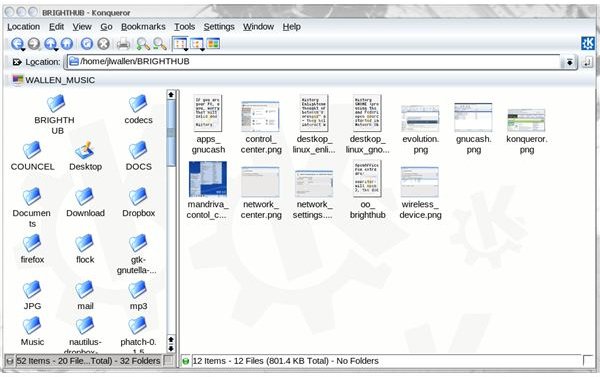 Final Thoughts
With it's versatility, speed, and reliability, Konqueror is one of the best alternative web browsers. If you've never given this browser a try, you owe it to yourself to do so. You might find yourself never looking back. I have used Konqueror since version 1 and have used it for many purposes. As a web browser it doesn't quite stand up to Firefox. As a file manager there is none better for flexibility, features, and performance.
This post is part of the series: Linux Applications
In this series I will highlight those Linux applications that are must haves for personal, school, or office use. And once you get to know them, you won't be able to go without them.