What are the Best Linux Applications? Evolution Review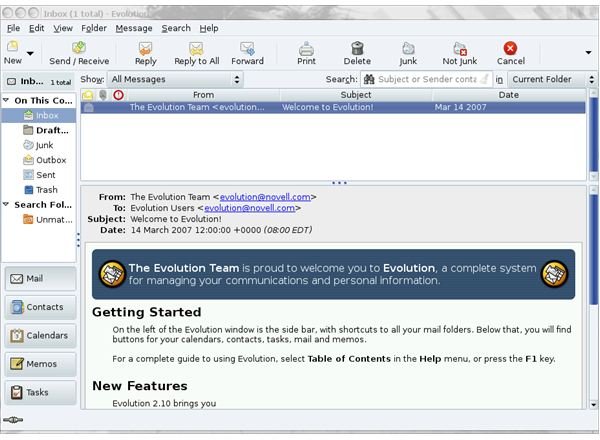 History
Evolution was first created by a start up Linux company called Helix-Code (formed by GNOME creator Miguel de Icaza). The company quickly changed its name to Ximiam. The first release came around August 2001 with the release of GNOME 1.4. Ximiam and was purchased by Novell after they purchased SuSE Linux. Starting in 2005 Evolution was ported to both OS X and Windows. Currently Evolution is enjoying release 2.22.
Features
No viruses or worms
Intelligent junk filtering
Advanced email and folder searches
Desktop integration
Exchange Plugin
Web calendars
User-defined filters
Multiple accounts
Palm device support
Customized reminders
Multiple calendar views
iCalendar support
To-Do list
LDAP compatible
Share vCards
Security and encryption
Why switch to Evolution?
Imagine being able to use a similar interface to Microsoft Outlook without having to continually worry about viruses, worms, and instability. That's what you get with Evolution. And evolution manages everything you need from your professional and personal information. No more having to open more than one application to manage your daily tasks of organization and communication. On top of this, Evolution is perfectly integrated into the GNOME desktop. Of course it is not limited to GNOME. As long as Evolution is installed, it can be run on nearly any desktop environment you want to use.
Getting Evolution
Evolution is not your typical Linux application in that there are no official binary packages available for download. From the official site you can only download the source packages, which must be compiled. That is not so much of a problem with Evolution because it is now automatically installed with the GNOME desktop. You can also install Evolution with your package management system. Of course there are two ways to install with a package management system: GUI or command line. If you decide to install via command line it will look something like this (depending upon your distribution):
urpmi evolution
sudo apt-get install evolution
yum install evolution
From the GUI package management system (such as Synaptic, Yumex, or Rpmdrake) you would simply search for Evolution, select it for installation, and apply the changes.
Once Evolution is installed you will find it, most likely, in the Internet or Networking sub directory of your main menu.
Evolution Main Window
Final Thoughts
Evolution is one of the finest personal/professional information management applications available. If you're used to Outlook there will be zero learning curve, and if you're used to Outlook crashing, or bringing viruses to your computer, you'll breath a sigh of relief when you realize that is a thing of the past with Evolution.
This post is part of the series: Linux Applications
In this series I will highlight those Linux applications that are must haves for personal, school, or office use. And once you get to know them, you won't be able to go without them.