Essential Linux Applications - Scribus Review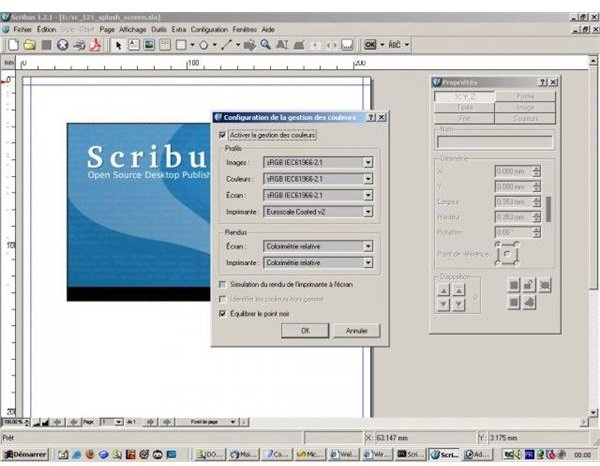 History
June 26, 2003 Scribus 1.0 is released (under the GPL) to the wild. Written in C++ by The Scribus Team, the application is the only fully cross-platform, professional ready desktop publishing application. Scribus is available for the following operating systems: Linux, OS X, Windows, OS/2, UNIX.
Features
Scribus includes the following features:
Importing common text formats into the text editor
Vast font support
Frames (visible and hidden) and layers manipulation
CMYK, RGP, and PostScript separation support
Sophisticated PDF creation
ICC management
Template support
Output to professional quality image-setting equipment
Transparency
Encryption
Font embedding
and more!
Scribus achieves printing via an internal level 3 PostScript driver. The default Scribus file type is .sla but Scribus can import text from OpenDocument format, txt, doc, rtf, and HTML (with some limitations.) Scribus can export files as EPS, SVG, PDF, or images. Scribus can edit corners, alter edge line colors and size, alter image shapes as well as opacity.
Getting and Installing
Scribus is simple to install in Linux. You can run the installation in two ways: from the graphical package management tool (such as Synaptic, Yumex, or rpmdrake) or you can install via command line. To install via GUI you simply need to fire up the application, do a search for Scribus, select Scribus from the results, click apply, and watch as Scribus is installed. From the command line you will need to issue one of the following commands (depending upon the distribution you run):
sudo apt-get install scribus
urpmi scribus
yum install scribus
NOTE: The latter two commands must be run as root.
Scribus Color Management Screenshot
Final Thoughts
Scribus is one of those applications that once you start using it, you will never be able to work without it. Scribus is a professional-level DTP application that is simple to use and creates stunning results. Add to all the features, stability, and ease of use, the fact that Scribus is FREE and you have the makings of that killer application Linux has always needed.
This post is part of the series: Linux Applications
In this series I will highlight those Linux applications that are must haves for personal, school, or office use. And once you get to know them, you won't be able to go without them.