The Best Open Source Slideshow Software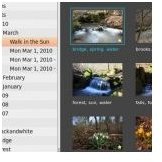 Share Your Memories
Slideshow programs have two basic uses, the first is business or classroom presentations, the second is showcasing family or group photos. Back in the day you needed all sorts of expensive equipment to create multi-hour, photography-based slideshow sessions but today, thanks to open source slideshow software, this awesome power is now in the hands of even the most basic computer user!
Free Family Slideshow Creators
If you just want to make a slideshow of some snapshots with a few neat effects there are many programs available. The best news is you do not even have to be using an open source operating system to use all of them as many studios create windows and mac compatible versions. Of course, installing them on an open source system is, in many cases, easier on account of the ease at which Linux programs can be downloaded and installed. The windows compatible options you should look for are those identified as freeware. Many programs are advertised as free downloads but end up being shareware requiring you to pay a hefty license fee to use all the features.
Free Windows Compatible SlideShow Program
LPG Slideshow is a very capable program that enables sideshow creation to either be played on the computer or burned to CD. It provides a preview feature but my favorite thing about this little program is that it downloads as a small, 2 megabyte executable, so there is no installation required! You can get a safe, uncorrupted version here. This program is ideal if you have a projector or a cable to hook up from your laptop to your TV.
Pro Linux Options
Photographers in the know already save loads using open source photo editing software. Linux users seeking open source slideshow software may be baffled by the many options available. One that does it all is Slideshow Creator. It is compatible with most Linux distros (I personally tested it on Ubuntu and Fedora), allows effects and can burn a slideshow to a DVD. I have put up a secure download of the Debian compatible .tar file (Ubuntu, Fedora, Debian, etc) here.
Shotwell is a slideshow creator that will work on any Linux machine compatible with gphoto.I highly recommend it as it makes organizing thousands of photos a very simple procedure. There is also a free Windows version.
Another option I have tested is gtkam. This program can be configured to upload photos seamlessly from your digital camera (although if you like to edit your photos first, you may want to run them through the Linux Gimp photo editor first). It's a small program with a lot of features available for free, but it will only work on a Linux system.
The One Size Fits All Option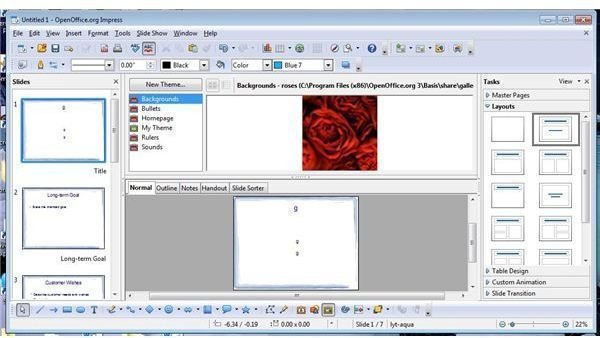 Of course, most standard presentation software lends itself perfectly to photographic slideshow creation. The best version of these is Oracle's OpenOffice. In addition to an intuitive, easy to use slideshow program, you get a word processor, a spreadsheet program and many other tools in the same 150 megabyte download (that is less than 20% of the hard drive space that a comparable Microsoft Office Suite will gobble up of your hard drive, by the way). You need only set it up as a blank template, insert your photos, and use any one of the dozens of transition effects like fading, checkerboard patterns, spirals and swirls. It also allows the Uncle Bobs of this world to put notes on the presentation, either on the screen or hidden from the audience, so that there is a little background on each slide. Windows and Mac users will be happy to hear that there are OpenOffice versions available for those operating systems as well. A great advantage of using OpenOffice sideshow creator is that you can burn the slide show to DVD and share your photos without bulky projectors or hooking up a laptop. So now, you may carry your three-hour presentation on a DVD and your friends and family will have no escape from the ordeal you have prepared for them!
The Tip of the Iceberg
These are by no means the only slideshow creation tools available out there. You could always impose your photos on the general public by putting your work online through Flickr . Programmers are also constantly releasing new versions of this type of software for all operating systems. If you seek a free slide show creator just for snapshots, the OpenOffice tool may very well do the trick for you. If you seek a more professional option, then the Linux-based slide show tools will provide you the same features as expensive Windows programs will, with less bugs and at no cost whatsoever!
References
Photo Credits:

Author Generated Screenshots