Ubuntu Dell Mini 10v Guide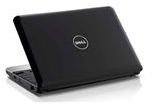 The Mini 10v is a popular and well-received netbook released by Dell to replace the discontinued Mini 9 series. This netbook as well as the 12 series have since also been discontinued however, many people still have (and make use of) these netbooks. Luckily for Mini 10v users, it is certified on Ubuntu 10.10 and 10.04 LTS so the setup process is fairly simplistic.
These netbooks are still a viable option for surfing the web as well as your basic e-mail needs and contain the same basic hardware as the previous 9 series. Next we take a look at an example configuration for the Mini 10v…
Mini 10v Official Hardware
Processor: Intel(R) Atom(TM) CPU N270 @ 1.60GHz
Network (Wireless): Broadcom Corporation BCM4312 802.11b/g LP-PHY
Network (Wired): Realtek Semiconductor Co., Ltd. RTL8101E/RTL8102E PCI Express Fast Ethernet controller
Video: Intel Corporation Mobile 945GM/GMS/GME, 943/940GML Express Integrated Graphics Controller
Most of these netbooks were released with this basic configuration with very minor differences. Regardless of which version you own, Ubuntu 10.10 as well as 10.04 should install with very few, if any, problems.
For setup instructions please keep reading…
Grab the Ubuntu 10.10 ISO Image
The first thing you will need to do is download and burn the Ubuntu ISO image in preperation for your new Ubuntu install. The ISO image can be found on the Dell Mini 10v hardware certification page. Once you have the ISO image file downloaded (in this example we will assume you downloaded it to your netbook) the next step is to transfer the image to a USB key for installation.
Transfering this ISO image to a USB key for installation is made easy using a favorite tool of mine, unetbootin. Unetbootin is a program that runs on Windows, Mac OS and Linux that easily allows you to make a bootable USB key using an ISO downloaded from the Internet.
Regardless of what operating system you are making the USB key with you will first need to install unetbootin. Once this is complete launch unetbootin, browse for and select the Ubuntu 10.10 ISO image, make sure your USB key is selected as the destination and off you go.
Booting and Installing Ubuntu 10.10
Once your USB key has been prepared, the next step is to insert it into one of the USB ports on the Dell Mini 10v and make sure your netbook is set to boot from USB. To set your netbook to boot from USB hit F2 as the logo appears to enter theBIOS, under advanced make sure USB BIOS Legacy is enabled, under the boot menu make sure USB storage is at the top of the list (if it's not highlight it and use F6 to bring it to the top) and finally press F10 to save and exit your BIOS. On your next boot this will bring up the Ubuntu installer and from here you perform an install as you would on any PC. The install is simplistic and you shouldn't run into any problems during this part of the setup process.
For troubleshooting as well as a few tips and tricks please keep reading…
Troubleshooting, Tips and Tricks
My battery drains way too fast!
The 3 cell battery will generally give you about 2.5 hours under low to medium system use while with the 6 cell battery you can expect about 5 hours, again under low to medium system load. If your battery has started to drain much faster than these numbers the first thing you should try is completely discharging the battery (drain it to 0%) and then charging it fully. If this does not improve your battery time your battery may simply be at the end of it's life. If your Mini 10v is under warranty give Dell a call to get a replacement, if your warranty has run out your best bet is eBay.
My Mini 10v feels really hot, is this normal?
When the Dell Mini 10v is idle you shouldn't see temperatures much higher than 25 C while under heavy use the temperature can spike as high as 45 C. If your netbook is heating up much higher than these temperatures you may have a hardware and/or software issue that needs to be investigated before your Mini 10v suffers damage from heat.
Can I upgrade the RAM in my Mini 10v?
The Dell Mini 10v uses the 945GSE chipset so the maximum amount of RAM it's capable of recognizing is 2GB.
The Dell Mini 10v is an extremely reliable netbook that runs Ubuntu without any fancy modifications or hacks. Although this netbook has been discontinued in favor of newer models it still remains on of the best choices for an Ubuntu based netbook.
Have any experience running Ubuntu on the Dell Mini 10v? Share your thoughts below…
References