Understanding Suse Linux Thin Clients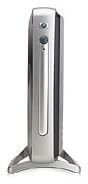 About Linux-Based Thin Clients
Thin clients, often referred to as a lean or slim clients, involve client-server based computing where the program is managed and controlled by the network server and displayed on the client system. A Linux thin client application will rely on the server to provide computing services to the user-interface by distributing functions as an integrated system - linking together different computing systems and software applications - in handling input and output. By switching to a thin client configuration, it can serve programs that run on remote Linux systems - achieved by using a cross-platform system for remote desktop access in hosting of single applications - to have access to the complete desktop environment.
The benefits of using thin clients is, it is a low-cost solution to operate, the software is managed almost entirely at the server, and uses only the amount of resources to do a task. It is ideal especially for use in enterprise application development and deployment.
The SUSE Linux Enterprise Platform
The ideal Linux operating system for the enterprise is a system with the SUSE Linux Enterprise Thin Client (SLETC) software as it provides a desktop-to-server Linux solution for a business. SLETC is a modified version of the SUSE Linux Enterprise Desktop (SLED) that is targeted at thin client terminals of which are ready for business use.
As mentioned in the Novell press release, those customers who run the application will see lower costs, increased data security and improved manageability. Furthermore, Novell says "it simplifies desktop management tasks such as application updates by maintaining applications on the server, while increasing security with central storage of sensitive data." [1]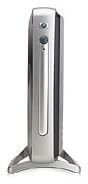 Among those companies that support Novell's SUSE Linux Thin Clients are IBM and HP. HP uses it on some of their selected HP Compaq client systems, like the HP Compaq t5515 Thin Client (as seen in the image to the right) that delivers server-based computing for using general office applications.
"HP cites thin clients as the most promising growth area for Linux on the desktop […]" [2] IBM, on the other hand, investments in the SuSE Linux operating system for use on their own hardware systems for targeting enterprise data centers. As a result, thin clients have allowed companies like IBM to can gain better security, easier management and have reduced ownership costs.
This cost efficient SUSE Linux Enterprise platform means customers will have a flexible solution for their end-user computing requirements to operate thin-client environments. It is the secure remote access product for enterprise customers looking for greater security to store sensitive, corporate data in the data center instead of on distributed client machines. "In addition, SUSE Linux Enterprise Thin Client locks down applications to prevent unintended user actions and comes with read-only default capabilities to minimize data loss in case your thin client device is lost or stolen." [3]
These days, many thin-client devices and workstations are running SUSE Linux Enterprise from Novell. Their product has improved overall reliability, flexibility and accessibility for multiple people to use the same device without needing a license for each person. With SUSE, you are sure to have the right thin client device, OS and management software to improve end-user security and increase workforce productivity.
Features of the Thin-Client Architecture
To remotely manage and run the client software to access the terminal server, the SUSE Linux Enterprise Desktop - an award-winning graphical user interface - is used. It provides centralized desktop management for data and image control. The graphical user interface (GUI) of the the desktop software and the Linux thin client has proved to be the solution not only for system management, but also for the communication between the Terminal Server and the Terminal Server Client.
A thin-client architecture requires little effort to setup as thin client devices are practically ready to go when brought out of their box. All it requires is to be plugged in to a computer and connected to the server and, within minutes, it will be operational. (Note: Thin Client devices are auto-upgraded and centrally configured.)
In my biased opinion, customers can rely on a SUSE Linux Enterprise Desktop and the Novell's SUSE Linux Enterprise platform with thin client devices not only to have server-based distributed computing, but a simpliar IT infrastructure that has the benefits of reducing costs to manage an environment. Bottom line: the price of a thin client network is much cheaper and easier to setup than establishing a more traditional network to access data and applications in the data center and when managing initial deployments and updates.
References
[1] Press Release: Novell Introduces SUSE Linux Enterprise Thin Client Solution - https://www.novell.com/news/press/2007/3/novell-introduces-suse-linux-enterprise-thin-client-solution.html
[2] News: Novell, HP partner on Linux clients; IBM invests in Novell - https://www.linuxfordevices.com/c/a/News/Novell-HP-partner-on-Linux-clients-IBM-invests-in-Novell/
[3] Data Security - https://www.novell.com/products/thinclient/
Hot Topic: Linux thin clients - https://www.linuxfordevices.com/c/a/Linux-For-Devices-Articles/Hot-Topic-Linux-thin-clients/
Image Credit: