How to Get the Best Open Source Software for Ubuntu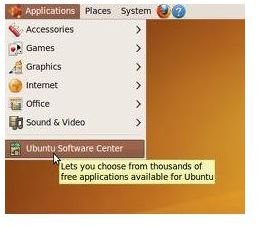 How to Add Software in Ubuntu
The Debian-based Ubuntu series has certainly always lived up to its motto, ''Linux for Human Beings''. Named after the South African philosophy popularized by famous South African Bishop and human rights activist Desmond Tutu, Ubuntu means ''Humanity towards others''. It is developed and supported by UK based Canonical Ltd. Like all Linux distributions, it incorporates user-developed innovations into new versions and updates. Like all major Linux distributions, Ubuntu offers both the operating system and the programs for free. Canonical earns it revenue from service fees charged to corporate and institutional users, similar to Oracle.
Being based on Debian, Ubuntu has a very large repository of programs for every need and purpose. The amount of software fit into the standard 640 megabyte installation image is more than your creaking Windows operating system includes with most computers. Instead of a 60 day trial of the bloated Microsoft Office, Ubuntu includes the latest version of the LibreOffice Suite. This provides you with a word processor, spreadsheet, and a slide presentation program that gives the user the same functions provided in Microsoft Office. That is, minus the $300 price tag and torturous installation procedure.
Where to Go for Free Software
The good news is that adding more programs to Ubuntu is a simple matter of searching and downloading and the best part is, it does not even involve an Internet search. The source of the best open source software for Ubuntu is the Ubuntu Software Center, accessible through the Applications tab. It has a massive database of programs covering such areas as additional office programs, video and audio tools, science and engineering, games, themes and, of course, software development tools. All of these applications are available for free requiring only a broadband Internet connection to rapidly expand your installed program base.
The Ubuntu Software Center has both Canonical developed software and software developed by the Linux community. The procedure to get a new program involves a search and a simple click of a button. That's all there is to it. Ubuntu automatically installs the software and places it in the appropriate menu.
The Accessories program base offers calculators, database administration tools, and dictionaries. This software directory also has some useful programs to allow the user to connect other digital devices to their Ubuntu system, such as Jsymphonic, which allows the end-user to connect Sony mp3 players and add and remove music files. This is a useful feature, as any viruses or software carried within mp3 files will not do any damage to your Ubuntu OS, unlike in a windows OS, where they can wreak havoc. If you are in need of additional web browsers such as Google Chrome they can be downloaded in the internet section as well not to mention some excellent security programs such as the Firestarter firewall.
More Great Ubuntu Software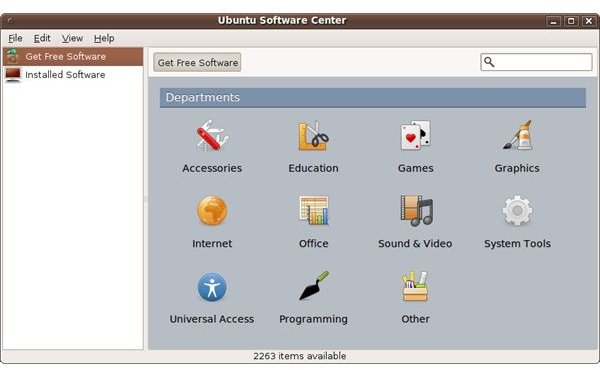 The graphics folder offers software for photo and video editing and drawing. This section has useful tools for digital artists such as the Aqsis 3D rendering suite, which is fully compatible with the renderman standard used by accomplished 3D animating studio Pixar. Other rendering programs include Blender, structuresynth, and sunflow. Photographers have many photo album options to choose from as well, allowing them to organize family memories digitally. Pros have two capable programs to choose from that allow them to upload and edit RAW images, UFRaw, and Rawstudio.
The office section allows the user to add many features beyond the included LibreOffice suite. Adobe reader, medical billing programs, barcode label printing tools, PDA management software, and project management tools are all available to make sure that your organization is able to perform its duties with your new Linux system.
What about Games?
Gaming is one area that Linux does lag behind. Keep in mind that most studio developed games take years to develop and millions of dollars in R&D. Games developed by the Linux community are more often than not produced by just a few programmers in their spare time. However, an application called Wine, is available in the office section. Wine allows a Linux user to run Windows programs. It is most often used by gamers wishing to continue using their collection of Windows games. That being said, there is a large section of games in the games folder. Ranging from puzzles and board games, to classic arcade games like Galaga and Tetris, there are also some very advanced games in this section as well. Fans of first person shooters would enjoy Alien Arena, which boasts some very nice graphics. Real time strategy buffs can choose from such titles as Netpanzer, a tank game in which the player can control up to 200 tanks of many different models, or Warzone 2100, a Real time strategy as good as any Command and Conquer or Starcraft entry. A neat thing about Warzone 2100 is that the player can design all the units themselves. Both titles have an active multiplayer community.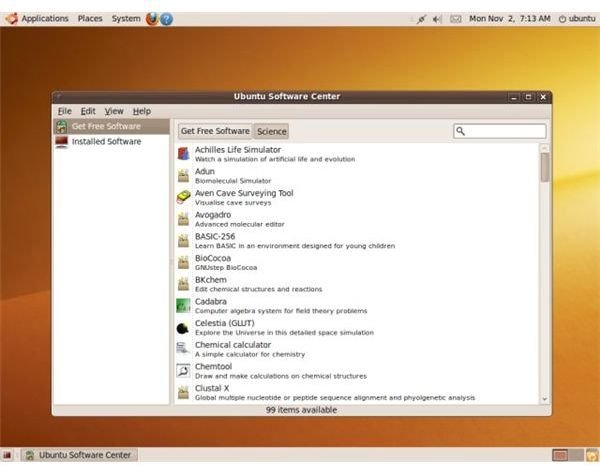 In addition to all this, there are neat programs like the Stellarium, an astronomy program that simulates the night sky, and allows the user to view the stars from any point in the globe at any time within the past 10,000 years. Also, the Boinc client software allows the user to give bandwidth to such projects as SETI online, the Search for ExtraTerrestria Intelligence.
This list does not even begin the scratch the surface of the programs available through the Ubuntu software center. Since they are all free and easily removed, the Ubuntu user may sample as many programs on the list as they wish and keep or discard them as they please.
References
Ubuntu, Ubuntu Software Center
Author's own experience.
Screenshots by the author.