How to Install Chrome OS in Vmware Player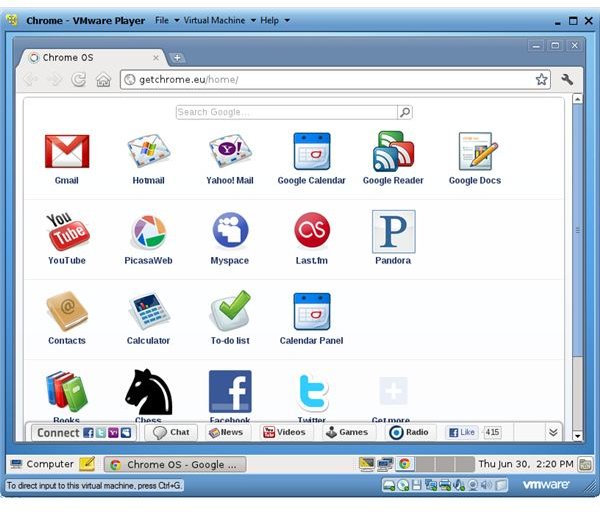 One of the most talked about operating systems of recent years has been the development of the Google Chrome OS, a Linux-based system that Google intends to push to users via low-cost desktops and netbooks. Featuring various open source software and shortcuts to vital online services, the key to Chrome is the cloud, online data storage that is used more and more as a repository for data and a home to web-based tools such as email, office apps and other services that Google provides.
As it happens, there are actually two operating systems doing the rounds using the name "Chrome OS". One of these is known as Chrome OS Linux, but this isn't the full official OS from Google, rather a Linux distro based on Suse.
The real Chromium OS, again based on Linux (this time Ubuntu), is available in two versions, the binaries version for those of you that are happy to self-compile, and the compiled version. We're going to focus on the compiled version here, as anyone comfortable with binaries should have already worked out how to install Chrome OS in VMware Player.
To begin, however, an overview on installing the Chrome OS Linux alternative, available in disc image (ISO) form at getchrome.eu/download.php. Setting up the new Chrome OS Linux is remarkably simple, but if you're planning on testing it first on a virtual machine, you may need a few hints about how the installation works.
Installing Chrome OS Linux on VMware
If you prefer to try the alternative Chrome OS, you can easily do this with VMware Player, available free from downloads.vmware.com/d. Once installed, launch the program from your Start menu, and use the Create a New Virtual Machine option to get started.
With the full disc image downloaded to your computer, select the Installer disc image file (ISO) option and click Browse… to find the ISO file on your computer, and then click Next through to completion.
Within a few seconds the Chrome installer will have loaded in the virtual machine, so left-click into the VM and then use the arrow keys and the Enter button to select Chrome OS Linux. Depending on the speed of your computer, the Chrome OS will be installed in VMware Player in as little as two minutes.
Once this has finished, click the I Finished Installing button at the foot of the VMware Player window and the new operating system installation will be complete!
Screenshot provided by author.
Installing the Chromium OS on VMware Player
For the full experience of Google's Chromium OS, you will need to find a build that you can use with VMware. A quick hop over to chromeos.hexxeh.net/vanilla.php will reveal a selection of options available for VMware, VirtualBox and for running as a "live" operating system from USB.
These "nightly build" versions of the Vanilla version of the OS – which has already shipped on the first Google netbooks – can be downloaded and sit at around 200 MB.
Once your download – in ZIP format – has completed, you will need to extract the contents and save them in a new folder, typically called ChromiumOSVanilla, for instance.
The next step is to find the .vmdk file within the folder and rename it from ChromeOS-Vanilla-0.14.674.2011_06_24_1726-ree5e90b2-VMWare.vmdk to ChromeOS-Vanilla-VMWare.vmdk.
Don't worry about the differences between the original Chromium title and the new Chrome name, as these refer to different aspects of the operating system and its reliance on the web.
With the file renamed, load VMware Player and select Open a Virtual Machine. You can then browse for the ChromeOS-Vanilla-VMWare.vmdk file and select it, which will launch the setup process for the operating system.
You can then sign in with an existing Google account – the operating system will connect to the web for authentication, all part of the cloud focus of this operating system and Google's intentions for their user's data.
Editor's Note: If you are seeing an error message stating "no networks available" you have to change your network adapter type. Right click your virtual Chrome OS machine and click Settings. Click the Network Tab and then select the Advanced settings. Click Adapter Type and then select Intel PRO/1000 MT Desktop (82540EM) from the list. Click OK. Now boot your Chrome OS system.
Why Use a Virtual Machine?
Of course, you don't have to use a virtual machine to install the Chrome OS Linux or the Chrome Vanilla version of the Google Chromium operating system, but it certainly helps you to get to grips with the new platform and test it.
For instance, you might be considering Chrome as an alternative in the workplace as part of a uniform migration towards cloud computing. Testing in a virtual machine such as those provided by VMware or VirtualBox saves a lot of time on building and testing physical computers – a VM can also be put away in a drawer and loaded up on a new computer, and its hardware will never become out of date (unless you opt to leave it in that state).
As such a virtual machine such the free VMware Player is a great way to test and install any new platform, not just Chrome OS.
References
Author's own experience.