How to Set up and Test Red Hat Enterprise Linux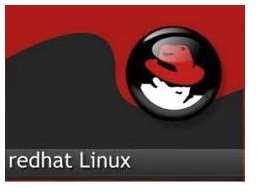 What is It?
Red Hat Enterprise Linux is a comprehensive network Operating system that can handle everything from a few workstations to a full blown mainframe. Unlike other distributions, testing Red Hat Enterprise on your system is a touch more complicated than downloading and installing. Red Hat stopped being a truly free system in 2004, when the Red Hat company created Fedora and began using that excellent OS as its community distribution. Red Hat OS was then re-branded as Red Hat Enterprise. Similar to Oracle and it's Solaris OS, Red Hat earns the bulk of its revenue from maintenance fees. Red Hat does charge a yearly subscription fee of about $49 for a self-supported desktop edition and up to $6,000 for a Red Rat supported Server edition, albeit one with near unlimited potential users. Despite this, Red Hat Enterprise is popular among corporate users. This is partly due to the distribution having a long shelf life (Red Hat Enterprise 5.5 was released way back in 2007, Version 6 three years later, an eternity in Enterprise systems development), and on account of the huge amounts of data that premium Red Hat Enterprise systems can handle. According to the developers, Red Hat Enterprise Linux 6 can handle up to 4,096 cores/threads per system image: that's up from 64 in Red Hat Enterprise Linux 5, with an associated increase in addressable memory — from 1TB to 64TB. Enough power for most organizations, even those bent on world domination.
How to Test It
With such high operating costs, its a good idea to set up and test Red Hat Enterprise Linux before making a decision to use it. Unless you have a dedicated test machine available, you should always test an operating system on virtual machine software like VM ware or Virtualbox. This tutorial is using VM ware, but Virtualbox instructions are virtually the same. For those of you non-techies out there, these programs allow you to run virtual machines, or simulated computer operating systems within your current desktop. VM ware has a 30 day trial available while Virtualbox is free software.
The advantage of testing software with virtual machines is that you do not end up creating any permanent partitions on your hard drive. When setting up a virtual machine however, it is important to dedicate as much RAM as possible to it. This will allow you to test the OS with maximum processor power and the user will not suffer a performance hit except when the virtual machine is switched on.
VM Installation Tutorial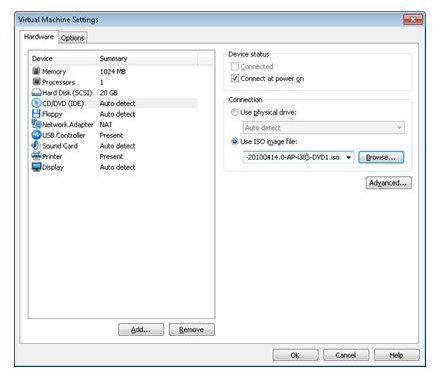 Once your virtual machine software is set up, download the Red Hat 30 day trial (do not be tempted by the 180 day trial for mainframes, its doubtful it will even install on a virtual machine) from the downloads section of the Red Hat Enterprise homepage. Once the ISO image has downloaded, open your Virtual Machine and load the ISO Image. Select ''use ISO file instead of physical drive", to avoid having to create a live boot disk.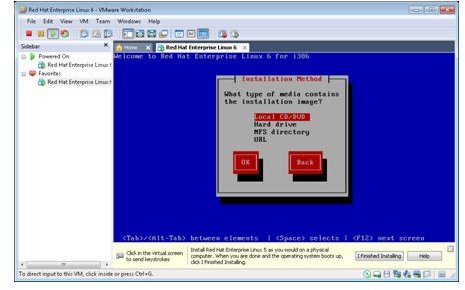 Next, click the ''power on'' icon. Soon after, you will see the Red Hat 6 installation screen open within a window (don't worry about this, you can choose full screen later). Select ''Install or upgrade existing system''.
At the screen Prompting you for installation file location, choose ''Local CD/DVD''.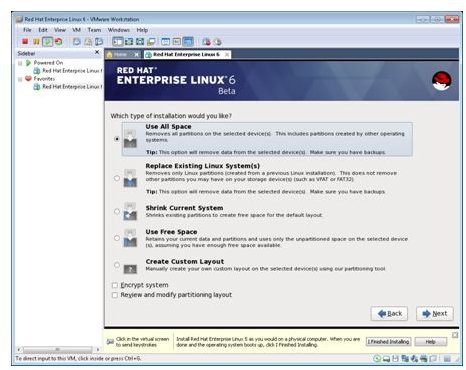 Your virtual machine will then tell your Red Hat install that the ISO is running from a physical disk. If prompted, you may skip the media test since you are using an ISO file instead of a boot disk.
If you receive the warning to the left about your hard drive, do not panic as it is only in reference to your virtual hard drive. Click ''re-initialize'' and continue. Then name your machine, set your timezone, and follow the prompts.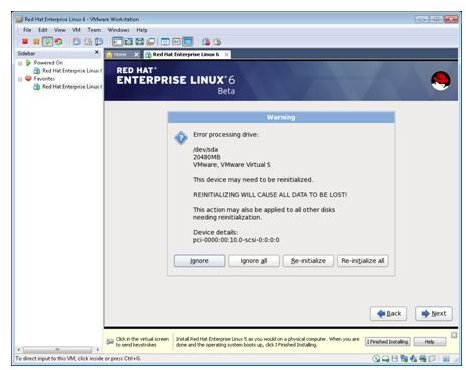 At the partition manager, elect to ''use all space''. Once again, this will have no effect on your hard drive, only on the space allocated to your virtual machine. If you chose ''Dynamic'' during your VM installation, it will only use as much memory as required.
Once your Red Hat has finished installing, reboot your VM.
Wrap It Up and Try It Out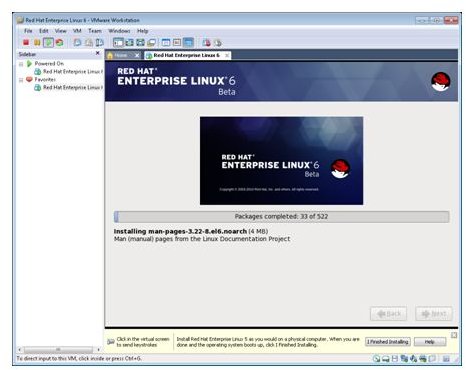 Now you can set up and test your Red Hat Enterprise 6 with full privileges for 30 days. This however does not mean it will automatically self-destruct in 30 days, all this means is it will stop updating and will no longer install new files or programs from the Red Hat repository. However, if you really like the system, you can keep it somewhat updated at no cost by downloading and updating from CentOS (a community updated enterprise OS). Gradually though, your system will become more and more like a CentOS system, so if you know for sure that your budget cannot accommodate the subscription fees perhaps CentOS or another community enterprise operating system is a good option for you. Remember that Red Hat builds from Open Source code, which it must make freely available to all others, so many Red Hat rebuilds like Scientific Linux, White Box Enterprise Linux, StartCom Enterprise Linux, Pie Box Enterprise Linux, X/OS, and Lineox are all built from the same solid source code. Unless you must have the extra power that comes with Red Hat 6, these rebuilds are a viable enterprise option.
References
All screenshots by the author.