How to Configure the Mandriva Firewall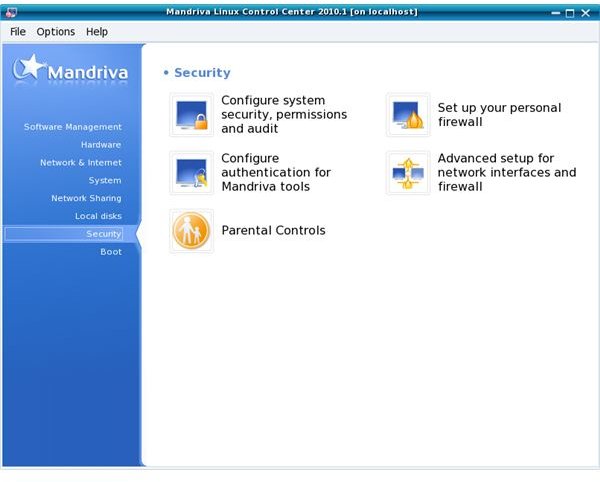 Interactive Firewall
The Mandriva firewall is an interactive firewall, unlike the firewall included with many other Linux distribution's. Mandriva's firewall alerts you when someone tries to access blocked services from the Internet or performs a port scan on your computer. If you'd rather not see these alerts, you can disable them in the configuration dialog of the firewall.
Accessing Firewall Configuration
Click the star-shaped icon at the bottom-left corner of the Mandriva Linux desktop, click "Tools," click "System Tools" and click "Configure Your Computer."

Type your root password into the password prompt dialog box which appears and press "Enter."
Click "Security" at the left side of the Mandriva Linux Control Center window.
Click the "Set Up Your Personal Firewall" icon.
Configuring the Firewall
Set up the services you want accessible from the Internet on the first screen by clicking the appropriate check boxes. You can disable the firewall here by clicking the "Everything (No Firewall)" check box.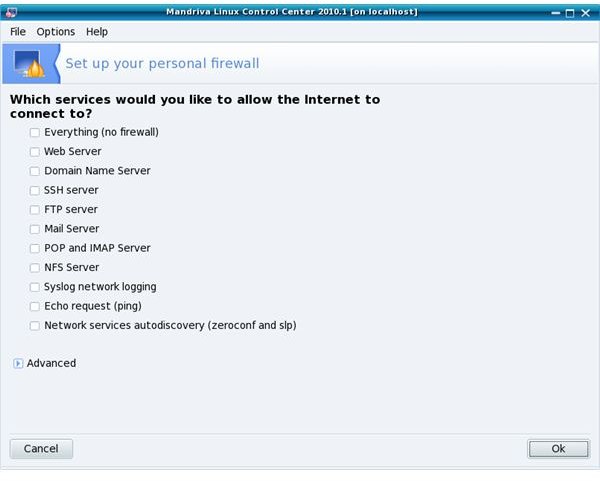 If you have custom ports or port ranges not listed here you want to open, click "Advanced." Type the ports into the "Other Ports" box in the correct format. For example, open TCP port 1234 by typing "1234/tcp," open UDP port 4321 by typing "4321/udp" or open TCP ports 1001 to 1008 by typing "1001:1008/tcp." Open multiple ports or port ranges by placing a space between each. For example, open all of the above ports by typing "1234/tcp 4321/udp 1001:1008/tcp."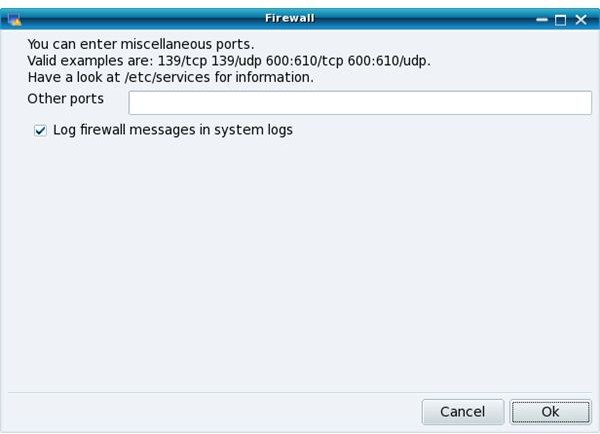 If you don't want to see interactive firewall alerts or port scans, you can uncheck the "Use Interactive Firewall" and/or "Port Scan Detection" check boxes on this screen.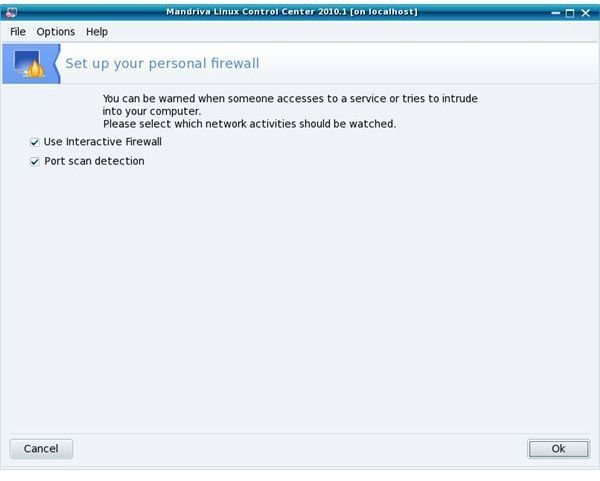 Configure interfaces the firewall should protect on the last screen. The firewall should protect each interface exposed to the Internet. If you have an interface dedicated to the local network, uncheck its check box to allow complete access to the computer's services from the local network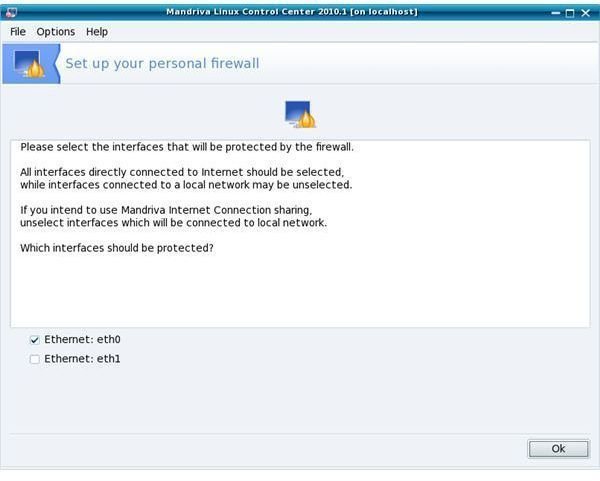 Viewing the Interactive Firewall Log
You can view the interactive firewall's log and manage the blacklist and whitelist by right-clicking the network icon on the panel at the bottom-right corner of the Mandriva desktop and clicking "Interactive Firewall."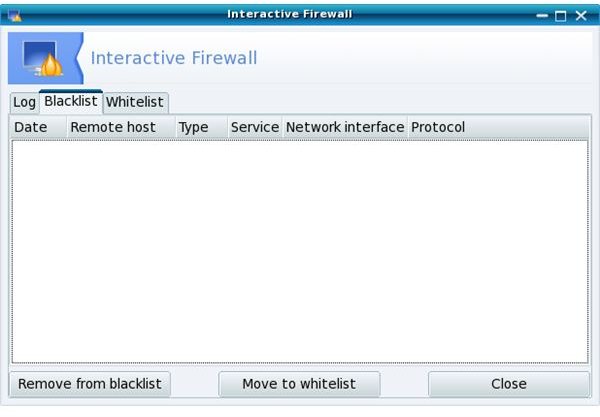 View the log, blacklist or whitelist by clicking the tabs at the top of the window. If you want to blacklist or whitelist a type of traffic in the log, click the item in the log and click the "Blacklist" or "Whitelist" button. Remove items from the blacklist or whitelist by clicking the item and clicking the "Remove from Blacklist" or "Remove from Whitelist" buttons.
Find more information about Mandriva Linux please see Bright Hub's Mandriva Linux guide.
References
Screenshots and references from Mandriva Linux 2010.
Mandriva's Official Product Page: https://www.mandriva.com/en/linux/overview/
Mandriva Wiki: Interactive Firewall, https://wiki.mandriva.com/en/Projects/Interactive_Firewall