Using Ubuntu: Drag Firefox Link to Desktop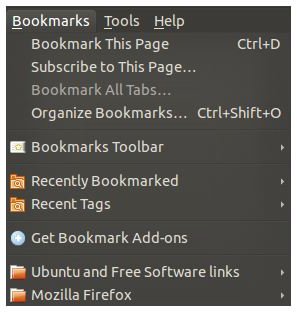 The Benefits of the Firefox Browser
Probably the default choice of browser for all Linux distro users is Firefox; it comes included in pretty much every version and is arguably at its most usable in such an environment. Organising Firefox bookmarks is easy and the browser will let you open several tabs at the same time. Meanwhile extensions can quickly be applied to the browser to improve the user experience.
Being able to manage the Firefox bookmarks in particular is a key advantage – you can do pretty much anything with a URL in Firefox on a Linux distro.
In Ubuntu 10.10 it is even possible to drag a Firefox link to the desktop.
Managing Bookmarks in Firefox
Once you have identified the address bar (the area of Firefox where the website URL is displayed) and the "favicon" (the websites icon which is displayed next to the URL), you should be able to start manipulating and dragging the URL to do pretty much whatever you want.
For instance, you might drag the URL to the Bookmarks Toolbar in your browser window to create a quick-access button to open the webpage without entering the address or accessing it from the Bookmarks menu.
You might also drag the URL to the Bookmarks menu and "drop" it, which is a quick way of adding a website to your list of favourites.
The Bookmarks menu will allow you to Bookmark This Page, Subscribe to This Page… and Organize Bookmarks…, and each are great ways to take advantage of Firefox's bookmark management. Subscribing to a page is idea for pages with RSS feeds, while bookmarking a page will add it to the Bookmarks menu.
Organize Bookmarks… is a particularly useful option which allows the user to sort their bookmarks as needed, adding new folders and separator lines and facilitates easy organization of saved URLs. To save time, URLs can be dragged from folder to folder, making organizing your Firefox Bookmarks quick and easy.
Dragging Firefox Links to the Desktop in Ubuntu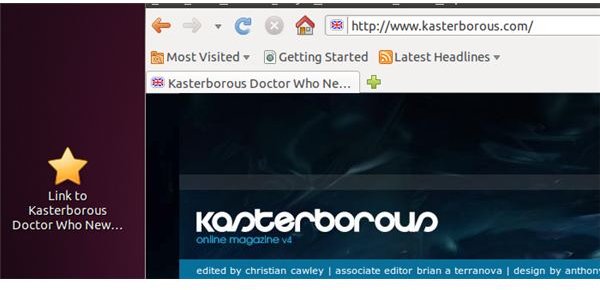 It is a very straightforward task to drag a Firefox link to your desktop in Ubuntu; in fact there are various other places you might drag a link to.
For instance if you want to paste a URL into the Terminal, simply left-click the favicon in the Firefox address bar and drag it to an open Terminal window.
Similarly, you might want to attach the URL to an email, and this can be done by dragging the favicon to a new email window in Evolution.
Finally, to drag a Firefox link to your desktop in Ubuntu, just follow the same pattern: left-click and drag the favicon to the position you want the shortcut to appear.
There are many ways in which this process can be used in different applications - all you need to do is give it a try!