EVGA 8600 GT Graphics Card Review
EVGA 8600 GT
As an avid PC gamer, I understand the importance of having a good graphics card to support high end games that utilize complex 3D engines and more. Previously, I had been using an Nvidia 8400 GS card in my PC, and it just wasn't doing the job very well. I'm running an HP brand computer with an AMD x2 5000+ processor and 3 gigs of RAM, but even that can't handle the intense graphics of games like Call of Duty 4 and Company of Heroes without the help of a good video card.
After shopping around a good bit on Newegg.com, I settled on the EVGA Nvidia 8600 GT card. In the Nvidia 8 Series graphic cards, it's a couple of notches above my 8400 GS in terms of speed and function. The price was also very good, because I got it for less than $50 after sending in a $30 rebate. After installing this card, I saw a noticeable improvement in all my games that seemed a little sluggish under the 8400 GS card.
I am running Windows Vista, and after installing this card I went into the Control Panel and let it rate my performance under the Windows Experience Index. It gave me a Graphics rating of 5.9 and a Gaming Graphics rating of 5.6. Under the 8400 GS, Graphics were just 3.6 and Gaming Graphics were 4.3. Prior to that, using the onboard video, Graphics were 3.1 and Gaming Graphics were 3.0. The numbers don't lie.
While doing some research on video cards, one thing I learned was that the video memory on a graphics card doesn't make a very big difference in gaming performance. Of course, having more memory helps, but often for the money you can get a better class of card for only a little more money than a lower class card with more memory. This card only has 256 megs of onboard RAM, but it is plenty. You can get it in 512 and 1 gig models, but those type cards are geared more towards graphic and video editing. Did you know the Sony PlayStation 3 only has a GeForce 7 series card with only 256 megs of RAM on board?
EVGA 8600 GT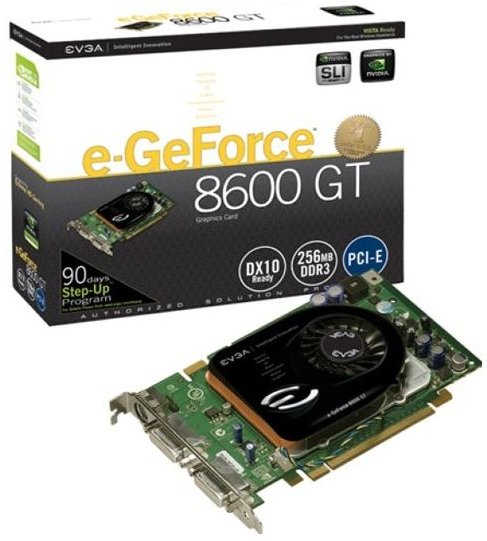 The most noticeable improvement I saw with this card was when it comes to shading. In PC games, shading accounts for a lot of graphic detail in games, and the 8400 GS card could not handle it worth a flip. For example, in Call of Duty 4 whenever somebody would throw a smoke grenade and the entire screen would turn white and gray with smoke, my PC would choke on it. With this 8600 GT, now it all runs nice and smooth. I found an overall performance increase in every newer game that utilized any kind of 3D system. Even Titan Quest, which would sometimes get a little jumpy under my old card, ran smoothly with this new one.
One important thing about the GeForce 8 series of graphics card is DirectX 10 compatibility. DX10, as it is also known, is the core graphic engine in Windows and adds a ton of new features. Most modern games support it, and a DX10-compatible video card will get you the most out of those games. This card is also SLI ready, so if you have a motherboard that supports SLI video configuration, you can put together a killer system.
If you are adding a graphics card like this to a factory brand PC, then you will probably need to upgrade your power supply. This card requires a minimum 350 watt power supply to run properly. My old HP power supply was just 230 watts, so I bought a new 500 watt one to use this card. If you try to use a video card with an underpowered supply, it could cause problems with your PC, or it may not even work at all.
The bottom line here is that if you are a gamer on a budget and want to get the most for your money, check out the EVGA 8600 GT Graphics Card.
Here's some of the tech specs on the EVGA 8600 GT:
256 megs DDR3 RAM
540 mhz core clock
1400 mhz memory clock
Full DX10 Shader Model 4.0 support
128-bit HDR lighting
16x fullscreen anti-aliasing
Two dual-link DVI outputs, with VGA adapters included
Can support up to two 2560x1600 resolution displays
OpenGL 2.0 support
This post is part of the series: Graphics Card Review Sampling
A selection of Bright Hub Computer Hardware Channel articles reviewing the top Graphics Cards currently on the market, and how the technology that drives them will develop?