Lenovo Thinkpad Edge 11 Review - The Edge Family Tree Grows
The Edge Family Tree Grows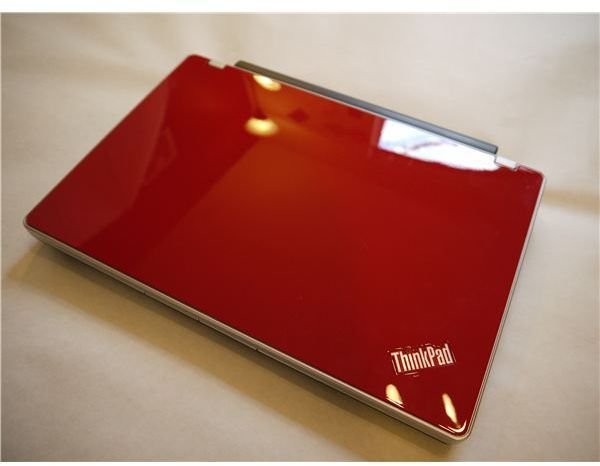 Lenovo's Thinkpad Edge is probably the best product that company has introduced in the last three years. Traditional Thinkpad lovers will likely call blasphemy. After all, the Edge represents a watering-down of the traditional Thinkpad formula.
Yet the Edge has also been a breath of fresh air, combining decent styling with the outstanding user interface design that is typically associated with Thinkpads. The Edge laptops proved that inexpensive laptops don't have to be marred by terrible keyboards and trackpads.
Now a new member of the Edge family has arrived – the Thinkpad Edge 11. This new Edge offers an 11.6 inch display and a dramatically smaller and lighter chassis than the previous baby of the family, the Edge 13. The Thinkpad Edge 11 also offers up Intel's cutting edge ultra-low voltage Core i3 processors. The specs look promising – but how does the Edge really stack up?
Design and Build Quality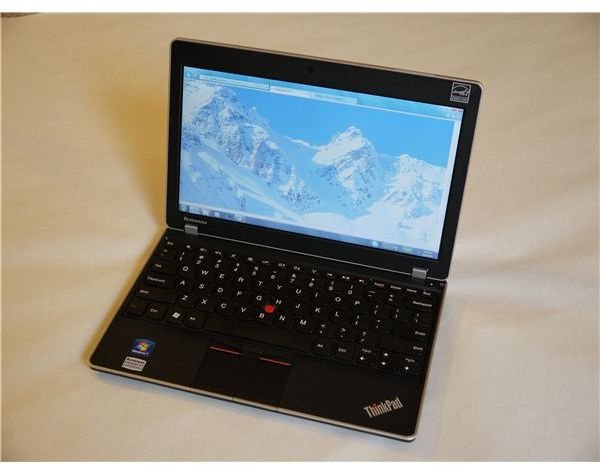 The Thinkpad Edge 11 may not be as rugged as a T or W series laptop, but it very well built and, just as importantly, attractive. My Thinkpad Edge 11 review unit arrived with a red gloss lid that provided plenty of visual punch. Fingerprints were apparent after using the Edge 11 for a few days, but the bright red hue hid them well in darker lighting.
Inside the Edge 11 is all business. You'll find no gloss here – it's all matte, all the time. And thank god for that. There are a lot of competitive laptops in this segment, but by and large they all have interiors that are coated in glossy plastics of various colors. The Edge's matte finish doesn't look as good out of the box, but it's much less frustrating to maintain.
Fit and finish was solid on the Edge 11. The chassis is very solid, although that is typical of laptops this small. All surfaces fit together tightly and there was no noticeable flex in anywhere including the keyboard and palmrest. I did notice that the matte silver paint which lines the rim of the laptop's lid was slightly unevenly applied – but I'm clearly nitpicking here. Overall, the Edge 11 feels worthy of the Thinkpad name.
User Interface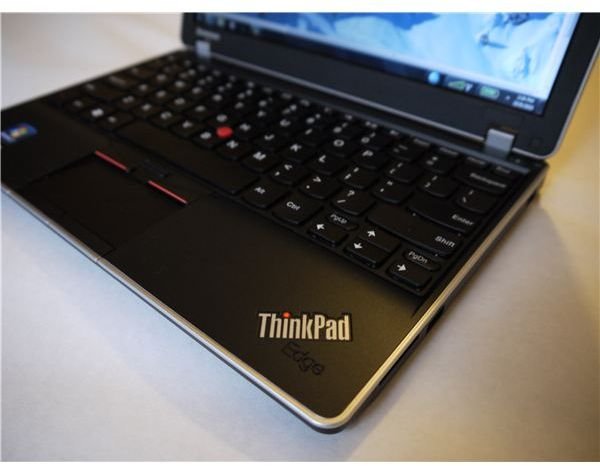 Keyboard and trackpad design is always important, but they're particularly crucial on small ultraportables because of the limited physical space. The Edge 11 stretches what is available by offering an edge-to-edge keyboard that feels quite comfortable. It can be a bit cramped at times, but there is frankly no way to get around that on an ultraportable this size. The keyboard is certainly better than what can be found on competing 11.6" ultraportables from Acer, ASUS and Dell.
The trackpad is also exceptional. It is reasonably large and has a nice texture that let my finger glide smoothly. Because this is a Thinkpad, the Edge 11 also offers two sets of trackpad buttons, one between the keyboard and trackpad surface and other at the bottom of the trackpad. A trackpointer device is located in the middle of the keyboard and can be used as an alternative to the trackpad.
Display and Audio
The Edge 11 has an 11.6" display with a resolution of 1366x768. The display is glossy, which will of course result in some problems if you attempt to use the laptop in a brightly lit area or outdoors. However, the Edge 11's display has a bright backlight that can easily overpower most reflections. You shouldn't have any problem using the Edge 11 indoors unless you're sitting directly in front of a bay window.
Contrast, black levels and viewing angles were all fairly poor on the Edge 11. This is not the best display in terms of image quality – the Dell M101z, which I recently tested, has a much better display. However, the Edge 11's display is average overall and does not detract significantly from the overall experience of using the laptop.
Audio quality is poor on the Edge 11. The small speakers do the best they can, but on the whole they're not adequate for listening to anything at volume. You'll want to carry a nice pair of headphones if you'd like to listen to music of podcasts while on the go.
Performance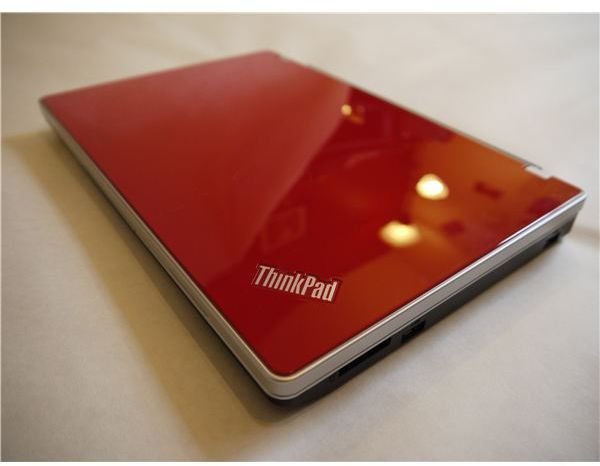 Intel's latest ultra-low voltage processors are available in the Thinkpad Edge 11. The unit I reviewed has a Core i3 U380 processor clocked at 1.33 GHz. It also offered 2GB of RAM and a 250GB hard drive.
Performance tests of the Edge 11 showed that the laptop had both strengths and weaknesses. The Core i3 processor itself is very efficient per-clock, so it is able to outperform earlier Core 2 Duo ultra-low voltage processors and all current AMD Neo processors found in ultraportables. However, the Intel processor comes with Intel HD graphics that, while not poor, did result in weak multimedia performance relative to an ultraportable with an AMD processor and Radeon 4225 graphics.
PCMark Vantage Overall Score
ASUS Eee PC 1201N: 1584
Toshiba T235D-S1345: 3029
Lenovo Thinkpad Edge 11: 3108
3DMark 06 Overall Score
ASUS Eee PC 1201N: 1389
Toshiba T235D-S1345: 1493
Lenovo Thinkpad Edge 11: 1093
The Edge 11's boot time was 47 seconds, and the system resumed from hibernation in 23 seconds.
Overall, the performance can be summed up as more than adequate. The laptop feels snappy under normal day-to-day usage and even feels reasonably quick during more intensive use, such as image editing and video/audio transcoding.
Portability and Battery Life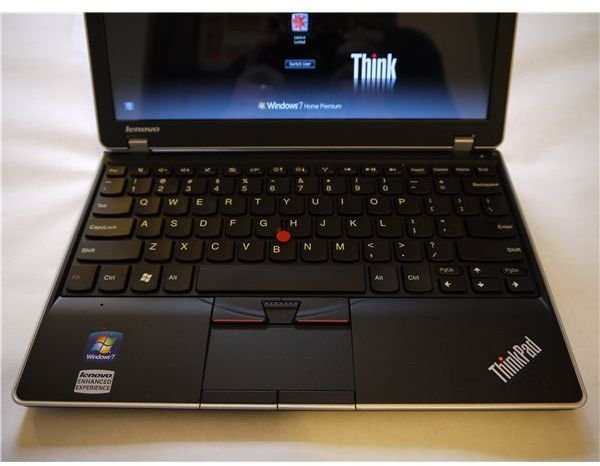 As you'd expect, the Thinkpad Edge 11 is very easy to carry around. It is about an inch thick and weighs just a hint over three pounds with battery installed. It is easy to throw the Edge 11 into a backpack and later forget that it is even there. The only real issue is the battery – it is large enough to stick out the back, which might be annoying if you have a very small laptop bag.
The Thinkpad Edge 11 is the first Core i3 ultra-low voltage laptop I've ever tested, and I must say that the battery life didn't blow me away. It managed to last 3 hours and 16 minutes before succumbing to the Battery Eater stress test and lasted 6 hours 41 minutes during the Battery Eater reader's test. These figures are not poor, but they're about the same as recent AMD ultraportables using the Nile platform. I would have to test more laptops to know for sure, but it appears as if the new Core i3 ultra-low voltage processors may prove to offer reduced battery life compared to the older Core 2 Duos.
Verdict
Overall, I have few complaints about the Lenovo Thinkpad Edge 11. It is well built, well designed, and powerful for a laptop of its size. It also is reasonably priced, although pricing will depend on your region – and this laptop is not available in the United States.
I recommend the Thinkpad Edge 11 to anyone looking for an 11.6" ultraportable. The main competitors in this space – Acer and ASUS – offer similar performance. However, the great user interface on the Edge 11 makes it stand out from the crowd.