HP EliteBook 8440w Review: An EliteBook 14" Workstation
HP EliteBook 8440w Review Introduction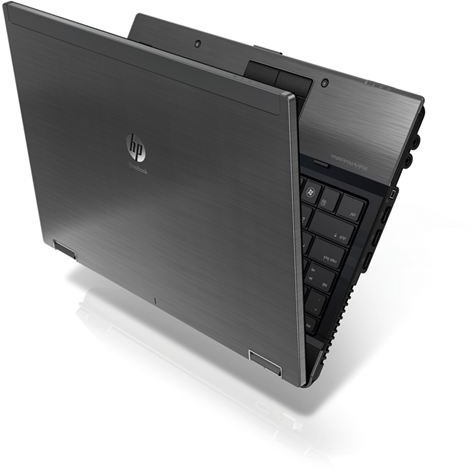 The business laptop market is a strange and arcane world. Most consumers know about Lenovo's Thinkpad line, which is famous for its buttoned-down looks and excellent durability. But far fewer consumers know that many other companies, including HP, offer numerous business-oriented models.
That's a shame. Business laptops are like the supercars of the laptop world. They're extremely expensive, and they offer far more than the average home user needs. The features found on these laptops, however, often trickle down into the consumer world. For example, some consumer laptops now come with hard drive shock protection, a feature that was developed originally for business laptops.
If business laptops are supercars, HP's EliteBook 8440w is a light, agile roadster. It is a 14" mobile workstation that is attempting to cut a new path in the market by combining everyday portability with desktop-replacement performance. That's a tall order for any laptop – is the EliteBook 8440w up to the challenge?
Specifications
Processor: Intel Core i7 620M
Graphics: Nvidia Quadro FX 380M
Display: 14 inch LED Backlit 1600x900 Resolution
Hard Drive: 320GB 7200 RPM
RAM: 4GB DDR3
Wireless Connectivity: 802.11 a/b/g/n
Battery: 9-Cell HP Long Life Battery
Build Quality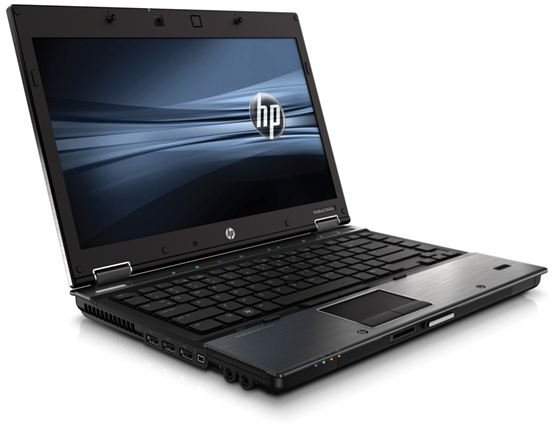 Durability is incredibly important in business laptops, and the EliteBook line is HP's flagship brand. It is no surprise, then, that the EliteBook 8440w is built like a tank. It is constructed with a full magnesium alloy chassis with metal display hinges and an aluminum display lid. The lid is engineered to withstand up to 300 pounds of pressure and the keyboard is spill resistant. The keyboard is also treated with a "DuraKey" coating that is meant to prevent the keys from showing wear. The EliteBook has no problem going toe-to-toe with Thinkpads when it comes to overall durability.
My review unit was assembled with great precision. There was no evidence of any error in the unit. The gaps between panels were extremely tight and the chassis itself never groaned while being handled. The wrist-rest feels as if you're placing your palms on solid granite. Normally I am able to nit-pick a laptop's build quality in some regard, but the EliteBook 8440w is bulletproof (okay, not really – maybe they'll add that in the next model!)
User Interface Design
The EliteBook 8440w's keyboard is solid, with good key response and minimal flex. There is nothing funky about the layout, so you'll be able to type with a high degree of accuracy instantly.
I can't heap the same praise on the trackpad. Don't get me wrong – it works fine, but it is one of the smaller trackpads I've used recently. The 8440w makes up for this somewhat by including a trackpointer – a small nub in the middle of the keyboard that can be used for navigation. This also comes up short of perfect, however. The problem, I think, is the texture of the material used on the trackpoint. It is rough and uncomfortable to use for more than an hour or two.
The HP Elite 8440w's display is a pleasure. Although only 14" in size, it offers a resolution of 1600x900. This means that there is a lot of usable space. The high resolution makes it easy to display two documents at once for direct comparisons. The display is matte, and the backlight is among the brightest I've ever encountered – it is so bright that using the 8440w in full direct sunlight is not only possible, but actually comfortable. The display isn't perfect, however. It is tailored for work, not play. Contrast and black levels are poor, so movies and games don't look their best.
Portability
The HP EliteBook 8440w model that I received for review is the most powerful pre-configured variant available and comes with a 9-cell battery as standard. Although the Core i7 620M processor and Nvidia graphics are not easy on the power, I was still able to use the 8440w on battery for 6 hours and 21 minutes during "real world" usage – web surfing and word processing.
I also tested the battery by playing GPU-accelerated video with Windows Media Player. Under this load I was able to achieve 4 hours and 18 minutes of battery life.
These battery life results are very good, but this large a battery is responsible for the 8440w's excellence. With a 6-cell battery, as found on the less expensive models, you'd probably obtain around four hours of "real world" usage away from a socket.
While the 9-cell battery is good for battery life, it does make the unit heavier. The 8440w is heavy to begin with, and the 9-cell only adds to the weight. According to my scale the HP 8440w is 5.6 pounds with the 9-cell battery installed. That's downright obese for a 14 inch laptop, but it also isn't surprising. The heavy use of magnesium and aluminum that makes the laptop durable is bound to increase the overall weight.
Software
Software is often considered bloatware on consumer laptops, but on business laptops it can have some use. HP offers a few interesting bits of software worth pointing out.
The first is HP's QuickWeb and QuickLook features. These are simply HP's implementation of the instant-on features that various laptops are starting to offer. QuickWeb lets you boot into a limited OS to surf the web, and QuickLook lets you boot into a limited OS that integrated with Microsoft Outlook. These features aren't game-changers, but they're handy if you have a few spare minutes and you want to quickly check your email.
Another, perhaps more important feature is HP's suite of corporate security and metric software. HP Protect Tools offers the ability to store website passwords in an encrypted file, while other included products make it possible for a business to monitor the performance of multiple laptops in order to gauge productivity.
Performance
To test the performance of the HP EliteBook 8440w I used several benchmarks, as will be explained below.
The first was the iTunes Encoding Test. This test consists of converting 14 standardized audio files to AAC format. The time required to perform the test is measured in seconds, with lower being better.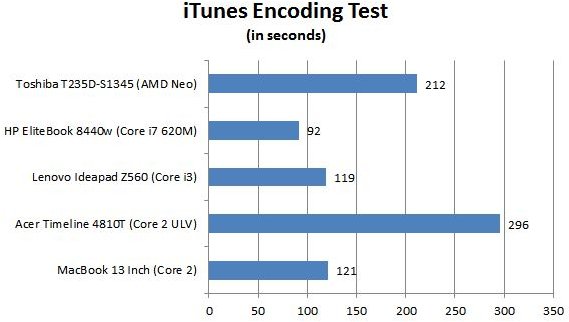 The results of the iTunes test reflect the speed of the dual-core Core i7 processor. The HP EliteBook 8440w is about 30% faster than the Core i3, the next quickest processor.
The second test involves file transfers. The drive is partitioned and files are copied from one drive partition to the other. The small file test consists of 557 MP3 files totaling 2.56GB, while the large file test consists of a single 2.52GB RAR file.
The HP EliteBook 8440w is the only laptop with a 7200RPM drive I've recently tested. That's a shame, because the speed of the 8440w in the file transfer test confirms yet again that these faster drives do result in tangible performance benefits. Note, however, that the Toshiba T235 comes close. I'm still working on why it was able to perform so well compared to other laptops with 5400RPM drives.
Finally we have the 3D Mark06 benchmark. This is provides a good indication of performance in 3D games and applications.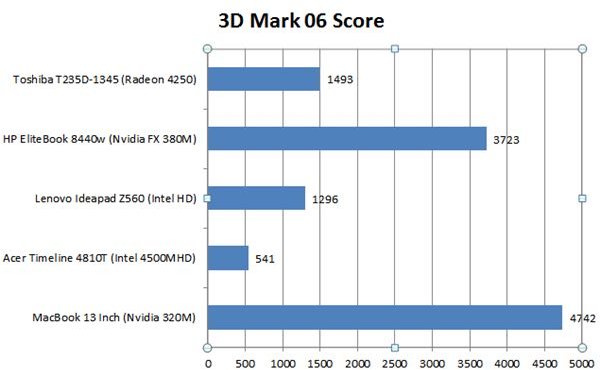 The performance of the Nvidia Quadro FX 380M is a little better than what you'd expect from an Nvidia 310M notebook. The performance is respectable, but you'll have a hard time playing most games at the 8440w's native resolution of 1600x900. Of course, the inclusion of Quadro graphics is targeted at professional 3D rendering instead of entertainment, and the GPU serves that purpose well.
Conclusion
I have nothing but praise to heap on the HP EliteBook 8440w. It is a fast, powerful, well-built laptop that provides everything a corporate user could want. My only serious complaint about the 8440w is the weight – the laptop is far heavier than I'd like a 14 inch laptop to be. There are, of course, reasons why this laptop is heavy. However, this is built to be a mobile workstation, and the increased weight works against the mobile part of the equation.
You'll have to pay $1649 for the 8440w that I tested for this review. The less expensive model with a Core i5 processor and a 6 cell battery is $1399. This is no small chunk of change, but it is competitive with similar business laptops.
Overall, the HP EliteBook 8440w is highly recommended. The market it targets – corporate users who need portability and top-notch performance – is a bit niche. But if the shoe fits, buy it!